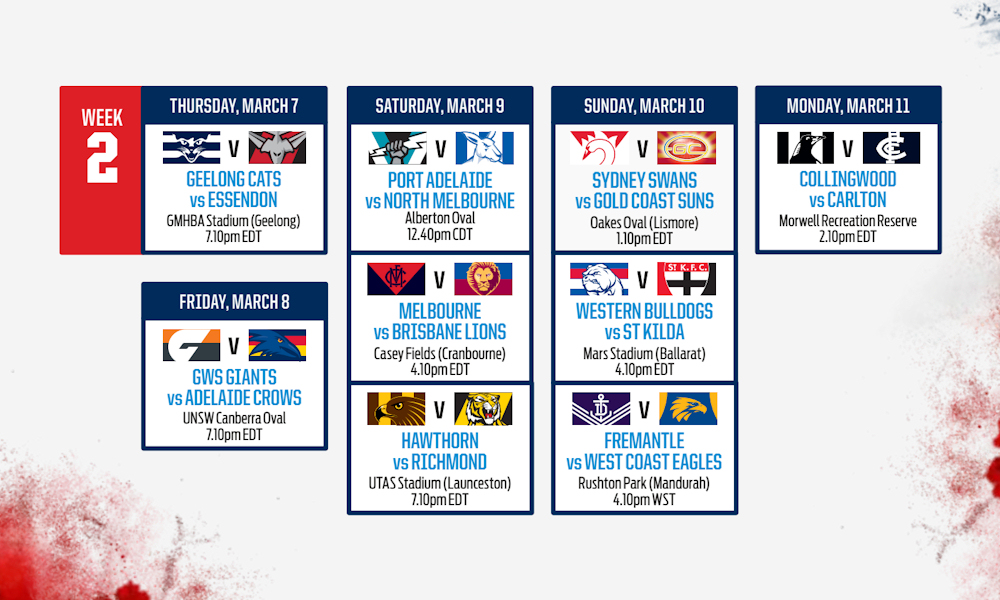 The DT Talk team updates each game of the weekend with our notes from them.
Listen to the AFL Fantasy Podcast with The Traders at Apple Podcasts, Spotify and Google Podcasts.
Geelong v Essendon – GMHBA
Thursday 7 March – by Dunny
Click here for DT Live's scores/stats.
Both teams went into this JLT 2 game with pretty much full strength sides as some big names returned with Hawkins and Gary Ablett Jnr back for the Cats and Bellchambers and Fantasia for the Bombers. Tuohy was missing for the Cats and Hooker missing for the Bombers. The game started with a flurry of scoring but it slowed down as the game went on but there was enough for us to keep an eye on from a Fantasy point of view.
The Ruck Contest
I was particularly eager to see Darcy Forte and how he would go.  Unfortunately I had to wait until about 5 mins into the third quarter to see him out on the field.  He ended up playing just on 29% of the game for 6 hitouts and 3 touches for 18 points. He was comprehensively beaten by Bellchambers and Daniher when he was in the middle. I think it is pretty clear that he has some work to do and Stanley was the number 1 ruck on the night with Ratugolea helping him out for most of the night.
Bellchambers was the better of the rucks on the night just eclipsing Stanley by one point and 6 hitouts.  Neither should be on your radar in Classic but in draft they will be an option.
The Kick Ins
In what can only be seen as a worrying sign the vast majority of kick ins from behind were taken from inside the square. My final tally was Geelong 5 of 7 from inside the square and Essendon 9 of 11 from inside the square.  (There were a couple they didn't show on TV as they were showing replays) There didn't seem to be any reason for this and on occasion the player seemed to be very aware of the square and stayed in it. Perhaps this was just habit and not a deliberate ploy maybe?  Who knows, but it was telling as to how many were taken from inside the square.
Geelong
Joel Selwood is someone that hasn't been talked about much this preseason but he was easily the top scorer on the ground with 154 points from 23 kicks, 15 handballs and 11 marks to go with 7 tackles.  He was everywhere and was being his annoying self with a karate chop to Bagley in the third quarter. Don't overlook Selwood in your drafts nor in classic.
Dangerfield started the game in the midfield and didn't really spend much time up forward from what I could see. He had 30 touches and 6 marks and looked like he was in midseason form. He is ready to go and locked in just about every forward line. His 105 came from just 68% game time and we didn't see him in the last term.
Tim Kelly started on the ball and attended quite a few centre bounces. 28 touches for 108 points impressed me as he didn't seem to have any of the off season drama on his mind. Just went about the job at hand and was always around the ruck contests with 5 clearances. I was sceptical about him but he showed me enough tonight.
Sam Menegola has been talked about a lot in the last couple of weeks but managed just 72 points from 80% time on ground. Just the one goal from 17 touches as he played up the ground a fair bit.
Luke Dahlhaus certainly surprised me. Just the 67% time on ground but he got to 110. He led the tackle count for the Cats with 8 to go with 25 touches.
I was impressed with Jordan Clark who scored 60 from 75% time on ground. The biggest question for him will be can he force his way into the best 22? For me he certainly did enough. He had a very fantasy friendly game.  11 touches and they were all kicks! If he is named round 1 then he will be in my side. Charlie Constable was the other rookie Cat I wanted to see and he played just the 50% of the game for 53 points from 17 touches. I think he did enough to get his game in round 1 and once again he will be in my side if named.
Essendon
Not really a great night from a fantasy point of view for the Bombers. None of them hit 100 and only one was over 90 which was Heppell.
Yet again Dyson Heppell was the top scorer for the Bombers but he did just miss the 100. He is a very consistent scorer and finished with 5 tackles and 21 touches. He is a solid performer and will be a good pick in your draft squad. Perhaps not so much in classic though.
Zach Merrett didn't come on until the second quarter and played just 59% of the game but he managed to have 4 touches in the first minute he was on the ground! He finished with 24 touches (15 of these were handballs though) for 70 points. If he plays the full game he gets his 100 comfortably. He did enough to say I would be comfortable having him in my side but he wasn't tagged and that was the big question mark on him last season.
New recruit Dylan Shiel showed enough with his 89 from 79% time on ground. He looked smooth and just oozed class. He isn't going to start in many teams but he should be another consistent scorer and will go early in drafts.
Devon Smith managed to have a free paid against him for "studs up" when taking a mark (thanks Toby Greene for that rule). But other than that he had 71% time on ground but just 15 touches for 57 points didn't really inspire me. The introduction of Shiel into that midfield just means there are more players to get their points and this could hurt Smith potentially.
Aaron Francis and Darcy Parish have both been hyped up a bit in the pre season but both didn't really deliver here with 53pts from 82% TOG and 47pts from 46% TOG respectively didn't give me enough to say I would be looking seriously at them as mid pricers.
The three Bomber rookies Draper, Clarke and Ham didn't see much game time only coming on in the last quarter. They aren't relevant for us at this point.
GWS Giants v Adelaide – Canberra
Friday 8 March – by Sparksy
Click here for DT Live's scores/stats.
Adelaide made pretty short work of GWS in the nation's capital tonight and, with a little less Fantasy relevance than usual, the game struggled to entertain. I'll do my best to keep this short and sweet, as there wasn't much of notice to take from the game.
GWS:
Stephen Coniglio (MID $801,000) was easily best on for the Giants. The busy midfielder was everywhere and ended the game with 37 disposals and 128 Fantasy points (76% TOG). I have massive worries that Coniglio will cop a weekly tag this year, thanks to Shiel leaving. Teams can't tag Kelly as he's too much of a machine, the only other target I can think of is Whitfield off the back half, and I just feel like Coniglio is more of a threat. If he's allowed to run free like he has been in JLT, slot him right into your teams because he's way too good to pass up.
Speaking of Lachie Whitfield (DEF/MID $726,000), the speed machine gave himself so much space, running off half-back and collecting the pill as he pleased. He had 29 disposals, 8 marks, 5 Rebound 50's and 4 Inside 50's. He even took a few of the kick outs, playing on wherever he could. Whitfield worries me in the same way as Coniglio, but slightly less so. I think it's reasonable for teams to tag him considering his influence, and the lack of Shiel means that somebody is bound to be tagged. You could definitely spend your money in worse ways though, and I may have to find a way to fit Whitfield into my team after his display tonight.
8 marks and 7 tackles let young gun and touted midfielder Harry Perryman (DEF $379,000) accumulate 88 Fantasy points from 81% TOG. Perryman is currently Taranto's competition for Dylan Shiel's vacated midfield time, and the kid had an impressive game and showed a lot of effort. In my eyes, Tim Taranto (MID $660,000) has him covered at the moment, although both played in the midfield this evening thanks to no Josh Kelly. Taranto had 102 from 83% TOG, with 7 marks and only 3 tackles. I think both will likely share the midfield duties when Kelly gets back in the side, so I actually really like Perryman as a value option. Taranto should get the majority of midfield time though.
Finally, rookie options Jackson Hately (MID $244,000), Matthew Flynn (RUC $170,000), and Jye Caldwell (MID $250,000) didn't really do enough to be picked come Round 1 based on tonight's game. The three had 43 (66% TOG), 30 (53%), and 32 (42%) respectively and weren't bad by any means. Young Hately was actually reasonably influential at times, but looked to get very tired late and settled down on half-back, doing not a lot of moving. I'd say Hately and Caldwell will feature sporadically throughout the season for GWS, but neither player seemed terribly comfortable at AFL level. Not horrible for a first attempt, but definitely room to improve! Flynn was essentially unsighted all night, playing a half with 7 disposals and 7 hit outs. Dawson Simpson was reasonable, breaking even with Sauce Jacobs at 28 hit outs a piece, which leads me to think Simpson will ruck with Mumford, or Mumford solo when he gets back. I wouldn't bother giving Flynn a bench spot unfortunately.
Adelaide:
Matt Crouch (MID $761,000) and Brad Crouch (MID $524,000) were truly everywhere for the Crows. Matt was the better brother tonight, with 38 disposals and a bunch of other stats giving him 139 from 73% TOG, although Brad was no slouch either with 118 from 79%. If you can, you have to fit both these guys in your teams. With Gibbs and Sloane in the team, there's no chance either of these guys get tagged, and they're just way too good to run free every week. Wouldn't be surprised if both brothers averaged 30+ disposals and 110 this year, they truly are the perfect Fantasy footballers.
Rory Sloane (MID $653,000) was also insane, maybe even more so than the Crouch brothers. He had 114 points from just 69% TOG and was the typical Sloane that you get when he's allowed to run free. I still feel like Sloane is such a risk due to his inability to shake a tag. The fact that other teams know they can shut him down whenever they feel like just doesn't sit well with me. He's a huge risk to start with, but if he doesn't get tagged he's probably the best value player in the league.
Bryce Gibbs (MID $753,000) is the final of the Fantastic Four Adelaide midifelders and had 106 points from 74% TOG. Gibbs was exactly what you'd expect as well, doing what he's needed to do and getting the outside ball, nothing unusual. Personally, Gibbs is last in the pecking order of the Adelaide mids in terms of Fantasy, but he's still going to average 100 and could be a great draft sleeper potentially.
The one everybody wants to know about, and Brodie Smith (DEF $439,000) did more than enough to keep his spot in my team. He took kick outs, pushed up onto the wing, and got quite physical with opponents at times, which gives me great confidence in his body's ability to hold up. The man had 25 touches, 6 marks, 4 Rebound 50's and 7 Inside 50's, playing a similar role to what Whitfield did honestly. I feel like he's value you can't afford to miss out on, so set him in your backline and forget about him, potentially for the season.
Fellow half-back Rory Laird (DEF $782,000) had a quiet night by his standards, with just 77 points from 84% TOG. I wouldn't worry, everybody has off nights and Laird didn't seem like he was really trying for a lot of the night. Definitely nothing to trade him out about.
Draft option Sam Jacobs (RUC $591,000) punished the large Dawson Simpson around the ground, gathering 22 disposals to go with his 28 hit outs, giving him 107 points from 77% TOG. It must be nice being a semi-decent ruckman in the AFL at the moment as there are so many half-done rucks running around to feast upon. I wouldn't consider him as an R2 anymore than I would have before this game, so don't go making any silly moves. Sauce should still get smacked by the decent ruckman in the league.
The only real rookie option the Crows played was Tasmanian Chayce Jones (MID $254,000), who had a few solid moments but I'm unsure he can lock a spot for Round 1, and even more doubtful for a consistent game throughout the year. He doesn't seem like a huge Fantasy scorer, playing as a small forward and getting himself 60 points from 70% TOG, which was helped by a last-minute goal from the square, gifted to him by a sweaty handball. He's a lock for DPP if he plays and keeps the same role he did tonight, but I'm not sure he's worth the higher price.
And that's about it for tonight's game! Fingers crossed there's more interesting and relevant football than this game over the rest of the weekend!
Port Adelaide v North Melbourne – Alberton Oval
Saturday 9 March – by Wyatt
Click here for DT Live's scores/stats.
I was told this was the least fantasy relevant game of the week and no one would be watching but there was plenty to get excited about from a port supporter and afl fantasy coach point of view so here it is haters.
OINK. Vintage TOM ROCKLIFF (178). To any of the haters saying he was done, taste. Looking real lean and back getting little sideways chips and link ups down the corridor whilst drifting forward rather than going to the bench. I was getting very excited watching this but I doubt ill be starting with him. If he shows this for the first couple of weeks we can lock him in as being ports go to mid alongside SPP and boak with Ollie wines injured.
Speaking of BOAK (112), is he the real deal? Listed as a forward but genuinely back in the midfield and playing like his 2013 self. Was everywhere and is no chance of playing that half forward role, especially with wines out. I love him as an option.
He's too old they said. He's not going to play ruck anymore they said. WESTHOFF (102) proved again why he was one of the best forwards in the comp last year. Gonna be around the 100 mark again this year, playing wherever he likes. Hasn't missed a game since 2013 so I wouldn't be worrying about his age.
RUCK SITUATION. Ryder and Lycett (102) shared the ruck duties with both looking a threat up forward. Ryder injured himself in the second half with a head clash and seems in doubt for round one, leaving it solely for Lycett who has to be an option in draft.
PORT ROOKIES. Duursma (92), Drew (81), Butters (59) and Rozee (38) have all been on people's fantasy classic radar this pre season and I made It my job to rank them. Firstly, they all look great out there, fantasy aside, and Port want to play these young guys as they're ready to play and with the loss of wingard and polec they need some speed. DUURSMA was really good off half back/wing and uses it really well, he's pretty expensive and port have a lot of depth in that area but with Lienert inured and hartlett and Broadbent coming back from injuries he will probably play round 1 and score well. DREW scores very well playing midfield forward but would only play until wines is out. At 170k though, if he's named he will score solidly and make you some early money. BUTTERS top scored for port first week of JLT but only managed 59 today and that's with three goals. Playing that forward pressure role wont allow him to get a lot of the ball but he can get you a 50 and will play round one. ROZEE has the highest job security but drifts in and out of the game with flashes of unreal talent. You're paying for his job security and should get better as the year progresses similar to Rayner last season.
I'd be picking them in the following order:
Drew
Duursma
Butters
Rozeee
OTHERS. DBJ (106) and HOUSTON (102) are both sliding in drafts and are going to be playing and sharing kick outs. Look a them late in drafts. WATTS (100), seems to be playing on the wing and actually looks ok for once, taking a lot of marks. BURTON (65), as a fan im praying he becomes good again but I barely noticed him out there. Rule him out until he shows something again. EBERT (46), definitely playing a deep forward role and will get DPP but his scoring is now shot.
To be honest there wasn't much going on for North, even in this high scoring free flowing game so im clutching at straws here.
BAILEY SCOTT (84) I didn't watch north last week so I hadn't heard about this guy but at 170k he looked really really good off the half back line. Marley Williams did leave the game early but if hes named round one ill be picking him.
AARON HALL (73) & DOM TYSON (56). If you were looking at them as cheeky PODs I wouldn't bother. Tyson is just too slow and hall wears too much strapping.
LUKE DAVIES UNIACKE (46) To be fair im biased towards him because I started with him last season and he burnt me but even though he looks bigger and a bit more confident I still think he's trash. He started well and actually made his way into my team for about 3 minutes then I saw him getting run down holding the ball and I just wouldn't risk it.
HIGGINS (99) and POLEC (95) both are draft steals and will go close to 100 mark, so let the league sleep on them and grab them late.
Wyatt Gordon
Corn the Pear specialist
@BormaDt
Melbourne v Brisbane Lions – Casey Fields
Saturday 9 March – by Matt
Click here for DT Live's scores/stats.
JLT 2 is where things tend to get serious and both teams named close to full strength line-ups out at Casey on Saturday afternoon.  Here's what I took from the game through my fantasy glasses, and a word of warning. Most of it wasn't pretty.
BRISBANE:
Our ruck dilemma has moved from R2 to R3. We've spent so much time worrying who may occupy our second ruck, but once again our R3 is looking as barren as the Sahara desert. Archie Smith (RUC, $217,000) was our biggest hope and had a spot in my team heading into this game. He started on ball, sharing minutes with fellow ruckman Stefan Martin while his competition in Oscar McInerney was a late out. Unfortunately he mysteriously disappeared during the first quarter and was taken to hospital having taken a hit to the throat. How serious it was is still unknown and he may still be a chance for Round 1, but it was a big opportunity missed for him. If big Archie doesn't get a gig, I fear we may go into Round 1 with no playing ruck bench.
Jarryd Lyons (MID, $689,000) top scored for the Lions with 113 and looks to be seizing his chance at his third club. It's a mystery to me why Gold Coast didn't have a spot for him on their list, but Brisbane won't be complaining. 4 goals inflated his score and he's not cheap in classic, but I see him averaging just over 100 and is a great option in drafts.
Stefan Martin (RUC, $735,000) got the solo ruck gig with Smith taken to hospital, but there's a big chance he shares duties during the season. I'm happy to put a line through this score, but it may tempt somebody into drafting him a little early. Gawn dominated the hitouts, winning 32-16.
Rhys Mathieson (FWD/MID, $447,000) did nothing to put off those coaches willing to take a gamble on the midpricer. He backed up his 83 in JLT 1 with 90 from 83% TOG gathering 23 disposals, 4 tackles and a goal. Even though Zorko comes back into this team, there should be enough opportunities for Mathieson in midfield to at least improve 20 points upon his 61.5 average. Draft sleeper.
I wouldn't be making room for Lachie Neale (MID, $727,000) in my team. He should've had a day out with 28 disposals and a goal. Sadly he had 3 kicks. Three. 25 handballs, 1 mark, 3 tackles and 83 points (85% TOG) isn't going to cut it. He'll be around that 100 mark once again.
We shouldn't really read too much into JLT games, and Witherden (DEF, $639,000) did enough to stay in our teams. However due to structure changes, he played his way out of mine. He was solid with 21 disposals and 7 marks (79 from 88% TOG), however Rich took the vast majority of kickouts so I don't see the new rules giving him any real benefit. He'll always play on when he gets the chance, but no more than he did previously. Natural improvement may take Witho's average into the 90's and into conversation for the top 6 defenders. However he did go missing for long periods and I'm not sure he can push his average into triple figures. I'd be happily proven wrong! Still a great pick.
Hugh McCluggage (MID, $563,000) received huge plaudits for his game last week and was good once again. He scored 71 from 72% TOG and looks to be capable of pushing his average into the 90's this season. Bump him up your draft lists, but he's too expensive in classical formats.
Daniel Rich (DEF, $519,000) is another draft option, backing up his 93 last week with 79 from 79% TOG. My concern is that he needed 25 disposals and didn't lay a tackle, and he's sure to receive far more attention in the real stuff.
Linc 'The Sink' McCarthy (FWD, $305,000) was solid again with 19 disposals and 70 points. Depending on how Brisbane fare this season, an average of 70 certainly isn't out of the question.
Cam Rayner may as well have played 15 minutes. He'll be a rollercoaster I'm happy to avoid for another season.
MELBOURNE:
The big thing to note from the Dees scores is Viney and Jones were both missing, but both played for Melbourne's VFL team and are making strides towards being ready for Round 1. So don't go getting too excited about Aaron Vandenberg (FWD/MID, $405,000). He was around most of the centre bounces but that won't last. 16 tackles is impressive though!
Let's start off with the two locks from this game. Max Gawn (RUC, $808,000) will be solo rucking come Round 1. During the first two months of 2018 he averaged 120 and he looked fit and ready to go today. 22 disposals, 8 marks and 32 hitouts helped him to 109 from 86% TOG. He'll add to his 1 tackle when premiership points are on the line. No brainer. Angus Brayshaw (MID, $763,000) further cemented his place atop the JLT hype team, finishing with 139 from 74% TOG. The figures this dude puts up are piggish. He didn't win as much of the ball today, but made up for it with 11 tackles and 3 goals. An absolute fantasy freak, the only way he doesn't increase his average past 120 is if he does a Tom Mitchell and becomes too dominant for his own good.
Clayton Oliver (MID, $792,000) had another 32 disposals for 100 in 82% TOG and will put up huge numbers once again in 2019. If you had him, you saw more than enough. He's a dead set jet.
I thought Petracca (FWD/MID, $585,000) was going to suck a few people in when he sat on 69 at the half. He finished with just 83 from 80% TOG and while he's a beast, he'll play the majority of minutes in the forward line. He got some extra midfield minutes today that will disappear when Jones and Viney return.
Michael Hibberd (DEF, $499,000) did nothing to suggest he can return to his glory days of averaging 90+. He had 24 disposals for his 74 points and could average anywhere between 65-80. I'll be avoiding Hibbo with a 10 foot pole.
The only relevant rookie for the day Marty Hore (DEF, $170,000) struggled early, but I think he did enough for a Round 1 birth. His 44 fantasy points in 92% TOG may not read well, however he had 16 disposals and looked solid in defence. Jordan Lewis took his kick ins, and I can see him averaging around the 50 mark. Not brilliant, but a decent D8 if he plays.
Fritsch was disappointing for his 40, playing 75% TOG. Tom McDonald also struggled for 63 from 89% TOG. Both were potential draft options but I'd be dropping McDonald down your draft order without his decoy Hogan.
Joel Smith kicked 4 goals which was random, and irrelevant. James Harmes suffered a compound fracture and Kennedy-Harris went down with what looked to be a really serious injury. Keep an eye out for their diagnosis. Lastly Steven May is unsurprisingly in strife with the match review panel for a late hit on Jarrod Berry. He should get off with a fine but there's every chance he gets one week. There's not a lot going on upstairs there.
I have rambled on for way too long. Good luck building those Round 1 squads, we're nearly there…
Hawthorn v Richmond – UTAS Stadium
Saturday 9 March – by Ben
Click here for DT Live's scores/stats.
Hawthorn:
Jaeger O'Meara (MID, $695K) was back after missing JLT 1 and was the top scorer for the Hawks with 106. He managed 75% TOG and attended 14 centre bounces (CBA's) in the first 3 quarters. With Tom Mitchell obviously out injured, JOM will have some added responsibility and could also mean he cops some attention from opposition taggers. However, Isaac Smith has been the main culprit over the years and JOM could escape with only a few tags. Currently owned by just 3% and under $700K, could be a very nice POD or a draft slider.
James Worpel (MID/FWD, $480K) also was a part of the midfield rotation even with Shiels and O'Meara back in the side. He also sat out the last quarter and managed 60% TOG, making his score of 92 even more impressive. He had 24 touches and 9 clearances in 3 quarters and did his chances of a permanent midfield spot no harm. With our lack of FWD rookies and mid-pricers, it might be worth paying up for Worpel.
James Cousins (MID, $329K) confirmed that he wasn't a one week wonder and scored 81 from 76% TOG. He was again apart of the midfield rotation, attending 8 CBA's in the first 3 quarters. His 81 featured 21 touches, 4 clearances and 4 tackles, and pushed his case for a midfield position in round 1. He is at a pretty awkward price of $329K, but his job security and scoring is very tempting and may be worth a look as M6/7.
Jack Scrimshaw (DEF, $203K) had a massive first quarter, featuring 52 fantasy points! In the last 3 quarters, he could only manage a combined 23 points, leaving him on 75 for the match. After the omission of Harrison Jones (who looked like a good $170K rookie), Scrimshaw is a touch over $200K and there's a chance we might have to pay up if he plays round 1. He's got the scoring capacity, but some consistency would be good to see.
James Sicily (DEF, $694K) was back in familiar territory against the Tigers, spending almost the whole game in defence. He had 16 touches (14 of which were kicks) and 7 marks for a score of 64. He sat out the last quarter and was managed throughout the game, only playing 54% game-time. With Roughead and Breust back in, Sicily wasn't needed in the forward line and Gunston is still yet to come in, which would benefit Sic-dawg even more. I think there's still a little bit of risk involved with Sicily, as I can easily see him swapping forward with Gunston if required, but JLT2 was much more encouraging than JLT1.
Oliver Hanrahan (FWD, $170K) was quite good again, scoring 33 from only 44%. The Hawks said publicly that their round 1 side would be picked form the 26 that played vs Richmond, so there's a chance we could see him playing round 1, which would be a goldmine for fantasy coaches with our lack of forwards.
Dylan Moore (FWD, $170K) cored 39 from 61% and is probably battling with Hanrahan for a spot in the 22. He missed an easy goal which could dent his chances, and also only went at 50% disposal efficiency. If he plays, I would be very cautious as he would have shocking job security, especially with Wingard set to come in early.
Richmond:
Trent Cotchin (MID, $581K) was very good and had a 52 point last quarter! He was one of the key cogs in comeback the Tigers made and ended up on 111 points from just 69% TOG. He's below $600K and could be a real draft slider with the new rules allowing faster game play and benefiting the midfielders at centre clearances. I can't see him getting back to his career best average of 111, but he should certainly smash his 2018 average of 80.
Jack Higgins (FWD, $448K) was thrown in the midfield in the last quarter and was electric. He scored well in both JLT matches and finished with 102 points including 3 goals, 19 touches and 7 marks. 2nd year blues doesn't appear to be a worry for this character, and I can see him pushing 80 if he has the same, or similar role that he had in the JLT.
Dustin Martin (MID, $674K) was good again from limited TOG (65%) but scored 95. Both games in the JLT he was put on ice and even without Tom Lynch, spent plenty of time in the midfield. He had 30 touches and 10 clearances and looked much  more like 2017 Dusty. When Tom Lynch comes in, his FWD time will be even lower and I reckon he can get back over 100 this year, and push 105.
Bachar Houli (DEF, $536K) had great PPM in both JLT games and scored 63 from 64%, spending the last quarter on the bench. He is at a similar price to Nic Newman and has more runs on the board, so if you're looking for an alternative or POD in the backline, consider Houli. He takes some kick-ins and generally plays on, and had a full pre-season for the first time in a while and could get close to his career best averages. 90 is on the cards but don't rule out 95, and at $536K, that is real value.
Toby Nankervis (RUC, $648K) was good in the first half before Ivan Soldo came on in the second half which hurt his scoring. If Nank is the solo ruckman, he has to be considered as the new ruck rule benefits him, and with the R2 spot being so difficult to lock down, a set and forget ruck like Nankervis could pay off.
Noah Balta (FWD, $170K) seemed to be a one week wonder after only managing 43 points from 7 touches and 1 goal. He already seemed like a trap as his VFL numbers weren't that impressive. Nevertheless, if he's named round 1, could be a rookie to throw on the bench and make some money early.
Jack Ross (MID, $186K) scored 39 from 39% TOG. He had an extremely fantasy friendly role, attending the first 6 CBA's of the game, but couldn't capitalise with many points. He's played limited TOG in both JLT games and I struggle to find a spot for him in round 1.
Sydney Swans v Gold Coast – Lismore
Sunday 10 March – by Brandon
Click here for DT Live's scores/stats.
In what was a hot day in Lismore, NSW, the Swans did as expected and dominated most of the game against the suns.  The Swans lost Jake Lloyd and Callum Sinclair before the bounce, which caused a few changes to their structure.
Both teams seemed to play on most of the time from kick outs, but no one screamed out as the predominant choice kicker for their respective team.  This may change for the Swans when Lloyd is back, but today it was pretty much shared amongst all the defenders.
Aliir Aliir was the sole ruckman for the Swans and although he was thoroughly beaten in the hitouts, having only 17, he was terrific around the ground.  He was more of an extra midfielder for the Swans, amassing 19 disposals and 4 tackles for 105 points from 70% TOG.  With heaps of midprice defence options, I wouldn't touch him in Classic, but if Sinclair isn't named round one, he could be a good pick up in draft.  At this stage, there's still no news on why Sinclair missed out.
With Lloyd out and Aliir Aliir playing Ruck, Callum Mills played purely as a defender today for his 89 points from 89% TOG.  Mills didn't attend one center bounce but still looked great collecting plenty of +6's off half back and pushed up the ground at every opportunity.  Will definitely increase his average from last year, but may be used in defence more than we'd like.
Tom Papley (118 from 76%), George Hewett (109 from 80%) and Ryan Clarke (108 from 78%) were outstanding in the midfield all day for the Swans.  Papley was the shock inclusion into the Swans midfield today but was terrific collecting 27 touches, 7 tackles and pushing forward for 1.2 goals.  Clarke was absolutely everywhere and looked very comfortable in the engine room for the Swans with 29 touches and 6 tackles.  They used him both inside and on the outside as he also provided a heap of run for the Bloods.  All three of these guys could be looked at in draft and I'd even consider Papley and Clarke as midpricers in classic.
Luke Parker (107 from 81%) and Josh Kennedy (105 from 77%) also looked great without really getting out of second gear.  These two should be back to their best this year as the swans drive for a ninth straight finals campaign under Horse and I'd even go as far as to say, one, if not both of them could push for a top 8 midfield position come seasons end. *cue the insanity accusations*
Hearts were in mouths 1 minute into today's game as Isaac Heeney went off the ground with what appeared to be an ankle injury.  He returned to the ground shortly after but didn't have a huge impact in the first quarter.  He worked himself into the game in the second and third before being put on ice in the final quarter.  Heeney ended up with 62 points from 57% TOG and started in the center square on multiple occasions.  With a week off now, he should be fine come Round 1 and looks to play predominantly as a midfielder with short stints up forward. Lock and Load!
I'll try to be quick with this Suns bit with almost no Fantasy relevancy.
Jarrod Witts is about the only Suns player I would consider in Classic.  The big man was dominant in the Ruck for the Suns with 46 hitouts to follow up from his 47 from last week.  Lets remember though, these were accomplished against Aliir Aliir, Tim English and Jackson Trengove.  He did double his disposal count from last week to 16, which is a great sign but could still only manage 95 points.  There will be games where he dominates the hitouts like today, but when he comes up against actual ruckman, his points may dry up a bit.  Will still push a 90-95 average and currently sits at my R2.
Touk Miller (101 from 73%) and Brayden Fiorini (112 from 76%) were the best in the midfield for the Suns and worked very hard but I wouldn't go near them in Classic.
Pearce Hanley (54 from 54%) was very up and down in the first three quarters before being put on ice in the last.  Playing as a defender, Hanley showed patches of great form but also went missing for larges patches of the game. There are better mid price options.
Lachie Weller (70 from 82%) played almost exclusively in defence.  He showed good run and carry for the Suns but I woudn't touch him in Fantasy.
The rookies, Izak Rankine (19 from 38%), Jack Lukosius (61 from 76%) Sam Collins (37 from 82%) and Chris Burgess (33 from 86%) all had little impact today.  Rankine went off injured with a hamstring at half time and did not return.  Lukosius really played himself into the game in the second half and looks to be a star of the future but may be too expensive this year in Classic. Collins had to play a more key defensive role due to Rory Thompson's ACL injury.  This all but rules him out of my team as he is too expensive to be putting up scores of 30, especially for someone you planned to play on the ground.  Burgess may survive in our teams if we don't get many basement price rookies named in Round 1 but I wouldn't start him anywhere near your field.
Ben Ainsworth (56 from 69%) was hardly sighted as he played in the suns forward line for most of the game.
The Suns will be expecting a lot more from Anthony Miles as he only managed 46 from 77%. Same goes with Jarrod Harbrow (38 from 74%), hopefully they are just taking it easy in the JLT but I wouldn't risk it.
Peter Wright (114 from 78%) was in the top 3 on the ground for the Suns.  He showed plenty, clunking 7 marks all over the ground, kicking 2.2 goals, amassing 17 disposals and even having 17 hitouts as the Suns back up Ruckman.  Priced at only 58, you couldn't could you?…
If he's named Round 1, keep an eye on Darcy Macpherson. Coming on after half time, he laid 4 tackles, had 11 touches and looked great for 52 points from only 47%.  There may be better mid priced options in the forward line but he may be a good POD.
Western Bulldogs v St Kilda – Mars Stadium
Sunday 10 March – by Sam
Click here for DT Live's scores/stats.
Final Score: 12.7 – 79 vs 14.9 – 93
The Dogs and Saints travelled to Eureka Stadium in Ballarat for their second JLT game, which for a preseason fixture, had a fair bit of heat in the later stages of play. Each team clearly wanted a psychological win before the real season starts.
Both teams appeared fairly wasteful during the first half, with extended periods of high possession ball movement prior to making unsuccessful forays forward. The Saints in particular spent large periods of the game possessing the ball, recording 111 marks to 48. Both teams attempting to make calculated movements forward of centre, when rebounding from D50.
Ultimately the Saints, running at 78% disposal efficiency opposed to 74%, withstood the Dogs pressure, using the ball better in the dying stages of the game, running out 14 point victors.
Personally, I was particularly interested in both teams from a fantasy perspective; with a potential R2 bargain, unknown midfield structures and stars returning from long term injuries on the agenda.
Western Bulldogs
Notable fantasy players missing: Nil.
Liberatore (MID / $392K) – 69 Fantasy Points / 71% Game Time – looks to be in great shape heading into season 2019. He was one of the 4 dogs players attending the first CBD, finding himself on or around the ball for significant chunks of time during the first half. His time on ground appearing to be managed in the second half of the game.
Macrae (MID / $890K) – 89 / 81% – kicks, marks, handballs and tackles, the second highest scoring mid from 2018 appears to be heading into season 2019 looking more than capable of backing up his stellar season. Like Liberatore above, Macrae found himself in the majority of the Dogs CBD rotations.
Dunkley (MID/FWD / $695K) – 119 / 75% – the kid can score! While he started outside of the Dog's primary CBD rotations in the first quarter, Dunkley was involved in everything from then on in. 13 kicks, 16 handballs, 4 marks and 8 tackles. Dunkley has an ability to generate DT points from all facets of the game, something which all fantasy coaches should look for in a player.
Hunter (MID / $765K) – 91 / 88% – patrolled the wings all day, with defenders looking to put the ball in his hands when vacating the D50. Distributes the ball beautifully, recorded 7 marks and kicked a goal to cap off a solid afternoon of football. Probably not enough upside to be salary cap relevant from the seasons start, but certainly a solid option in draft formats.
Bontempelli (MID / $671K) – 84 / 89% – continued to split his time between the forward line and midfield. When asked postgame what Bontempelli's best position is, Lachie Hunter, replied "we'd love to clone him". Bontempelli is certainly an amazing talent, unfortunately, it appears another season of split minutes is awaiting him. Based on today, this is likely to put a ceiling on his fantasy numbers in the short term, but if he can pick up DPP he becomes very relevant!
McLean (MID/FWD / $686K) – 62 / 80% – appears to be the primary victim of the "libba effect". McLean spent the majority of his time in the F50, with a few brief stints on the ball. A wait and see approach may pay dividends with McLean. Potential upgrade target.
English (RUC / $446K) – 54 / 45% – didn't step on the field until after half time, and honestly, I was surprised when I saw his fantasy score. Appeared to be dominated by another junior ruckman, in Rowan Marshall. Clearly the better tap option at the Dogs, over Jackson Trengove, but could be in for trouble when he faces the likes of Sinclair, McEvoy / Ceglar, Witts, Grundy and Kruezer to start the season. Will be an excellent player in a few years' time.
Smith (MID / $258K) – 32 / 46% – the highly touted rookie had some flashy moments after quarter time, and showed why some recruiters have talked him up considerably. Likely far too expensive to start, with other cheaper rookie options available.
Other Dogs of Note: M. Wallis (MID/FWD / $595K) – 88 / 74% – spent time between the midfield and forward line, potential draft smoky for your forward line. H. Crozier (DEF / $535K) – 83 / 83% – was the main distributor out of defence in the absence of JJ, took a large portion of kick in's without playing on. B. Williams (DEF / $580K) – 61 / 80% – spent the match at half back, looked to be building match fitness after last week's ~50% TOG.
St Kilda Saints:
Notable fantasy players missing: J. Steven, D. Hannebery, B. Acres, D. Armitage, L. Pierce.
Marshall (FWD / $512K) – 111 / 86% – in the absence Pierce and Longer, the 24 year old, 13 game player rucked for the entire game and had the better of Trengove / English, recording 37 hit outs, 7 kicks, 11 handballs, 5 marks and 6 tackles. Likely to pick up DPP if this volume keeps up during the season. Finished 2018 with scores of 114, 88, 58, 74, 78, and 95 between rounds 17 and 23, for a 6 round average of 84.5. You couldn't, could you?
Steele (MID / $685K) – 107 / 85% – had a slow first quarter, only managing 14 points, prior to recording scores of 38, 29 and 26 across the remaining 3 quarters. While he has a troubling kick to handball ratio, the kid loves to cuddle – recording 10 for the match. Spent significant chunks of the game in the midfield. Looks to be in for a big season recording back-to-back 100's across the JLT, on top of the hot finish to 2018.
Billings (FWD / $618K) – 101 / 81% – started forward in the first quarter and worked into the game. Fantasy Freako in particular noted his work rate, "Billings is pushing back to get involved and has a team-high 8 defensive midfield disposals." Looked to be playing a largely outside game, with the Saints players seeking to use his penetrating kick to enter the F50.
Dunstan (MID / $599K) – 101 / 63% – Like Steele, Dunstan had a quiet first term prior to putting up 83% of his score across the last three quarters. Looks to be the biggest beneficiary of Steven, Acres and Hannebery's absence from the side. Not sure he scores this well with the first contingent of midfielders playing in the best 22.
Savage / Roberton (DEF / $593K & DEF / $537K) – 99 / 89% and 85 / 87% respectively – the two distributors for the Saints off half back. The pair split the kick in's, often playing on, taking advantage of the new rule. Whilst Savage is value in draft leagues, Roberton provides significant value in salary cap formats. Monitor Roberton during the week, reports post game indicated he was feeling "wonky". s
Ross (MID / $779K) – 81 / 79% – a trimmed down Ross was a key member of the Saints on ball brigade from the first CBD. He didn't appear to get out of second gear for the majority of the match, posting a respectable score from limited game time. Appears to be a great POD early in the season.
Clark (DEF / $421K) – 77 / 59% – was prominent in the first half. The second year player looks set to build on a promising first year, often distributing the ball from D50, kicked a great goal early in the first quarter.
Gresham (FWD / $531K) – 68 / 72% – the popular break out candidate appeared to spend most of his time in attack, with short bursts up the ground and in the midfield. Built a third of his score from goals and tackles. Given the number of players missing from the Saints midfield, it appears unlikely he will receive the number of midfield minutes required to make him salary cap relevant.
Parker (FWD / $178K) – 33 / 75% – the feisty rookie was quite productive in the first quarter taking a great grab and being involved in a few forays forward for the Saints. Unfortunately, he all but disappeared for the rest of the game, scoring 8, 3 and 4 points in each of the last 3 quarters. He may provide limited cash growth if named early in the season.
Other Saints of Note: J. Newnes (MID/FWD / $481K) – 102 / 82% – put up a respectable score patrolling the wings of Eureka. A potential draft option if he maintains the right role. J. Webster (DEF $572K) – 52 / 83% – with the return of Roberton, Webster appears to have reverted back to a lock down defender. T. Membrey (FWD / $499K) – 89 / 85% – was productive up forward, became a focal point after the unfortunate head knock to McCartin.
Fremantle v West Coast – Mandurah
Sunday 10 March – by Fry
Click here for DT Live's scores/stats.
Similar to last weekend Fremantle started the game in good nick, but eventually couldn't keep up with a 2018 Grand Finalist. The Dockers managed just 3.7 in the last three quarters as the Eagles put forth another professional performance, cementing their status as a contender for the 2019 flag. Of course, you didn't come here to read about the 51-point result, let's dive into the relevant Fantasy numbers.
Key Players Missing
Fremantle –Nat Fyfe, Aaron Sandilands, Stephen Hill, Connor Blakely
West Coast – Josh Kennedy, Nic Naitanui, Jamie Cripps
Fremantle Players
Andrew Brayshaw (MID, $485K)
94 from 78% TOG
Led the way for Fremantle and will likely see a boost in his ownership after this performance. Currently in just 3.15% of teams, I wrote about Brayshaw in the Deck of DT this season and he could go on to average 80-85 or more this season. Is it enough to warrant picking him? Probably not with all the bargain mids available, but he's one I'm considering.
David Mundy (MID, $652K)
91 from 79% TOG
Serious top-6 chance up forward and he played his role through the middle for the Purple Army. Mundy attended 17 centre bounces and while that number may decrease when Nat Fyfe rejoins the side, he will probably still hover around 90. Great unique.
Jesse Hogan (FWD, $646K)
78 from 87% TOG
A much better performance from Freo's top dollar recruit. I wouldn't take a chance on Hogan with he and Rory Lobb still having issues flying for the same footy in marking contests as the forward line continues to take shape. Still, it was a promising outing from Hogan, who even spent some time in the middle of the ground.
Michael Walters (MID, $581K)
76 from 68% TOG
Yeah, nah. We've seen Michael Walters spend a lot of time in the midfield through two weeks of JLT action and attending 18 centre bounces today has a lot of coaches licking their lips over Son Son's potential. It's risky to start with him in your side given his inconsistencies and questions over his role with a healthy Nat Fyfe on the park. #JLTStayStrong
Rory Lobb (RUC/FWD, $485K)
70 from 89% TOG
This is the Rory Lobb I think we are going to see more of in 2019. He played a bit all over the ground finishing with just 14 hitouts to his name. With Sean Darcy healthy and a potential 211cm spanner in Aaron Sandilands being thrown in the works, Lobb looms as a back-up ruck who'll play a lot of his minutes as a key forward. Pass.
Adam Cerra (FWD, $432K)
60 from 77% TOG
For the second straight week, Adam Cerra was a non-factor and barely saw any time in the middle. He was on a lot of people's radars ahead of the JLT, but you can kindly remove him from your watchlist.
Sean Darcy (RUC, $552K)
58 from 73% TOG
While Darcy could be a worth taking a late chance on in Draft, there's no way you can slot him into your Classic side. He needed 32 hitouts to reach 58 and he will have to share the ruck duties with Sandilands and/or Lobb throughout the year. No thanks.
Luke Ryan (DEF, $558K)
44 from 84% TOG
Today wasn't a great day for Freo defenders as West Coast peppered the ball inside 50 on 60 occasions for 29 scores. Despite all those entries Luke Ryan only managed to take one mark in the entire game and once again didn't dominate the kick-ins. He was forced to defend more often rather than play his traditional role driving the Dockers from half-back with Ryan's poor score also hampered by Nathan Wilson's 20 touches (69 from 88% TOG). Avoid.
Brett Bewley (MID, $170K)
26 from 41% TOG
What do we make of Brett Bewley? He was an emergency for the Dockers and then earned a late call-up, once again playing his minutes the second half. There was one report I read stating that Bewley played a WAFL tune-up game before the Eagles/Freo match, but the fact that he has less than one total JLT game under his belt gives me doubt over whether he'll be named to start the year.
West Coast Players
Dom Sheed (MID, $539K)
123 from 80% TOG
Dom Sheed is priced under 75, just let that sink in for a minute. Backing up his 39 touch, 136 point performance against the Cats, Sheed was once again in tremendous form, effortlessly gathering possessions at Rushton Park. He's seriously unique and with Andrew Gaff out for the first two games you have to wonder whether that will help or hamper his scores.
Willie Rioli (FWD, $391K)
120 from 74% TOG
Talk about a breakout candidate! Willie Rioli put his hand up for selection with a mammoth game against Freo, kicking four goals and putting forward an awesome all-around performance. He did only chalk up 44 against Geelong a week ago, so there's plenty of risk surrounding Rioli, who at $391K isn't the worst option. Not for me, but could be a sneaky play.
Jack Darling (FWD, $557K)
109 from 84% TOG
One of the main beneficiaries from the new rules, Jack Darling is emerging as a legit option. His second straight 100 needs to be taken with a grain of salt, with a healthy Josh Kennedy bound to have an impact on his scores. Credit where credit's due though. Darling could have put up a much larger score if he didn't kick 1.4 as well.
Jack Redden (MID, $698K)
105 from 75% TOG
Quality performance from a handball happy Redden as he gathered the most contested possession in the match (17). Priced at 96.2 there isn't a ton of upside in selecting him in your starting side, but he deserves mention.
Shannon Hurn (DEF, $645K)
104 from 87% TOG
Do we need to bring Shannon Hurn into our calculations? I don't have the official numbers, but Bunger was responsible for a large chunk of West Coast's kick-ins and he finished with 26 touches and just two handballs. Hurn's bound to be in the mix for top-6 defender status if he's healthy, making him an intriguing POD.
Elliot Yeo (MID, $775K)
81 from 72% TOG
You probably can't take a punt on Yeo following his breakout season in 2018. However, the former swingman seems set to feature with more regularity inside the Eagles engine room, with his 17 CBA's (centre bounce attendances) a team-high.
Jack Petruccelle (FWD, $170K)
71 from 74% TOG
A better game in JLT 2 will see a bunch of coaches take a chance on Petruccelle with one of their bench spots in the forward line. The potential LeCras replacement finished with 16 disposals and two goals doing his Round 1 chances no harm.
Jarrod Brander (FWD, $170K)
69 from 76% TOG
Brander racked up his touches a bit over the ground, with the Eagles tall one of just four players in the contest to record at least three rebound and three inside 50's. With forward line cash cows hard to come by, if Brander is named to start the season he's worth considering and may even bump Petruccelle in the pecking order. Will be interesting to see what Josh Kennedy's presence does to the versatile key position player.
Luke Shuey (MID, $634K)
68 from 58% TOG
A no fuss day at the office for Shuey, who was just happy to get some minutes into his legs. He had low time on ground last week as well and the reigning Norm Smith medalist will likely be leaned on heavily to start the year without Gaff in the side. Awkward price means he probably shouldn't be on your radar though.
Andrew Gaff (MID, $803K)
57 from 70% TOG
Another veteran who wasn't out to run at 100%. Gaff managed to see eight centre bounces, which is encouraging for his potential when he returns to action in Round 3. He looms as an upgrade target during the season for sure.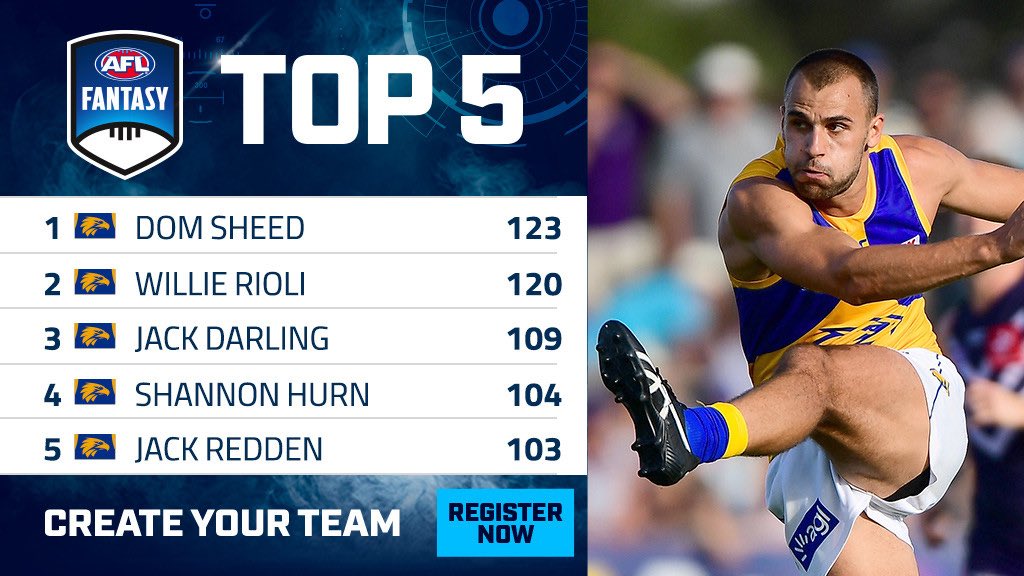 Collingwood v Carlton – Morwell
Monday 11 March – by Gus
Click here for DT Live's scores/stats.
The Pies and Blues fought out a close encounter in Morwell, with the Pies prevailing by 4 points. An electric start, in terms of Fantasy scoring, somewhat sizzled out but there was plenty to like from both teams.
Pies:
Today Adam Treloar (787k MID) did as he pleased to gain 42 disposals and 6 tackles on his way to a classy 140 (75% TOG). The guy is a jet and is definitely a great option for your midfields even with the possible inclusion of Adams in the early part of the season.
Rebounding defender Jack Crisp (635k DEF), piled up plenty of +6s on his way to 135 (78% TOG), backing up his 95 (69% TOG) from JLT 1. Owned by just 2.2% of the competition, Crisp is a fantastic alternative to a Witherden type, who could increase his scoring this season.
Sidebottom (750k MID) was fantastic for his 120 (88% TOG), which backed up his 113 last week. He is a great POD that should not be disrespected but there a lot of midfield options.
Pendlebury (738k MID) and Beams (768k MID) were both good scoring 91 (77% TOG) and 85 (72% TOG) respectively. Despite not setting the world on fire, they probably did enough to remain in your sides if they were already there. Pendlebury attended many CBAs, and whether this changes with the inclusion of Adams remains to be seen.
Grundy (871k RUCK) was quite lacklustre today. He didn't have his greatest outing with just 75 from 88% TOG but he was probably taking things easy today. Interestingly, it seemed he was trying to avoid his right toe at all costs today. He had 3 kicks from his 17 touches and two were shots on goal. The other an open piece of running where he chose to kick on his non-preferred. Interesting, but I think I am reading too much into him. Nonetheless, lock him in at R1 for the season.
Livewire Jamie Elliott (385k FWD) had 57 points from (55% TOG). He suffered some cramping late in the third term and was rested from then on after. An option in the FWD line to minimise the number of forward rookies required.
Others:
Thomas was good today with 101 (77% TOG). 3 goals inflated his score but he did have a fantasy-friendly role. Mayne, too, was good. His 86 points provides a possible FWD POD at 522k.
Blues:
Marc Murphy (705k MID) led all scorers for the Blues with 101 points (88% TOG), but probably holds little relevancy to Classic. Possible Draft Slider.
Veteran Kade Simpson (692k DEF) got himself to a respectable, and dependable, score of 90 (87% TOG). Having been a touch slow at half-time (34 points), he rebounded by picking up his usual +6s across defence. Played on from all of his kick-ins, provided reasoning to his believed increase in scoring this year.
Young bull Patrick Cripps (793k MID) cruised around this afternoon. Seeming to have played a slightly more outside role today he finished with 87 (91% TOG) from his 24 touches and 2 goals. Although he did spend fair chunks of time in the forward line this seemed to be, mostly, instead of time spent on the bench. He dominates up there and is bound to get a goal or two a game, which could help him increase his scoring.
#1 Draft Pick Sam Walsh (270k MID) once again showed his class. His 82 from 84% TOG, proved why he is a must-have in everyone's midfields. Could provide returns similar to Kelly of last year.
SSP rookie Michael Gibbons (170k MID) started poorly – he was yet to break the duck at quarter-time. He did improve from here, as he was able to build himself to a score of 41 from the remaining three quarters. Whilst this score is not overly entertaining, what should be of acknowledgement is his game-high pressure acts. This stat is crucial to his JS and should provide him with a spot in the 22 for the short-term.
Ex-Giant Will Setterfield (251k MID/FWD) seemed to have been lost for much of the 2nd and 3rd quarters. These were sandwiched between respectable 20 and 22-point scores in the first and final quarters, which helped him get to 57 (71% TOG). He has the best JS and scoring potential out of all FWD rooks, so lock him in.
Nic Newman (552k DEF) might be finding himself out of a few people's teams, on the back of his putrid 29 points (76% TOG). Newman has long had a yo-yoing score line in Fantasy and that looks set to continue in season 2019.
Others:
Zac Fisher scored a mediocre 61 points (72% TOG) which may cross him off the watchlists of a few keen on the young Blue. Ed Curnow continued his new role up forward, to the detriment of his Fantasy scoring. He looks set to gain DPP throughout the year but his return of 71 (84% TOG) suggests this could have little effect on his relevancy.