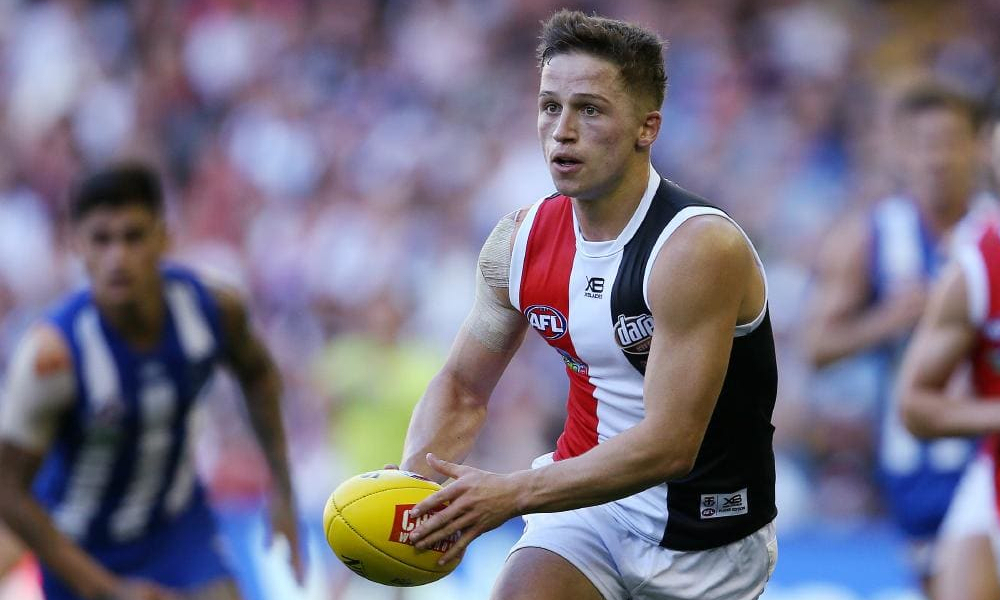 And here we are! The third and final pre-season Ripe for the Picking and we're focusing on value Forwards today. If you missed the other two articles, click here for my Defenders article, and here to see which Midfielders and Ruckmen I deem to be value picks. The Forwards have been difficult to sort through as there was no real stand-out value option. Everybody on my list presented more risk than I would have liked and, as such, it was tough to sort them into an order. There are plenty of options, however! So, let's get into them.
Click here for defenders.
Click here for midfielders and rucks.
Best 3:
Jack Billings – $618,000 2018 Avg. 85.2 BE 85
He has burnt me once, and he'll probably burn me again this season, but once again Jack Billings seems like a strong pick to start this year with. Not going to lie, I blame the majority of Billings' poor year last year on Coach Richo having a complete and utter meltdown and giving him zero midfield time. A midfielder is going to struggle to get the pill if you dump him in the forward pocket of a team that was 13th in Inside 50's last season and then leave him to die there. It took until Richo completely lost it and dropped Billings to Sandringham for things to click and for Billings to get some midfield time. I'm sure many remember the infamous game in the Magoo's, where Jack was chucked in the middle and amassed 54 disposals. After his game in the VFL, Billings came back into the senior side and was granted a slightly more midfield-based role. In the 10 games between then and the end of the season, his average increased to 96.8 from the 74.6 he averaged in the 11 games before. Billings is set for more midfield time this year (source) and I think he could even bump his average up higher than the 97 he averaged in the last 10 games in 2018. A 10-20-point increase and a Top 6 Forward for just over $600k is well worth the risk in my opinion. Fingers crossed that Billings can actually do what he couldn't last year.
Jamie Elliott – $385,000 2018 Avg. – BE 53
These mid-priced players that are almost priced like rookies are just too difficult to pass up, and Jamie Elliott fits right in that category. With a BE of 53, you can pretty much put the house on Elliott increasing his price by 20+ points and there's no job security issue as he's a lock in Collingwood's Forward 50. Jamie's Fantasy history actually surprised me when I took a look. I saw a lot of people were keen on Jamie and his low price tag but couldn't understand why, as I thought he only ever averaged about 60. Turns out Elliott has been above an average of 75 for the last three seasons he has played, which means he's great value for any team, provided he can actually play out the season. Elliott has one big issue, and that's missing games. He has played just 20 home and away games in the past three seasons, missing two entire seasons. For me, this is a huge red flag. A mid-pricers whole purpose is null and void if he isn't earning money week in, week out, and history says Elliott definitely won't be playing a full season. If he can stay out of harm's way and in Collingwood's 22 then he's a lock, as his price tag and minimum gain are just too juicy to pass up. But be warned, it's likely he will miss at least a few games throughout the season, and that will cost the Coaches that pick him.
Robbie Gray – $612,000 2018 Avg. 84.3 BE 84
It's difficult to ever know what to expect from Port Adelaide. Their midfield is a mixture of solid youth and experience, but it seems that some of the great number-accumulators can't break into it, and Robbie Gray is one of those. I believe Gray should average 95-100 every year guaranteed, but it just doesn't happen, mostly thanks to his near-permanent forward role. I'm not saying that Gray isn't damaging up forward, because he definitely is. 36 goals from 21 games is solid output from a small forward who's also a gun midfielder. It's just, as a Fantasy coach, we want to see the Robbie capable of scoring 100 every week, not just when he boots 6 goals. Wingard and Polec leaving could potentially help Gray's cause, although I'm slightly doubtful about it. Chad didn't actually take up that much midfield time while at Port, so he hasn't really freed up a lot of time, and Polec was never a better midfielder than Gray and still got the minutes over him, so why play Robbie there now? I think it more likely that Rockliff takes Wingard's extra few minutes and Port find a new outsider runner to replace Polec, with Gray keeping the same role. However, if Gray does get that midfield time, expect him to increase his average by around 10 points. Between 2014 to 2016, Gray played all but three games with a sizeable midfield role and averaged 96.4, 96.8, and 97.6 respectively. I can definitely see him averaging similar numbers, if not more if he gets given that role again.
Next 5:
Liam Picken – $387,000 2018 Avg. – BE 53
Picken is by far the most valuable player on this list if he plays, but the reports on him are so varied, it's hard to say for sure when/if he will play. Some say he's back at full training, some say he won't play all year, and the most recent piece I read said that he's back at full training with limited contact, which does not sound promising for a Round 1 start. If he's named, absolutely lock him in your teams.
Tim Kelly – $630,000 2018 Avg. 86.8 BE 87
He took the league by storm last year, and with Gaz saying he will be playing a lot more forward this year, I think Kelly has earned that extra midfield time. Could be a genuine premium at the end of the season and all for a reasonable price tag. I think both Billings and Gray are more value, but not by much. Definitely worth a gander.
Sam Switkowvski – $350,000 2018 Avg. 63.5 BE 48
The Freo forward impressed in Round 23 last year and I think he has the potential to do it again. Word on the grapevine is he's touted pretty highly at Freo and should be in their best 22. Similar things are expected from Switkowvski's teammate Adam Cerra – $432,000 2018 Avg. 59.5 BE 60. I've heard he should play a bigger role in the side this year and should increase his output significantly. I'm just not sure picking either second-year player is warranted over picking a rookie, but will strongly consider, especially if both perform in JLT.
Chad Wingard – $598,000 2018 Avg. 82.3 BE 82
I wrote about the Chad in Deck of DT (article here) and I still believe he will be one of the better Forwards in the competition, but I'm just worried about his injuries. If he plays consistently, he should get a lot more midfield time than he did at Port and his scoring should increase accordingly. Pick if healthy.
Darcy MacPherson – $440,000 2018 Avg. 71.4 BE 61
I seem to mention him every year and every year he seems to let me down, but MacPherson once again presents value this year. After sitting out most of last season injured and playing a mixture of midfield and forward before his injury, I can see him increasing on his BE by 15-20 points, so long as he plays. I probably wouldn't pick him, but don't be surprised to see him priced at $600k by the end of the season.
And that's it for my pre-season Ripe for the Picking articles, I hope you've all enjoyed the reading as much as I've enjoyed writing them, and I hope they help you out in structuring your team! I'll be back during the season as I usually am, with an article once every four weeks. Until then, feel free to leave any questions below in the comments or @ me on Twitter @SparksyDT, and enjoy the 2019 season! Good luck!