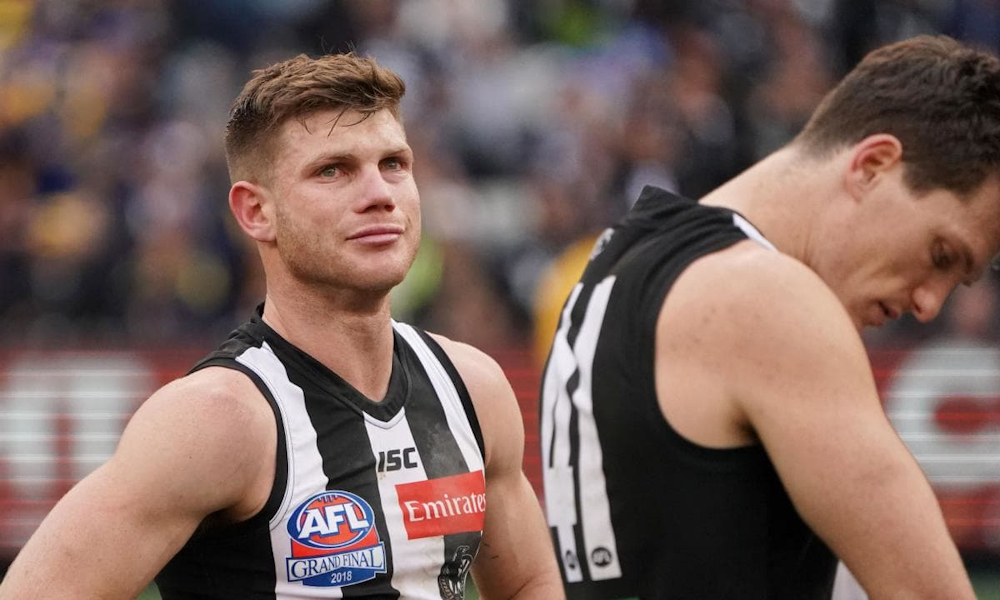 Hey Coaches! I'm back for the second day of Ripe for the Picking with the best value Midfielders and Ruckmen in the league. Today's is combining both positions due to the lack of Ruckmen available who provide any value. As such, there won't be a Next 5 section for the Ruckmen, just a Best 3, so I'll do what I can to alleviate your R2 woes. If you didn't read about the Defenders yesterday, catch that article here, and the Forwards will be up tomorrow. There's plenty of juicy value prospects in the Mids though, so let's rip into it.
Midfielders:
Best 3:
Brad Crouch – $524,000 2018 Avg. – BE 72
He didn't play at all last season, but in 2017 he played 17 games for an average of 103.1. Let that sink in! In his last proper season, he averaged a huge 31 points more than his current BE, but thanks to the injury discount we get him cheap as chips. I personally think Brad is the biggest lock in AFL Fantasy this year. The guy is tried and tested, he's averaged the huge numbers before and has never been a bad Fantasy player, averaging 92.1 in his first AFL season. Many were considering him at full price last year before he got injured, so at $524k he should absolutely be locked in your team. He even tore apart an Under 23's trial match against the Port Under 23's just this weekend (source). He's also currently only at 16% ownership too, which should definitely change before the season starts but, if it doesn't you have a crazily good Player of Difference in your team. The only bad thing about Crouch is that he seems to be quite injury prone. In his four seasons of AFL footy, he's managed 14, 11, 14, and 17 games. While not all of these are necessarily through injury, you rarely want one of your decent midfielders missing one game, let alone five. Even if he does miss a few games here or there, I think his upside makes it absolutely worthwhile picking him with that risk. Lock and load on this one and don't look back.
Jacob Hopper – $568,000 2018 Avg. 78.3 BE 78
Hopper is a really interesting pick here, but I think he's capable of stepping up to a premium status this year for a few reasons. Firstly, the departure of Shiel and Scully leaves a hole in the Midfield to fill, and whilst Tim Taranto will be getting a significant amount of that time (source), I also feel like Hopper's midfield time will increase. Taranto is a scarily good player who can play forward or in the guts. I think Hopper is as good as Taranto in the middle but struggles to fill any other role. Although this is a weakness for sure, it might play to Fantasy Coach's advantage as Taranto will move forward at stages, whereas Hopper should stay in the guts. Secondly, Hopper has now had four years in the system and played his first significant season last year with 19 games at an average of 78.3. This is almost double the games of the season before and an increase in average of over 13 points. I predict, with his newfound opportunity and his extra midfield time, Hopper should increase his average by more than what he did last season. Lastly, Hopper is in the final year of his contract. At 22 years of age and on GWS' list, he's going to have to really work for that next contract, especially if he wants it to be a substantial one. GWS don't just shell out money to anybody, as we've seen in the past off season or two. To stay on their list and get paid along with the other insanely good, young players, you really need to perform and have a role. I'm hoping this means that Hopper will absolutely show up this season and increase his output by a significant amount. Even if GWS aren't going to keep him, he still wants to fully show what he's capable of so that another team can pay him big money. Taranto is definitely a solid pick in itself, but I don't see him averaging more than 5-10 points more than last season, which is still great! I just think that Hopper can average 90+ and he's $100k cheaper than Taranto, but it's definitely a bold move to make.
Taylor Adams – $690,000 2018 Avg. 95.1 BE 95
Roy is loving the idea of having Taylor Adams in his side this season, and I must say that I agree with him wholeheartedly. Adams is seriously under-priced considering what he's capable of and both Adam Treloar and Brodie Grundy have stated he will be playing in the guts all year this season. Last year was interesting for Tay, he seemed to be a bit off to begin with, sat out a bit at the start of the season, and then came home with a bang including three 120+ scores in the last six games of the year. I think we'll see more of that Taylor Adams this season, and his poor start to last year only serves to lessen his price tag. Considering he has averaged almost 115 just two years ago, $690k is an absolute steal to get somebody of Adams' calibre. I particularly like his ability to score big, he can consistently pump out 120's and 130's, which is exactly what you want from your under-priced premos. Other than his semi-average 2018 season, I really don't see any negatives to picking Adams in your starting side. At worst, he's going to average 100 for the season and only increase about $50k in price, at best he'll average 115 again and be a true premium player that Coaches can pick up at a discounted rate to start the season. Definitely a player to slot into your team.
Next 5:
Tom Liberatore – $392,000 2018 Avg. 9 BE 54
He has never been an insane Fantasy player, but Libba's worst season ever (other than his 9 points last year) is still 15 points better than his BE. A very low-risk cash grab here and one that many Coaches will make decent money on. Can definitely see the upside in picking him for an M6-M8 spot.
Andrew Brayshaw – $485,000 2018 Avg. 66.8 BE 67
Mark my words, Andy Brayshaw will capitalise on the extra midfield gifted to him by the departure of Lachie Neale. After being a fantastic rookie option last year before Gaff's idiocy lead to him missing the end of the season, I think he's capable of increasing his average a significant amount this year. A fair amount of risk considering he's a second-year player, but a risk that will pay off big if you pick him and he delivers.
Anthony Miles – $425,000 2018 Avg. 78 BE 59
An interesting one and not a player I'm a particularly big fan of, but Miles being traded to the Gold Coast has opened up a lot of opportunity for him and I think he will relish it. A natural ball winner and free-kick getter, Miles averaged 78 from just one game last year and has averaged well above 80 in previous seasons. I would say he's a very easy 20-point gain with low risk, an easy one for those looking to save money.
Tom Rockliff – $600,000 2018 Avg. 82.7 BE 83
He struggled last year with a move that put him in either the forward line or a tagging role, and I'm struggling to warrant picking him again based purely on the fact he plays for the unpredictable Power. However, if Rocky can average even close to what we all know he's capable of, then those who get on board early will absolutely reap the rewards. Look forward to seeing what Rocky is capable of this season.
James Worpel – $480,000 2018 Avg. 68.2 BE 66
The Worpedo could potentially gain a major role in Hawthorn's midfield after the injury to Tom Mitchell leaves a gaping hole. I personally don't think he's up to it and will have to both share the midfield duties, and spend a reasonable time learning rather than doing. I can see him increasing a bit, but not enough for me to bite with plenty of other options around the same price. Would happily see him burn me though!
That's it for the Midfielders! I hope that helps you to place a few value players into your eight midfield spots. Before I begin with the Rucks, I just want to say what I find myself saying every year. Pickings are quite slim. You're either paying up and picking the big dogs, or you're taking a huge risk and hoping one of the few value options can stand out. I'm a very firm believer in starting with the two Ruckmen which I think will be the top 2 in the league. R1 is an obvious lock, but R2 is what everybody is struggling with. My advice is to spend the money and pick either Gawn or Stef. However, if you want to take that big risk and find a value option, read below. As I mentioned before, there'll be no Next 5 section for the Rucks due to a lack of value players.
Rucks:
Best 3:
Tim English – $446,000 2018 Avg. 67.6 BE 61
English has done nothing but disappoint me in the two years he's been in the competition, but maybe this year will be different. I'm not going to lie, Timmy has me questioning my golden ruck strategy for the first time ever, and it's making me feel very uneasy. I'd say English is almost a lock for the number 1 Ruck spot at the Dogs and likely to share the duty with Tom Boyd, if he's healthy. English has apparently been working very hard on cementing that lead Ruck position, after playing 7 Rounds last year and then disappearing from the team entirely. According to the big man himself, he has stacked on 11kgs since coming to the club three years ago and is now sitting at 100 kegs (source). It definitely seems like he has the hunger to be picked as a permanent role, and the Dogs have seemed to be priming him to take this position and clearly rate him very highly. He even scored a 107 last year, which is pretty impressive for a big man in his second season of AFL. The biggest concern I have however, is that I still think English will get absolutely bodied by the better big men in the league. Sure, he may be able to towel up your second-string ruckmen but put him against a Gawn/Grundy/Martin/Goldstein, or even a Sauce Jacobs or Witts, and I think he will score the 30's he gave us last year. He hasn't convinced me yet, but a very solid JLT may cause me to break my rule.
Matthew Kreuzer – $576,000 2018 Avg. 79.3 BE 79
He struggled last year and has always had a rough time with injury, but in 2017 Kreuz showed us what he was truly capable of, averaging 105 for the year. It's a big if and I don't think it will happen, but if Kreuzer can get back to that form, he provides an insane amount of value. Getting a guy who can average 100+ at R2 for less than $600k is an absolute robbery and should be considered. I do however have my doubts. Kreuz's injury history is well against him, he's only ever averaged over 100 once in his 11 years at the Blues, and I believe the new Ruck rule will see him sharing duties with Lobbe, if he can stay on the pitch that is. Kreuzer doesn't do it for me, but I'm sure there are people out there who will pick him and make us look stupid when he averages 105 again! This one's a no from me.
Sam Naismith – $299,000 2018 Avg. – BE 41
When you're desperate, you're really desperate. Poor Sammy Naismith had the #1 ruck role at the Swans all but locked up last year before injury struck and he missed the whole season. Unfortunately for us, Cal Sinclair did an adequate job of filling Naismith's shoes, and I now fear that Naismith has dropped to number 2 in the pecking order. You can't start the season with Naismith as he still has a reasonable amount of time left to recover. However, he should be back by Round 6 (source) and that could make for some very interesting moves in the Ruck department of some Coach's teams! Naismith has never set the Fantasy world alight with his scoring, but he has got the job done and he will definitely average more than his BE if he plays. He's one I'd keep a close eye on for sure, but I'm not sure he does enough at R2 to warrant this cheeky cash grab.
Anyway, that's all for today's instalment of Ripe for the Picking, I hope you all enjoyed it! Come back tomorrow for the third, and final, pre-season article from me to see which value-providing Forwards are catching my eye. In the meantime, comment below or hit me up with a tweet @SparksyDT!