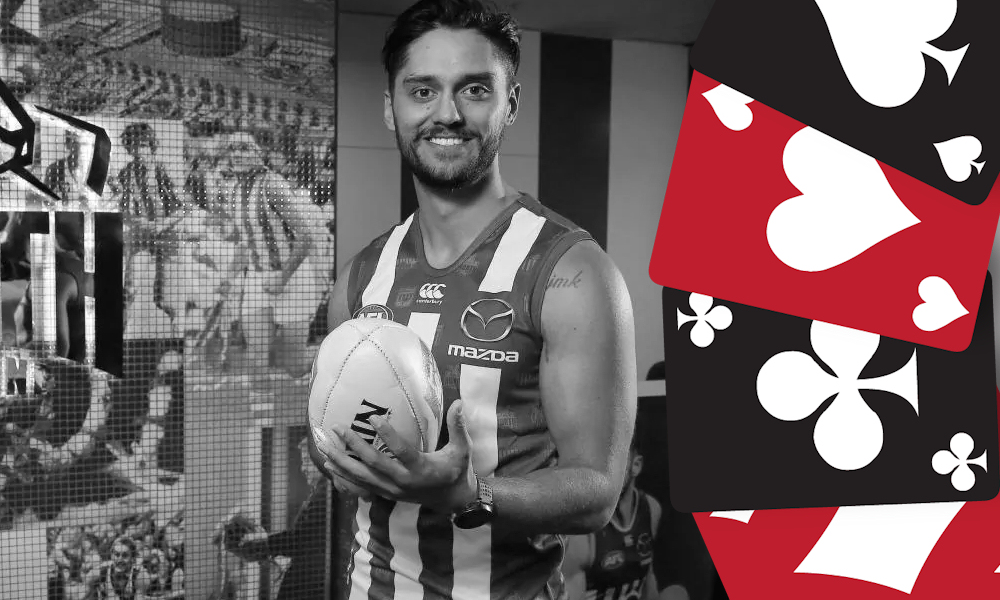 Name: Aaron Hall
Team: North Melbourne
Position: MID
Price: $626,000
Bye round: 14
2018 average: 71.7
2018 games played: 6
Predicted average: 102
Draft range: 40-50
Click here for 2019 Fantasy prices.
Why should I pick him?
I know I've said it before, but Hall is insanely good value this year!
The ex-Suns ball magnet made a move in the off-season, away from a coach who despised him and down to a club that will hopefully give him better opportunity. While North Melbourne and Gold Coast were quite similar in terms of team structure, fingers are crossed in the Fantasy community that Coach Scott likes him more than Stuey Dew. Hall made 6 sporadic appearances for the lacklustre Suns between Rounds 2-11, before tearing his pectoral tendon and prematurely ending his season. The fact that Hall couldn't find consistent form due to not getting a regular game and Hall's injury have brought his price WAY down. To help with a bit of comparison, Hall is: 68k cheaper than 2018 let-down Luke Parker, 63k less than ex-teammate Jarryd Lyons, 48k less than 2017 Brownlow Medallist Dustin Martin, and 21k less than perennial under-achiever Dylan Shiel. You can even save 34k by picking him over Tim Taranto, who has shown nothing close to what Hall is capable of, yet people are still considering him!
For a guy who can rack up the points, Hall is extremely cheap, and boy can he score too. Hall's highest season average is 105.2 back in 2016. In that season, Hall went below 100 only six times from 17 games, and four of those sub-100 scores were above 90. Not only is this incredible scoring, but it shows he can be consistent at scoring when given the chance. Hall also has a pretty huge ceiling too, going above 150 three separate times, with a high score of 156. That's a whopping 70 points above his current Break-Even! Even last season when he was given few opportunities, Hall managed to go above the ton twice before getting injured.
He's a truly wonderful player to have in your team and to watch when he's firing, and I think he is significantly under-priced and much too valuable to pass up this season.
Why shouldn't I pick him?
There are two reasons I would be wary of picking Hall this season.
Firstly, he now plays for North Melbourne who are notoriously poor at AFL Fantasy scoring, or just AFL statistics in general. North Melbourne ranked 12th or below in every major Champion Data basic statistic in 2018, except opponents hit-outs and hit-out differential. Stats like 18th in kicks per game, 16th in marks per game, and 15th in rebound 50's per game really end up influencing the team's Fantasy numbers. North's highest Fantasy averages last year came from Ben Cunnington and Shaun Higgins, who both averaged 93.9. That is enough to get them equal 53rd in the league, a long way from the top and disappointing to have no players in their team averaging more than 100. Of the 18 teams in the competition, 16 had at least one player average above 100 for the 2018 season, the only team other than North Melbourne that didn't have one was Gold Coast. Certainly not the type of company you want to have when it comes to AFL Fantasy scoring. I'd like to think North's Fantasy scoring will take a turn for the better this season. I personally think they've recruited very well and filled a lot of the gaps they used to have. Hopefully this much stronger midfield and the new defensive movers can get their scoring up, and hopefully Aaron can benefit from that.
The second reason not to pick Hall is his inability to play a full season. Whether it be through annoying the coach, not putting in any effort, or getting injured, he always seems to miss enough games for it to be a problem. In his whole seven-year career Hall has managed just one full season, and that was in 2013. Since then he's gone 16, 15, 17, 19, and then 6 last year. That will be the make or break for Hall; if he can stay on the field, he'll be worth every cent and more.

Find The Traders' podcast on: Apple Podcasts, Google Podcasts and Spotify.
Deck of DT Rating.
QUEEN – Hall has the potential to genuinely be pick of this season. He has a huge ceiling, consistent scoring, and is cheap as chips for the player that he is. A player with his value can't be passed up on. There is a more-than-mild amount of risk with him considering his new team's scoring habits and his ability to be sitting on the sideline, but I truly believe he is a make or break player this season. If he performs, it will give your team a huge boost, if he struggles, it could cost your team quite a few rankings.
As per usual, if you've got any comments or questions, drop them down below or hit me up @SparksyDT on Twitter.
FOLLOW ME ON TWITTER: @SparksyDT for all thing AFL Fantasy (and more). Got something to say about the deck? Use the hashtag… #DeckofDT.