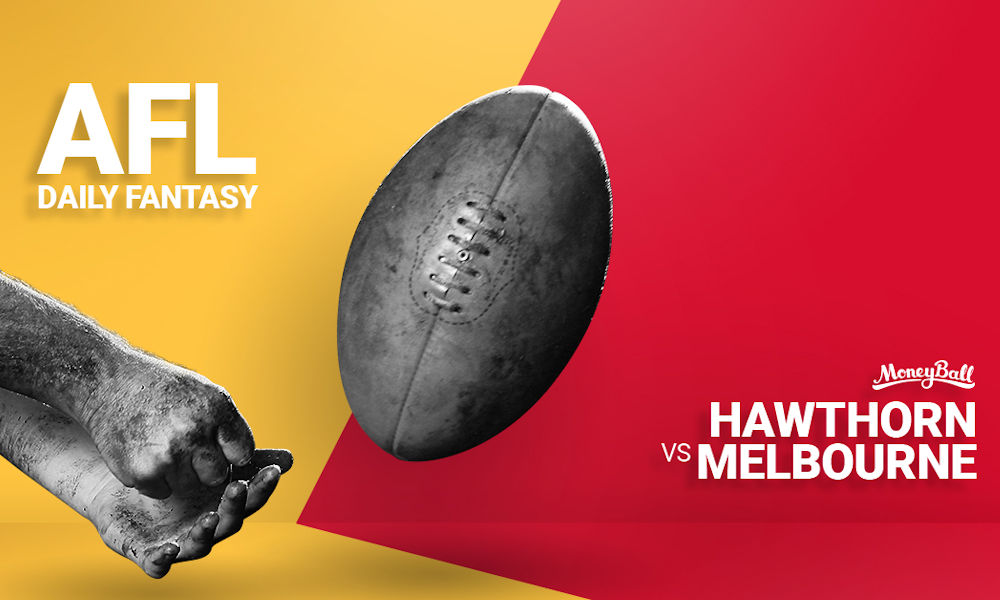 Tbetta here, and welcome to the self-proclaimed top resource for keen Aussie rules Moneyball punters! DFS (Daily Fantasy Sports) is taking off around the world and Moneyball have the perfect platform for you to turn your AFL Fantasy prowess into cold hard cash. Signing up is easy – head to moneyball.com.au and you could be ballin' within minutes.
If you're unsure how DFS works, be sure to head to the 'Help' section for all the info you need to start cashing in on your AFL Fantasy knowledge.
Click here to subscribe on iTunes.
Hawthorn vs Melbourne
STORYLINES: The massive Ruck discrepancy.
In my opinion, every team should have a $50,600 salary and 8 slots on this slate, and here's why:
Max Gawn ($9,400 RU) top-scored for the Demons with 127 AF the last time these two teams met, and that was from the wrong end of a 67-point flogging. Despite being against the current from a team perspective, Gawn recorded 66 hitouts in that game – a career-high and the 5th-highest haul of all time. And that wasn't against a part-timer either, with a fit McEvoy limping to 27 hitouts of his own. In fact, Max absolutely loves playing the Hawks, recording scores of 111, 85, 144 and 127 against them over his blossoming career so far. And yes, McEvoy played in all of those matches.
Speaking of the Big Boy, the only way he'd be less attractive to pick would be if Ceglar was still in the side. Ben McEvoy ($7,800 RU) struggles in a time-share, averaging almost 20 points less with Ceglar in the side alongside him in recent times.
But it's the match-up factor that I'm worried about here, with Max pummelling him every time – McEvoy's last 4 scores against the Demons (with Gawn playing) reads 67, 39, 51 and 54. Ouch. Taking into account that McEvoy's end-of-season 104-point form was artificially boosted by facing ruckmen such as Boyd, Pierce and Sinclair – a symptom of the fact that he averages 23 points less per game against capable ruckmen this year – and there's no way you can pick him here unless you have doubts over Gawn's fitness or something abstract like that.
BEST PICK: James Harmes ($7,800 MID)
Harmes boasts the 2nd-best form of any player on this slate, yet comes with the 13th-highest salary attached. He's the kind of guy who epitomises Melbourne's new-found team-first attitude, averaging 110 over his past 5 games without even hitting 30 touches in that time. A big reason for that is his tackling, averaging a spicy 7 per game since he became a full-time MID. Scores of 125 and 118 in his last two at the MCG helps with selection confidence too, if you're feeling a bit iffy with his low name-brand value.
BEST STAT: Liam Shiels ($9,000 MID)
Shiels top-scored with 137 AF against the Demons earlier this year from figures of 31 touches, 0 marks, 14 tackles, which highlights how he does his best work – dirty. Shiels plays the perfect style for Finals footy, a highly-contested and tackle-heavy mentality. His last 3 Finals:
2016 vs Geelong: 100 AF, 10 tackles
2016 vs Bulldogs: 110 AF, 12 tackles
2018 vs Richmond: 131 AF, 11 tackles
Just look at those juicy tackle figures! Shiels' scores scale incredibly well with man-hugs, producing totals of 114, 137, 99, 104 and 131 when racking up more than 7 tackles this season. Curiously, the Demons conceded the most tackles of any team this year at 73 per game… Getting my drift?
BEST VALUE: Aaron vandenBerg ($5,800 FWD)
The bull has thrown together scores of 103 and 80 in the past fortnight, which is DFS gold at his price point and considering his positional status. vandenBerg doesn't win much of the footy, but he makes up for it with healthy bonus stats – he logged 7 and 5 marks with 6 and 7 tackles in those games, respectively.
BEST VALUE: James Worpel ($5,800 MID)
He absolutely melted against Richmond for 56 AF, however, it was Worpel's only score under 75 in the past 5 weeks. I think he deserves another chance here, especially with Jaeger out and the fact that he seemed to adjust to Finals pace eventually last weekend, scoring 40 AF in the second half after managing just 16 AF in the first. Like most young players, he performs better when his team is victorious, going at a swift 72 per game in wins compared to just 49 in losses this season. A must-have in Hawks stacks.
BEST RETHINK: Tom Mitchell ($12,100 MID)
Earlier this year, Nathan Jones tagged Titch to 24 touches (his 3rd-lowest for the year) and 83 AF (his 2nd-lowest for the year), and that's some tough numbers to read when you're looking at spending $12.1k on one bloke. Harmes is Melbourne's main tagger now and he'll certainly head to Titch, but I don't expect that'll be any kind of reprieve – only 1 player has topped the ton with a Harmes tag from 5 games this year, and his opponents average 11 points less than their normal output under the feisty Demon's watchful eye. I'm not saying Mitchell won't ton up here, I'm suggesting it's just going to be incredibly difficult to return value.
Always remember to gamble responsibly. If you're having problems with your betting, you can get help at Lifeline or talk to someone at Gambling Help Online.