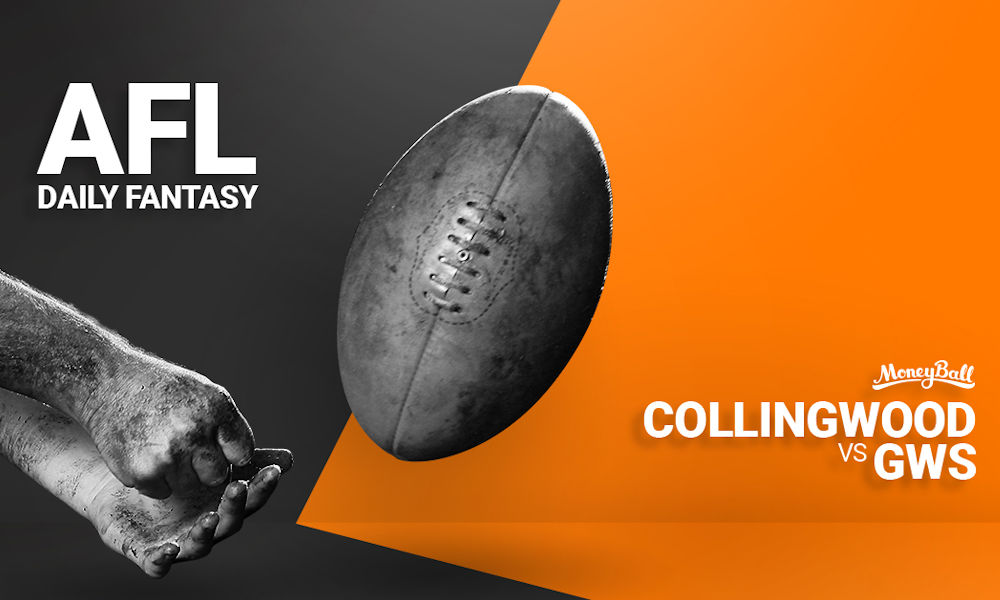 Tbetta here, and welcome to the self-proclaimed top resource for keen Aussie rules Moneyball punters! DFS (Daily Fantasy Sports) is taking off around the world and Moneyball have the perfect platform for you to turn your AFL Fantasy prowess into cold hard cash. Signing up is easy – head to moneyball.com.au and you could be ballin' within minutes.
If you're unsure how DFS works, be sure to head to the 'Help' section for all the info you need to start cashing in on your AFL Fantasy knowledge.
Click here to subscribe on iTunes.
Collingwood vs GWS
STORYLINES: Wet weather? Josh Kelly a huge loss with form vs Pies.
It seems every time we prepare for inclement weather, it either just drizzles or doesn't eventuate. For that reason, all the tips below assume relatively dry weather, but I thought I'd make mention of it here. If the heavens looks like opening up, trend towards contested/tackling types. Stephen Coniglio ($9,700 MID), Callan Ward ($9,000 MID) and Jacob Hopper ($7,300 MID) are the Giants you need to build around, while Scott Pendlebury ($8,700 MID) is the standout tackler for the Pies this year.
On the same token, fade guys who rely on cheap +6 combos, especially in the backline where ball movement won't be pretty little chips to punch holes through the press. If the weather hits, it'll be long kicks down the line followed by more ugly congestion. Players like Tom Phillips ($8,300 MID), who averages 120 from his 8 games this year where he's collected at least 8 marks, and Whitfield (who we talk about below) go down the pecking order here.
From a personnel perspective, Josh Kelly is a massive loss for GWS, especially as he's pumped out scores of 162 and 118 against the Pies in recent times. As we know though, crisis creates opportunity, and Tim Taranto ($8,100 MID) consistently filled the void for the Giants. He averages 100 AF without Kelly in the side, 15 points better than alongside him. The extra midfield is crucial for Taranto, who has a lowest score of 91 when winning 22+ touches this year (and has only topped the ton in 1 of 13 games when he doesn't)
BEST PICK: Brodie Grundy ($11,000 RU)
Picking the ruck against Lobb has been a winning strategy, with all of the final three beneficiaries to end the Home and Away season cashing in in Jacobs (98), Sinclair (90), and Gawn (120). Not that Grundy needs the help – he's averaging 128 over his last 6, he's produced scores of 119, 111 and 127 in his past 3 versus the Giants and even boasts back-to-back 147's at the 'G. Spend the money here folks.
BEST STAT: Lachie Whitfield ($9,700 MID)
Whitfield was on my radar after busting out 123 against the Pies earlier this year, a score built on 13 marks – and the deeper I delved, the more confident I became. Collingwood concede the 2nd-most marks of any team this year, which is especially notable for Whitters – his scores when hitting at least 8 marks this year reads 114, 123, 126, 120, 150, 114, 130, 135 and 124. Those are insanely naughty numbers that need a good flogging and to be sent to their room to think about what they've done.
The elephant in the room here is the possible inclement weather – does it affect his ability to rack up +6 combos? Or will he be dragged down with a Greenwood tag if it stays dry regardless, with the first-choice in Kelly absent?
BEST VALUE: GWS Defenders
Collingwood conceded EASILY the most points to DEF's over the last 5 rounds of the year and that's translated to the Finals, as both Hurn and McGovern had 9 marks apiece last week.
Nick Haynes ($6,500 DEF) has been a late-season favourite of mine, totalling 90, 81, 81 and 87 since Heath Shaw went down. Importantly, he's ripped down at least 8 marks in all those games, so there's no doubt he's the defensive linchpin these days for the Giants.
Adam Tomlinson ($6,800 DEF) doesn't have the brand name value of other blokes in his price range but he's getting done in a multitude of roles lately, scoring at least 84 in 4 of his last 5 games. Like Haynes, he's getting it done in the air with 8 marks a night over the last 3 weeks.
Zac Williams ($7,500 DEF) is the risky play with his Achilles obviously, but after his 107 from 23 touches and 9 marks in his return game last weekend, you have to ask the question. If Collingwood are going to give up juicy mark totals, he's worth a look – his scores over the last 2 seasons when hitting 6+ marks read 106, 131, 102, 112 and 107.
Always remember to gamble responsibly. If you're having problems with your betting, you can get help at Lifeline or talk to someone at Gambling Help Online.