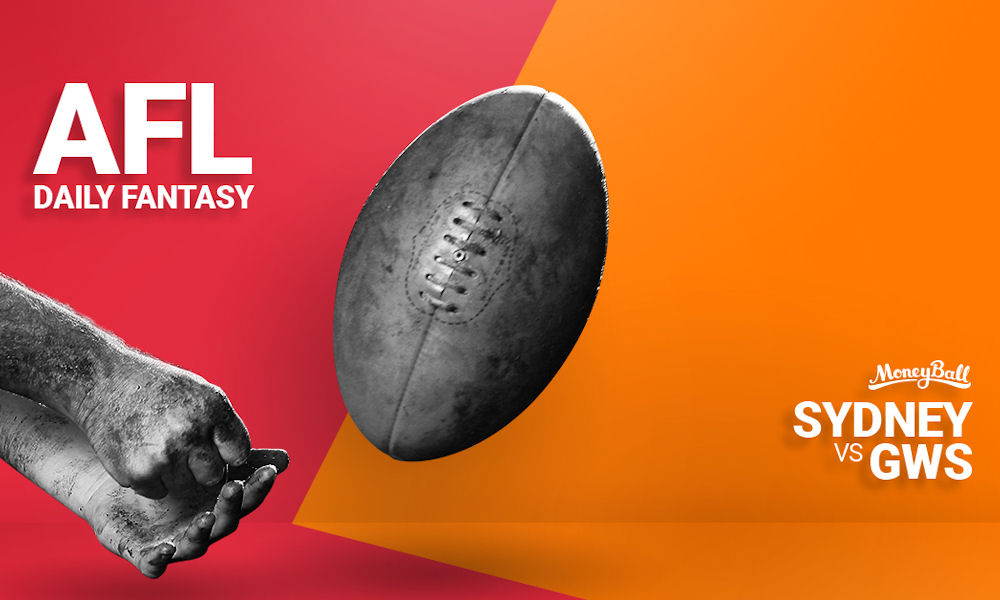 Tbetta here, and welcome to the self-proclaimed top resource for keen Aussie rules Moneyball punters! DFS (Daily Fantasy Sports) is taking off around the world and Moneyball have the perfect platform for you to turn your AFL Fantasy prowess into cold hard cash. Signing up is easy – head to moneyball.com.au and you could be ballin' within minutes.
If you're unsure how DFS works, be sure to head to the 'Help' section for all the info you need to start cashing in on your AFL Fantasy knowledge.
Click here to subscribe on iTunes.
Sydney vs GWS
STORYLINES: Which style dominates – fast-paced footy or contested slogs? Can you trust the Sydney veterans now that it's finals time?
While GWS has the enduring (while feeble) excuse of a lengthy injury list, Sydney have won both encounters against their younger brothers in what was honestly a shaky season by Swan standards. We know that the Giants like to play a Hamish Blake style of footy (fast and loose) and that gets them wins over the majority of teams in the modern era – but it hasn't stood up against a stoppage-heavy Sydney this season. In the game of AFL paper-scissors-rock, it seems that ugly trumps flashy every time.
This can be handy when looking for the types of Premiums to stream, and it has to be the ball-earning types. Every Giant to top the 105-point mark against the Swans this year have notched at least 9 contested possessions, while Luke Parker ($8,800 MID) won a game-high 15 CP's in his huge 143 in their most recent clash only a few weeks ago. JPK and Parker are the obvious candidates from the Swans, while Ward ($9,100 MID) and Coniglio ($9,700 MID) are your clear targets from the Giants and have the results behind them as evidence.
Legacy-tainting seasons from Dan Hannebery ($5,900 MID) and Kieren Jack ($5,200 MID) have drastically reduced their salaries to the point where they might actually rank as the best value options in both cash and GPP's contests alike. Jack, in particular, is warming up, pumping out 83 and 62 over the past fortnight after averaging just 57 for the remainder of the season. Hannebery's 43 against the Hawks last week was heavily TOG affected, but he was on a similar climb before that. We all know what they can do on their day, and I'll take confidence in the fact that they both averaged roughly 90 AF in last year's finals series.
BEST PICK: Callum Sinclair ($7,900 RU)
Scores of 123 and 90 against GWS already this year put him on the radar, and being exposed to Lobb as a sole ruckman makes him a lock. Jacobs (98), Sinclair (90), and Gawn (120) were the last three rucks to face Lobb and all went home snacking on the chocolates.
BEST STAT: Lance Franklin ($8,400 FWD)
Buddy is the high-ceiling hero you look for in GPP's, and his record against the Giants (101, 102 and 111 in his last 3) suggests that there's no cap on his potential this Saturday. More importantly, this is what the Swans have been keeping him in cotton wool for all year – no training, a few games off – it's all to maximise his game-winning talents in finals. If you think he can boot himself a bag tonight, then you're picking him without question; his last 8 games in his career with 5+ goals have produced scores of 129, 139, 140, 133, 99, 171, 151 and 139. Wow.
BEST VALUE: Nick Haynes ($6,500 DEF)
It's not a "penny pinchers from McDonalds" level bargain, but you can definitely save yourself some salary by settling on Haynes. He's been stepping up in the absence of Shaw in the backline, producing scores of 90, 81 and 81 since Heater went down; compared to the 70-point average he was ticking along at previously. Structurally, the Swans love to tunnel vision on Buddy and bomb it in, which gives Haynes plenty of chances to either intercept mark or rack up +6 combos on the spread.
BEST RETHINK: Joshua Kelly ($10,300 MID)
Hewett didn't tag in the last 'Battle of the Bridge" initially… Because Kelly wasn't playing. However, when Coniglio got off the leash with 77 in the first half, George was called to arms and kept him to just 17 for the second half. Sydney have already spruiked their intention to shadow Kelly this weekend which is bad news for DFS, producing scores of just 107, 89 and 67 in tags this year.
BEST RETHINK: Lachie Whitfield ($9,700 MID)
Unlike Haynes, Whitters is struggling without Heath Shaw as opposition teams are able to lock down their only elite half-back distributor. Previously, teams didn't bother; when you held one down, the other simply bobbed up. The Shaw factor (averaging 104 with and 61 without), the history element (65 and 72 against the Swans this year) and the fact that these Eastern Derbies tend to favour the contested types all equate to one big fade on Whitfield for mine.
West Coast vs Collingwood
STORYLINES: Injured stars return – who wins? Who loses?
Let's start with the Pies, because there's a bit to unpack here. Jeremy Howe ($7,600 DEF) has finally been cleared to play with that corked thigh and is in play for DFS after pulling down 11 marks for 96 AF against the Eagles not too long ago. For me though, his selection relevance is felt more by Jack Crisp ($8,000 DEF), who averages 85 points alongside him, compared to 97 without. Might be worth staying away from him. Tyson Goldsack ($4,800 DEF) sensationally returns to hold down a key defensive post for the Pies, but I'd stay well away – he averaged just 28 over his 2 VFL games, albeit in limited game-time.
The return of Adam Treloar ($10,000 MID) is another boon for the Pies as a whole, but maybe not for one of his teammates. Taylor Adams (9,400 MID) was able to get his season back on track by absorbing Treloar's midfield time, and it's unclear as to how his former GWS teammate's return will affect his current role – but what I can tell you is that Taylor's output is 21 points greater without Treloar in the squad.
Josh J. Kennedy makes his long-awaited return for West Coast, and that shuffles a few key chess pieces in their attack. As his fellow KPF, Jack Darling ($6,100 FWD) logically benefits from having more vertically-gifted support and often a weaker direct defender, and as a result he's averaged 103 in his past 7 games alongside his good mate (compared to just 73 without). Curiously, Jamie Cripps ($7,700 FWD) is the opposite as he takes more of a backseat in West Coast's forward thrusts when Kennedy suits up. While he's gone to another level football-wise in his last 7 without JJK there, averaging 99 per game, that figure cops a massive hit all the way down to 65 with Kennedy in the side.
BEST PICK: Shannon Hurn ($7,400 DEF)
Collingwood have conceded the most points to Small/Medium DEF's over the past 5 weeks, a trend that Hurn has certainly exploited in the past. His last 2 games vs Pies were built on the uncontested mark-kick combos that they allow in defensive switches, resulting in scores of 117 (10 marks) and 109 (11 marks). The All-Australian Captain's Hurn's scores with double-digit marks look like 112, 118, 98, 124, 108 and 109 this year, so don't sleep on this trend.
BEST STAT: Brodie Grundy ($10,900 RU)
Is Lycett his kryptonite? He's the only ruckman to keep him below 84 AF this year – and it was a dirty 68 at that. My working theory for the affirmative would be that Lycett is a similar type of mobile ruckman and can match him around the ground, an area where Grundy excels in as that prototypical "extra midfielder". On top of that, West Coast is the 2nd-hardest team to score ruck points against since Round 17 – the week that NicNat went down and Lycett assumed full solo ruck duties.
Honestly though, it was probably just a down game and a well-earned rest on the job in what has been a colossal season from Grundy. I see Collingwood having a huge edge in the air on Saturday night, enough to make Brodie pickable at that exorbitant price-tag.
BEST VALUE: Luke Shuey ($8,100 MID)
The classy midfielder is only so cheap due to a 9-point score earlier this year (hamstring injury) and he's bounced back swiftly, averaging 100 over his last 8 with a lowest score of 90 in that span. That's $9k numbers for an $8k deposit, and he should figure in your West Coast stacks if you're projecting they reign victorious at Optus as expected. 116 against the Pies last time around is an excellent omen, and that was in Melbourne.
BEST RETHINK: Steele Sidebottom ($9,300 MID)
Beware the Hutchings tag! The hound held Sidey to just 48 AF (18 touches, no marks) earlier this year – his worst score in a full game since Round 6 of 2013. Add scores of 77 and 81 in his other tagged games this year, and he finds himself in the hot trash bucket.
Always remember to gamble responsibly. If you're having problems with your betting, you can get help at Lifeline or talk to someone at Gambling Help Online.