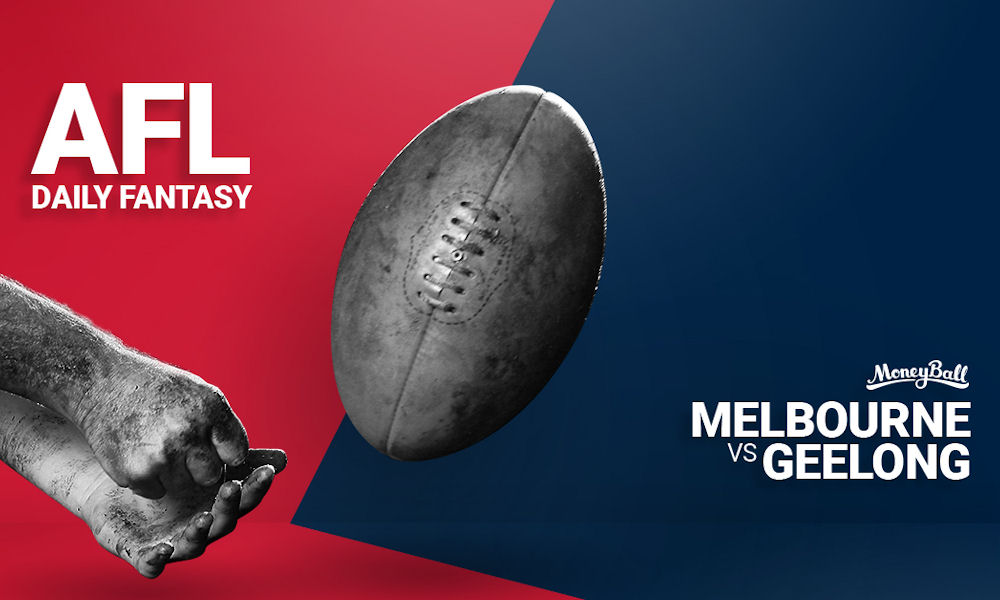 Tbetta here, and welcome to the self-proclaimed top resource for keen Aussie rules Moneyball punters! DFS (Daily Fantasy Sports) is taking off around the world and Moneyball have the perfect platform for you to turn your AFL Fantasy prowess into cold hard cash. Signing up is easy – head to moneyball.com.au and you could be ballin' within minutes.
If you're unsure how DFS works, be sure to head to the 'Help' section for all the info you need to start cashing in on your AFL Fantasy knowledge.
Click here to subscribe on iTunes.
Melbourne vs Geelong
STORYLINES: Heavyweight midfields H2H, lack of cheap options on slate.
For me, this slate revolves around picking the best-performing midfield options from a large pool of extraordinary gentleman who can find the footy. Picking the right combination of players from the list of guys who can go 120+ will be a huge factor in this contest, so make sure you're putting a lot of thought into which MID's are going to carry your squad.
It's hard to look past the Geelong onballers in this match-up, given they've averaged 6 tons as a club across their two clashes this season. With 5 MID's alone averaging 95 or more this year (and Joel Selwood not far behind) – and conisdering the individual quality of those players – it's not hard to see why they've opted for a high-disposal game plan. Use that to your Moneyball advantage. As for the Demons, Clayton Oliver ($10,200 MID) is your standout option. He's pumped out 114 and 136 against the Cats this year, thanks to huge hauls of 14 and 20 contested possessions in those games – which both ranked as game-highs.
On the flipside, to fit in as many of these high-achieving MID's, you're going to have to scrape the bottom of the barrel for soldiers in other lines. Building a solid core of cheapies will give you a huge advantage, especially for those multi-entering. Your first cab off the rank will be Ryan Abbott ($4,200 RU) after surviving the cut as the solo ruckman for Geelong. He's posted scores of 92, 109 and 76 since he debuted a few weeks ago and, despite a really, really tough match-up against Gawn, he should have no trouble limping to 60 with his baseline hitouts. Outside of that, you're going to have to get creative.
BEST PICK: Mitch Duncan ($9,300 MID)
The swashbuckling Duncan thrives in the high-possession shoot-outs these teams seem to have, logging scores of 110 and 124 against the Demons this year. His link-up is noticeable when opposition teams allow him to maximise his elite endurance talents. That manifests through his +6 combos, as he posted totals 10 and 11 marks in those games against the Dees.
BEST STAT: Max Gawn ($9,400 RU)
He's already produced scores of 138 and 91 against the Cats this year, and now only has to deal with a 4th-gamer in Abbott this time around. The double ruck strategy will be the chalk this Friday, and it's not something I'd try to get fancy with by trying to fade either. Gawn averages 123 when reaching 50 hitouts this year, and that's definitely in play this Friday at the MCG, where he averages 118 for the season.
BEST STAT: Gary Ablett ($9,900 MID)
The aptly-named Son of God hasn't played Finals since 2010, and you need to ask yourself: is there any universe where he doesn't go bonkers this Friday? Ablett's a big game specialist, as evidenced by his Finals scores since 2007 across those golden years: 133, 115, 96, 129, 92, 115, 103, 114, 103, 117 and 122… And that's not accounting for statistical inflation. I'm fully expecting Gaz to leave his scores of 117 and 110 against the Demons this year in the dust with his effort on Friday.
BEST VALUE: James Harmes ($7,700 MID)
The plodder is averaging a spicy 103 in his last 5, playing a Scott Selwood-like role – racking up possessions while focusing on shutting down an opposition gun at stoppages. Expect Harmes to follow Danger around on Friday, which is a pretty excellent way to get close to the footy, if nothing else!
BEST RETHINK: Jack Viney ($8,800 MID)
Viney averaged a brisk 96 in his last 6 games this year, however he comes into this clash severely underdone. His first game back from the same foot injury was a 64 and damningly, that was in just 71% TOG. Expect them to nurse him in similarly this weekend, making the risk of DFS selection too high with so many elite MID's on this slate – especially at that swollen price.
Always remember to gamble responsibly. If you're having problems with your betting, you can get help at Lifeline or talk to someone at Gambling Help Online.