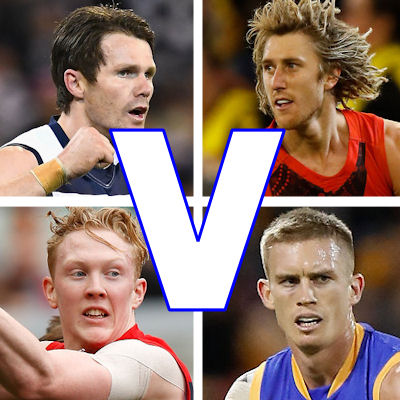 Patrick Dangerfield ($666,000, MID)

 V

Dyson Heppell ($614,000, MID)
Positives: Value: Admittedly, it hasn't been one of Patty Dangerfield's best years. His inconsistency and failure to produce a trademark high score has annoyed the thousands of coaches who own the Brownlow Medalist. However, we've got to realise that this is Patrick Dangerfield we're talking about. He's the guy that averaged no less than 120 points from 21 games last season, with a season average of 118 the year before. Danger will go down as one of the best players to take to the field, and also one of the better Fantasy options. So, whilst Danger has failed to live up to his hefty starting price tag, the guy is an awesome Fantasy player and has the potential to be a deadset match winner come Fantasy finals time.
Fixtures: The Cats are one of a few sides jostling for position at the foot of the top eight. However, their fixtures are favorable from here on in, which will benefit Dangerfield. This Thursday night, Dangerfield heads back to where his AFL career kicked off. Adelaide is struggling, but are a different side on their home deck. They are ranked 14th for points against and 100's conceded, and 15th for scores of 120+ against. Dangerfield has scored 129, 118, 131 and 112 in four home and away games against his former side. The hostile crowd hasn't affected him in the past, so expect a high score against the Crows outfit. Geelong face just two sides ranked inside the top five in points against for the remainder of the year (Melbourne and Hawthorn). Yet, on the flip side, Dangers side rounds off its regular season campaign against Gold Coast and Fremantle, two sides ranked 18th and 17th respectively when it comes to Fantasy points conceded. Surely Dangerfield can find a 130+ score in there somewhere.
Negatives: Ceiling: His consistency hasn't been great, however its Dangerfield's lack of ceiling that has really frustrated his owners. For a guy who managed ten 120+ scores last season, he has recorded a high score of just 118 in 2018. Should this be put down exclusively to the addition of Gary Ablett Jnr? Dangerfield used to be a captain candidate and was just about the first player picked in Fantasy pre-season. Now, he can't even break the 120 point mark. Patty is a superstar and an invaluable asset for the Cats as they progress into finals, however it has undoubtedly been a disappointing Fantasy year for Danger.
Consistency: In 2018, Dangerfield has produced three scores of under 70. Aside from these annoying blemishes, Patty hasn't been all that bad when it comes to toning up. However when you fork out the coin required to add Danger to the midfield, you expect hundreds, and big ones at that. I'm not so sure he can be relied upon to deliver at this point in time, particularly with Fantasy finals just around the corner.
Positives: Ceiling: Dyson Heppell, the 26-year-old Essendon skipper has been the on-field figurehead of the Bombers through the clubs darkest times. He has come out the other side with his footballing ability still well intact. Unlike Dangerfield, the distinctly recognizable Heppell has scored big. The 143 in the round one triumph over the Crows kicked off the season in perfect fashion. That night he was everywhere, collecting 35 disposals, 13 marks and five tackles. Disregarding the significantly injury affected score against Brisbane (when he was injured on 42 points from just 25% TOG), Heppell has managed to crack three figures in every Essendon victory so far in 2018.
Fixtures: Given Essendon's final seven games, it seems more than likely that Heppell will wrap up the year with a 100-point average. The set of fixtures see the Bombers play Gold Coast, Fremantle and St.Kilda – the bottom three clubs in terms of points conceded. Given how well he has performed in Bombers victories so far this season, three tons should be the bare minimum from these matches.
Low Ownership/Value: Dyson is one of the best value-for-money options at the moment. You could fork out the big bucks and get the likes of Macrae and Gaff, but what about Heppell, who is available for just $617,000, making him $200k cheaper. The other real positive with Heppell is his low ownership percentage. Whilst his ownership rate has increased each round, it still stands at just over 6% at the time of writing, making him a genuine POD.
Negatives: Consistency: We know Dyson Heppell is a great contributor in Bomber wins, however he has tallied just the three hundreds in his sides eight losses. With games still to play against Richmond, Hawthorn, Port Adelaide and Sydney, all of which are likely losses, the statistics suggest that Heppell will be up against it.
Verdict: It's not easy to go against a proven star like Dangerfield, however Heppell gets the nod here from me. Whilst Danger may feel like the safer selection, Dyson is available for less and, I would argue, will average similar scores come the end of the home and away rounds.
Loading ...
Click here to subscribe on iTunes. (Please leave a rating and review to help us move up the charts).
Clayton Oliver ($710,000, MID) 
V

Dayne Beams ($706,000)
Positives: Ceiling: Clayton Oliver has managed ten hundreds so far this season. Of those triple figure scores, seven have been in excess of 110 with a further four efforts hitting the 120+ mark. The first round draft pick from 2015 gets a stack of the ball (averaging 29 disposals per game), tackles well (averaging 7 in 2018) and, as he did in his draft year for the Murray Bushrangers, push forward to impact the scoreboard. He is a dominant force around the stoppages and is difficult to beat for the contested ball. As is the case with this sort of player, Clayton Oliver's ceiling  is high.
Consistency: It isn't easy to have the ability to go big and still pump out the tons every other week. Oliver. He has dropped below 80 twice, once the Bombers where he struggled to get his hands on the ball and another occasion in round 9 against Carlton. I'm genuinely puzzled as to why he couldn't hit the ton against the Blues. There's no defending that, Clayton. However there isn't a great deal of inconsistency in his game, aside from a couple of down games which every player has. You can pretty much rely on him to get you a 100.
Negatives: The Tag: On the back of two very strong performances in the opening fortnight of season 2018, North Melbourne sent renowned tagger Ben Jacobs to him with the request to hinder the impact of the former number 3 pick. The fact he's even getting attention at his age just goes to show how good a player he really is. From a Fantasy point of view, it worked well enough to plant a seed of doubt in the minds of Oliver-owners. He didn't collect his usual tally of disposals (7 kicks and 13 handballs for the day), but he did work hard and when hurled forward, kicked two goals to finish with a score of 88. It was a pretty respectable showing from the red-headed on-baller, but for a guy that'll set you back in excess of $700k, 80's are not going to cut it. Against the Power in round 14, he was restricted to 93 with Sam Powell-Pepper given the tagging duties. Personally though, I think he can break a tag if he continues to receive them every now and then.
Kick:Handball Ratio: This isn't really a negative, considering he is still scoring well, but wouldn't it be nice if Clayton Oliver's kick to handball ratio was flipped. He has managed 37 kicks in the first four games of the season and 74 handballs which conveniently equates to a 1:2 ratio. Yes, I get that his role is to get the ball from under the pack in congested, tough and contested situations and fire it off to teammates who can better deliver it to a target. It can get a little frustrating – imagine if the ratio was switched.
Positives: Ceiling And Form: In 2018, when Dayne Beams tons up, he goes 110+. The star midfielder has racked up ten tons but none of those scores have fitted within the 100-110 point bracket. Beams has a very well-rounded game in that he covers all stat areas. He kicks goals (13 goals so far this year including a haul of five in the loss to North Melbourne at Etihad), regularly gets his hands on the sherrin, is good for a bunch of tackles each week and works hard around the ground to clock up an average of nearly six grabs per game. It's no surprise to see that in the three Lions victories, he has scored 119, 112 and 133. Beamer has a three game average of 119 and has been just about as good as anyone in the comp over the past couple of months in particular.
Low Ownership: Beams, despite how good he can be when at the peak of his powers, isn't an ultra-popular choice amungst coaches this season. His ownership percentage has never reached higher than 6% and currently sits at 5.5%. For a guy who is even in Roy's Rolling Team Of The Year,
Negatives: Consistency: Having consistency down as a negative is perhaps a little harsh, given Beams has scored eight hundreds in the last ten games. However his slow start, and poor performances in between those hundreds have burnt a number of coaches. Beamer kicked off the year with scores of 97, 73, 88 and 87, having missed the round three clash with Port Adelaide due to injury. It took until round six against the Giants for the former Magpie to record his first ton of the season. These are hardly spectacular figures. His efforts against the Bulldogs and Bombers, both of which were close losses, yielded scores of 69 and 50 respectively. Beams is due for a poor score in the coming weeks, if his season form is a guide.
Verdict: It's certainly a tough one, but I'll lean towards Clayton Oliver for his consistency. Beams is in some terrific form, however I just have a feeling the Demon star will average more over the final couple of months.
Loading ...