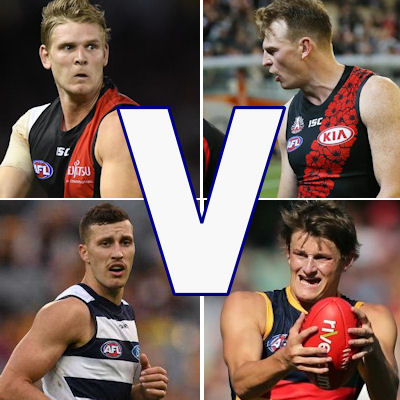 Michael Hurley ($571,000, 

DEF)

 

V 

Brendan Goddard ($564,000, MID/DEF)

 
Positives: Production For A KPD: Compared to virtually every other key position/tall defender, Michael Hurley has them well and truly covered when it comes to production on the stats sheet. From his 12 2018 games, Hurley is averaging 23 disposals and 7 marks – the sorts of numbers you would expect from a solid midfielder. He is an incredibly important cog in the Bombers defense, with his ability to not only beat his opponent in the air and on the ground, but then turn defense into attack by propelling the ball forward. His precise foot skills mean Essendon can look for him when exiting the defensive-50 – a trait not all big defenders possess. He is an attacking weapon who can be used going forward, instead of a defender who becomes irrelevant once their side regains possession.
Consistency: In terms of consistency, Hurley's isn't rock solid but it's certainly a lot better than many other defensive options. Although he has only notched up the two tons, Hurley has still managed five scores in the 90's. It would also be a little harsh to criticize his injury-affected score of 54 against the Blues and his 65 against Richmond upon returning from a couple of weeks off due to the same complaint. After disregarding these scores, the dual All-Australian defender has put up just one poor score – 67 in the loss to the Western Bulldogs at Etihad Stadium in round three.
Potential To Go Big: Due to his role in the side, which allows him to collect a stack of the ball and notch up massive amounts of marks, Hurley has the potential to go big on his day. Take the round four effort against Port Adelaide, for example. He was in fine form on this day, collecting a massive 29 disposals (24 kicks and 5 handballs) to go with a lazy 15 marks, combining for a Fantasy score of 131. When Michael Hurley is allowed to mop up across the backline, high scores should be expected.
Negatives: Doesn't Ton Up Often Enough: Whilst there is little difference between a score of 95 and 100, it is a tad frustrating that Hurley has only recorded two hundreds and five scores in the 90's. Admittedly, he is significantly cheaper, but is you compare these numbers to the likes of Simpson, Laird, Lloyd and it doesn't exactly excite potential buyers. Yes, he's a solid option who is consistent and can go big on his day, however I doubt whether the coin saved will be worth it instead of one of the more expensive options.
Positives: Value: Compared to other defenders, Brendan Goddard presents coaches with some value down back. Instead of paying close to top dollar for some of the bigger name defensive options, Goddard will save you cash and has the runs on the board in previous years to suggest he will maintain a steady 85-90 point average, with the potential to go even higher.
Low Ownership: Goddard has endured a terrific career, both at the Saints and Bombers. He was immense in the 2010 Drawn Grand Final and again strong in the replay the following week. Since moving across town to Windy Hill, Goddard has been an invaluable leader throughout the clubs darkest days. In terms of Fantasy production, he has averaged between 80 and 113 since 2006, with 2010 being his best season, helping the Saints get ever so close to an elusive flag. He has fazed in and out of Fantasy popularity during his career, but is currently owned by under 3% of coaches at time of writing. There's good reason to suggest Goddard could be the backline POD to help you with Fantasy finals on the horizon.
Negatives: Consistency: It hasn't always been an issue with Godard, however in 2018, he has produced a couple of frustrating scores. He has notched up five hundreds, but also has three scores in the 70's, a 57 and a 36 which occurred against the Blues who instructed defensive forward Jed Lamb to tag him. The
Verdict: These two stars are both integral parts in the Essendon defense. Despite playing different roles for the Dons, the pair are evenly matched from a Fantasy perspective. Goddard has more hundreds, but is less consistent and prone to a dud score here and there. Both can go big, but don't do it all that often. I'd go for Hurley.
Loading ...
Sam Menegola ($675,000, MID/FWD)

 V 

Matt Crouch ($658,000, MID)
Positives: Consistency: The large majority of Fantasy coaches assumed that with the return of favorite son Gary Ablett, who joined the already powerful midfield unit comprised of Danger, Jelwoood and Duncan, Menegola's fantasy relevance would be significantly reduced. With limited midfield minutes, his average has dropped by 10 points as it stands, but he is still a relevant option in the midfield and up forward. He started off the year with scores of 68 and 50, but has gone under 80 just twice since (65 against the Giants and 71 against the Bombers). His heat-maps suggest Menegola has been particularly effective right in the middle of the ground, but on the whole, his disposals have been pretty spaced out.
Ceiling: Running your eyes over some of Menegola's scores from this season, his ceiling really stands out, having managed to produce four scores of 120+ (120 x2, 121 and 125). So whilst he has been able to ton up on a consistent basis, it is also encouraging to see the former Hawk and Docker go big. He has a well-rounded game, in terms of statistics, with his disposal, mark, tackle and goal numbers all strong. Also worth noting is that Menegola hasn't scored in the 90's yet, showing his ability to
DPP: The FWD/MID dual position status is a handy asset and is without a doubt a positive to selecting Sam Menegola. The recent injury to fellow DPP forward Isaac Heeney could prove an excuse to pull out a tricky DPP trade.
Negatives: Previous Role: The negatives are limited, but after the first two weeks of 2018, the poor form of Menegola saw some owners trade him out. Since then he has been terrific, however if he was to revert to the role which saw him struggle to hit the ground running, then his scoring will likely be affected. Clutching at straws? Perhaps – which is a testament to how Menegola has performed so far in 2018.
Positives: Form Is Building: As has been the case with a number of Crows players, Matt Crouch has endured a frustrating 2018 as a result of his injury problems, which has seen him miss four weeks of football already. Matt kicking off the year is fine form, racking up 123 on the Bombers before unfortunately succumbing to a hamstring complaint just after quarter time, whilst he was on 33 (from just 23% time on ground). Although Matt isn't one who spends a huge amount of TOG, he has spent 80% or more time on ground just twice, indicating that he's still getting up to speed after a couple of lay-offs. His tackling numbers up were up in the win over West Coast, recording a season-high 9 hugs. His disposal numbers are always high, and this is where Matty Crouch gets the overwhelming majority of his points from. Finding the ball will never be an issue with Crouchy.
Consistency: Despite his aforementioned stints on the sidelines with injury, Crouch has still managed to put up some pretty consistent scores. He has dropped under 90 just once (disregarding his injury-affected 33) and, on-top of that, has recorded six hundreds, including scores of 123, 116 and, most-recently, 120. His consistency was elite last year and, although injuries have threatened to prove a disruption, this consistency looks to have continued into season 2018.
Value: Considering the potential Matt Crouch has, especially after a red-hot 2017 which saw him lead the Crows on-ball brigade into the Grand Final, he should be considered undervalued at this point in time. Crouch has proven he will find a stack of the ball on any given night and against any opposition, so expect more of the same in ths Crows upcoming clash with Richmond. His breakeven of 92 will more than likely be broken, so expect this to be the lowest price Crouchy gets to in a while.
Negatives: Durability: There aren't too many concerns attached with Crouch. However, after managing to pretty much avoid injury for most of his career, 2018 has seen him join his seemingly-permanently injured brother on the sidelines for a month of football. Given the Crows tricky position on the ladder, requiring a massive run home to have a chance at the eight, there is no chance of Crouch getting a week off to rest up. Durability is a question mark , although a faint one.
Verdict: Matt Crouch would be the more favored option, and that's who I'd be leaning towards here. Whilst Menegola has had a good and perhaps even surprising year, Crouch is the safer pick with the better consistency and similar ceiling who also comes up $17k cheaper.
Loading ...