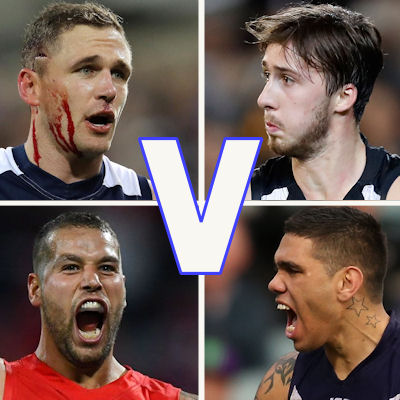 Joel Selwood ($715,000, MID)

V

Tom Phillips ($689,000, MID)
Positives: Runs On The Board: Love him or hate him, you can't dispute just how much Joel Selwood has done for the game, and in-particular the Geelong footy club. He provides the Cats with such a presence on and off the field. Although his is consistently slammed for his ducking, the skipper is the current player that first comes to my mind when I think of the word courage. His attack on the ball is relentless and unrivalled by most. In his twelve brilliant years at Kardinia Park, Selwood has always been fantasy relevant, even in his his first season where he managed to average 85 points in a star-studded, grand final- winning midfield. He has managed to average at-least 100 points on seven occasions and, if the first few weeks are anything to go by, is showing us no signs as to why this cannot happen once again, especially with a current average of 107.
Low Ownership And High Ceiling: For such a high-profile player, Selwood has snuck under the radar a little, eclipsing the minds of many fantasy coaches. At the time of writing, just 5.4% of coaches are currently rolling with 'Jelwood' in their midfields and just quietly I would say a chunk of that number would be die-hard Geelong supporters. In the nine games in which Selwood 'toned up' in last year, eight of those scores were of 115 or over. In round five against the Saints, Joel went absolutely bananas, tallying 43 disposals, 8 marks, 9 tackles, 1 goal and a casual 175 fantasy points and in doing so, proving to all coaches just how big he is capable of going. This season, he has managed scores such as 122, 120 and 136.
Negatives: Tag Threat?: The long-time Geelong skipper copped serious attention in three games last year and was restricted to scores of 60, 48 and 59 – worrying numbers. The Blues also put added attention into him in round 10 earlier this year which had varying levels of success, with Joel putting up his lowest score from the year (87). But do you tag him over Dangerfield and Gary Ablett Jnr? Surely Selwood has had enough exposure to the tag that it is no longer an associated risk with picking the legend.
Tendency To Miss Games: There's no need to say it, Selwood plays the game on the very edge. And because of this, he is prone to impact injuries and the odd suspension. He has missed a game or two in all of the past three seasons. Whilst you can't really be sure he will miss games later this year, the odds suggest this may be the case, despite suiting up each gamer this season so far. Although one game may not be a massive issue, it is annoying.
Positives: Ceiling: Phillips has managed five scores of 120+ so far this year: 135 against the Crows, 122 opposed to the Bombers, 147 in the loss to Richmond, 130 against the Bulldogs and 143 against Fremantle. Given how he is able to float under the radar of opposition sides, Phillips has so often been able to use his superior aerobic capacity to roam untroubled along the wings, racking up a stack of uncontested marks and possessions as a result. In the past three weeks, Phillips is averaging 128 Fantasy points. This awesome run can partially be accredited to his goal scoring ability which has seen him send eleven kicks through the big sticks. His role is extremely positive from a Fantasy perspective and Phillips, along with his select group of owners are certainly reaping the rewards of his high scores.
Uniqueness: The key to Phillips' brilliant season to date has been his consistency. Last year he recorded five tons and an overall average of 83. We've been given hints that he may be able to one day become a premium option, but the consistency was never there. Sure, his big scores are great for his limited number of owners, however if he wasn't able to produce at this level on a consistent basis, we wouldn't be raving about him as a potential trade-in candidate. Excluding his injury affected 49 against the Cats and his 67 in the first round, Phillips is averaging a massive 113 points. Also considered a positive to bringing the running machine in is his low ownership rate which, at the time of writing, sits at just 3.6% – an incredible figure given the types of numbers he's been producing.
Negatives: Added Attention: When you think of Collingwood, their star-studded midfield first springs to mind. The likes of Pendlebury, Treloar, Sidebottom and Adams have been household names for a couple of years now. but Phillips' season demands he be included alongside of those names as well. Pendlebury is close to untaggable having had years to learn to deal with attention, Adams isn't the sort of player to tag, Sidebottom so often slips under the radar. Now that Adam Treloar is set to miss a number of games, could Phillips be the one teams look to curb the influence of?
Consistency: It's been a brilliant start to the year for the Phillips family, with St.Kilda wingman Ed making his AFL debut and Tom playing a starring role for the Magpies. However for all of Tom's massive high scores, he has still gone under the 80 point mark on three occasions (with one being severely injury affected with Tom playing under half the match on ground). His 61 point effort in the victory over Melbourne came after an impressive run of three consecutive 120+ scores and would have been particularly frustrating and perhaps even bittersweet for his owners. So although his scoring has dramatically improved from last season, Phillips still has a way to go with his consistency.
Verdict: As much as I would love to see Tom Phillips continue on his high-scoring ways, I would pick Geelong skipper Joel Selwood over him. Selwood has the runs on the board and has been scoring particularly well of late. Joel for me here.
Loading ...
Lance Franklin ($611,000, FWD)

 

V

Michael Walters ($572,000, MID/FWD)
Positives: Ceiling: With his ability to kick a bag of goals, Buddy's ceiling is always going to be high. In round one, Franklin kicked off his campaign with a bag of 8 against the Eagles in the first ever AFL game for premiership points at Optus Stadium – not a bad way to christen Perth's new arena. He finished the outing with 21 disposals, 9 marks and 4 tackles, combining for a Fantasy score of 151. However, despite his incredible ability to impact on the scoreboard so consistently, his goal tallies don't always lead to more points. However, rest assured, when he goes big, you'll love the premiership player, future hall of famer and coleman medalist. It will be interesting to see if he can manage to kick a handful against the Tigers this weekend at Etihad – a ground where he has had some success in recent times.
Consistency: When compared to other forwards, particularly those who hold down key position roles, Lance Franklin is relatively consistent. However, if you're looking for a forward who can produce the goods week-in-week-out, Buddy may not appear to be the best guy for the job. However, over his career, Franklin has managed to still score at a decent click without relying solely on goals. Admittedly, he has put in two poorer performances this season – 55 against the Crows and 51 in Brisbane. Aside from those blemishes, Buddy has dropped under 90 just once, and even that was a score of 88. He has tallied five tons and has better consistency than many other forwards who perhaps have more Fantasy-appealing roles.
Negatives: Tough Run?: Whilst it may not always affect the Bud, Sydney have a tougher finish to the year. In the next nine games, they face a plethora of finals-bound sides, starting with Richmond (ranked 10th for points against), Geelong (ranked 5th) and North Melbourne (ranked 8th). The Swans then play have an easier look at things, Fantasy-wise, with Gold Coast (ranked 18th) and Essendon (ranked 1th) in rounds 18 and 19. Collingwood (ranked 6th), Melbourne (ranked 7th), the Giants (ranked 9th) and Hawthorn (ranked 4th) round things off. Although these numbers may end up meaning nothing, they certainly appear to be a tricky set of fixtures to navigate through.
Positives: Role: Michael Walters has gone from being an average, non-relevant Fantasy player to a genuine premium option over the past couple of seasons. Originally drafted as a pure small forward, possessing electrifying speed and a creative knack around goal, Walters has transitioned into the midfield of late, which has seen him elevate his production to a career-high level. Along with his accumulation and ability to his the scoreboard (14 goals so far), Walters tackling has proven to be his most productive statistic area throughout 2018, having notched up 40 in his 10 games, which included two consecutive weeks without managing to lay a single hug.
Consistency: The Fremantle star kicked off the year with a score of 92 against the Power, before producing back-to-back tons against Essendon and the Gold Coast in the Dockers first two games at the new Optus Stadium. Walters was restricted to 68 in the loss to the Giants in Canberra before succumbing to a minor knee injury in the derby defeat which saw him exit the game on just 11 points and sidelined the Western Australian native for two a fortnight. Upon returning, he has scored 99, 125 and 102 – all in losses. His side is under the pump but Walters keeps racking up the sorts of numbers you would expect from a seasoned on-baller on a consistent basis.
Value: Take out his severely injury affected 11 against West Coast, and Walters is averaging 100. That includes his 68 against GWS which we'll just accredit as an off game. Remove this score and he is going at 105 over 7 games. This particular figure would see him place second behind only Toby McLean in terms of forward rankings by average. But at $575,000, he is quite significantly cheaper than just about all top forwards. Also available in the midfield, his DPP may come in handy during the upcoming bye rounds.
Negatives: Ceiling: It's not easy to genuinely criticize what Walters is currently doing, especially for someone of his small, slim stature. However his ceiling doesn't appear to be as high as his fellow midfielders/forwards, having managed just two 120+ scores to date in season 2018. Amongst others, the likes of Westhoff, McLean and Hogan have all managed higher top scores than Walters, and appear to be more likely to explode. In terms of midfield competition, there are a vast range of premo's that have far higher ceilings than the Freo on-baller/small forward.
Durability: Never, in his 10 year AFL career, has Michael Walters been able to play all 22 games in a season. In fact, he's got to 20 games just twice. Whilst its unfair to suggest he will get injured again, history suggests his durability will again be tested in 2018, having already missed two games this season through injury. And it certainly doesn't help to miss weeks here and there through suspension, as he did because of a genuine cheap shot to Tom Doedee in the win over Adelaide. If he can stay on the park he is a top 6 forward and unique option in the midfield, but there are question marks over his ability to stay healthy and levelheaded for the rest of the campaign.
Verdict: With his recent troubles with injury and suspension considered, I'm not sure Walters is worth saving the extra bit of cash over Franklin. Buddy has a similar level of consistency but definitely has the potential to be a match-winner. Franklin it is, in my opinion.
Loading ...