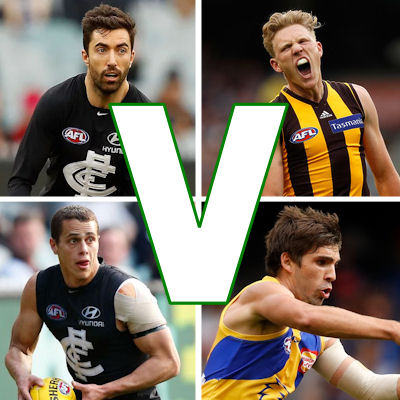 Kade Simpson ($636,000, DEF)

V

James Sicily ($616,000, DEF/FWD)
Positives: Durability: Kade Simpson has been a terrific player for Carlton over the space of 15 years now. Whether he is deployed on the wing or across half-back, Simmo's courage, sound foot skills and ability to read the play has proven invaluable for the Blues. Despite posting mild yet solid Fantasy averages in the first ten years of his career, Kade Simpson has really improved with age, leading the young Blues through their rebuild stage. The half-back partnership with Sam Docherty has not restricted his point-scoring ability, instead they have both been able to flourish and provide owners with regular tons as two of the games most popular defenders. Simpson's durability is remarkable, especially considering the courage he displays on the field. Simmo has played under 20 games in a season just once in the past ten years, when he managed 19 games in 2012. Yes, he is getting older and that could be seen as an issue, however age hasn't affected him of late. Fingers crossed he will continue to stay on the park.
High Ceiling: Simpson has recorded three 120+ scores from a total of five hundreds so far in 2018. The biggest came against West Coast at the MCG where Simmo collected 30 disposals, 10 marks, 2 tackles and a Fantasy score of 131. The veteran also scored 129 in the round one defeat to the Tigers and 124 in the round 11 clash with Geelong at GMHBA Stadium. Given his terrific ability to rack up a stack of the ball as the Blues go-to guy across half-back, taking a heap of marks as a result, Simpson will go big every now and then.
Role: Even more so with Sam Docherty out, Simpson is Carlton's designated kicker when looking to rebound and turn defense into attack. He is averaging 25 disposals this year (at a super impressive, yet Fantasy-irrelevant 76% efficiency) and loves to rack up the +6's around the backline. He is at-times also deployed as the loose man in defense, which usually equates to more Fantasy points.
Negatives: Opposition Attention: As was stated above, Simmo was allowed to do whatever he fancied against the Tigers which allowed him to rack up 35 touches, 6 marks, 4 tackles and 129 Fantasy points. Although, in the end, Richmond were able to get the win fairly comfortably, against lower ranked sides, Simpson could be the difference between four points and a loss. His impact off half-back warrants added opposition attention, whether that be in the form of a tag or by making him more accountable defensively. Either way, it would make sense for rival sides to do more in order to quell his influence over the course of the season. But so far it seems as if he is still being left without any specific attention for most games.
Questionable Consistency: Without looking at any numbers, I had assumed Simpson would be one of the more consistent defenders. However in 2017, he recorded scores of under 90 on six occasions (53, 74, 71, 83, 81, 64 and 79).  you expect tons on a regular basis. This season he has dropped under 90 on five occasions. Not the sort of numbers you'd be after from a premium defender. So although he has a high ceiling, history and more recent form suggests that consistent scores may not always be the outcome from Simpson.
Positives: Ceiling And DPP: His efforts in round 7 against the Bombers at the MCG, provided us with an example of what Sicily offers his owners. He racked up collected 29 possessions at an elite 83% efficiency, 8 intercept possessions, 14 marks (11 uncontested and 3 contested), six score involvements, 606 metres gained, 5 inside 50's, 5 rebound 50's and managed to sneak forward to bag his first major of the season in what was his best statistical performance of his five-year AFL career. He recorded career-highs in kicks (23), marks and most-importantly, Fantasy points. In round 9, Sicily was again impressive, collecting 25 disposals (21 kicks), 9 marks and 104 points. His ceiling is high, whilst the addition of FWD DPP is handy.
Role: To quote round 8's versus article on the Hawthorn star, Sicily made his way to Waverley Park via the 2013 National Draft, in which he was selected in the third round with pick 56 overall. This already looks to be one of the absolute steals of the draft, adding to the Hawks talent ID and recruiting staff's long list of late-draft successes. He has always had a knack of being able to read the play before anyone else on the ground. This, combined with his neat foot skills and strong overhead and intercept marking makes him a near perfect option in defence, having been deployed as a marking third-tall forward throughout almost all of his junior career and early years at AFL level. His role in the Hawthorn line-up is crucial to the way they intercept and rebound from the back half. Having owned him for the first few weeks, despite perhaps not scoring as well as I would have liked, it was terrific to see him position himself a kick away from the contest and intercept more often than not. I would argue his role is the best thing about Sicily as a prospect.
Negatives: Durability/Brain Fades: Every football fan knows Sicily enjoys a bit of banter with the opposition, attempting to get under their skin. Sic-dog, despite the Hawks trying to curb his ways a tad, will always be ultra-competitive and, as a result, suspensions will come his way from time to time. This is without a doubt his biggest negative. Having already spent two weeks of the season on the sidelines as a result of two separate misconducts, the odds suggest it won't be the last time the Hawthorn star sits out a game or two in 2018.
Consistency: So far this season, Sicily has notched up three tons. However prior to those impressive games, he put up scores of 78, 69 and 92 and has gone 71, 80 and 90 in the past three weeks, hinting that his consistency may not quite be there yet. In addition, with other teams now fully aware of his powers, Sicily may start to cop more attention with sides eager to nullify his influence off half-back.
Verdict: Both guys would prove terrific additions to any side, however if I had to choose one, it would be Simpson. Whilst James Sicily has high potential, his brain fades are painful and his consistency is not quite there yet. Simmo it is.
Loading ...

Click here to subscribe on iTunes.
Ed Curnow ($770,000, MID)

V

Andrew Gaff ($742,000, MID)
Positives: Ceiling: It's impossible to not be impressed by Ed Curnow's super start to the year. In ten games, the former Crows rookie has tallied seven hundreds, including whopping scores of 160, 132, 137 and 142. At this point in time, the older of the Curnow brothers has one of, if not the highest ceiling in the game, perhaps behind only Bulldogs star Jack Macrae. And what is really impressive about these massive numbers is that the departure of Marc Murphy hasn't made any changes to his scores and that all-bar-one of these figures have have come in losses, most of which were hefty. In the absence of Bryce Gibbs and Marc Murphy, Ed Curnow, along with superstar on-ball bull Patrick Cripps, have both elevated their games immensely and would both likely be considered for the All-Australian squad. If you're after ceiling and already own/can't afford Macrae, Curnow would have to be in the conversation for the next best bet.
Role: I know I certainly wasn't even close to considering Ed Curnow at the start of the year. Knowing he is used as an effective tagger pretty much saw him cast off the watch-list straight away, assuming his scoring would be hindered by his role in the Blues side. And I assume many other coaches did the same thing. In hindsight, this was pretty unfair and Curnow has wasted no time in reminding us of his natural ability to run all day, find an abundance of the sherrin, rack up massive tackle numbers and use his extreme aerobic capacity and spread to cover the ground and take plenty of uncontested marks. His numbers can no-longer be ignored and neither should his ability to score even when he is given negating roles, like he was in round eight against Essendon's Zach Merrett.
Negatives: Potential Drop Off?: For someone who has taken the competition by storm and surprised so many coaches so far in 2018, it's not easy to find a genuine flaw in selecting Curnow. However, when given a tagging role for the last three games of his 2017 campaign, Curnow struggled to provide much of an impact on the stats sheet. Injury ensured his season came to an abrupt conclusion after he posted scores of 77, 64, 54 in the final three rounds. As Carlton look to add a few higher numbers to the wins column, the temptation of sending Ed Curnow to a star opposition midfielder could entice coach Brendan Bolton. Although it doesn't seem to restrict his scoring on a regular basis, it does have the potential to restrict his output. However, fresh off the bye, I would expect him to once again score big against the Dockers at Etihad this weekend.
Positives: Ceiling: If Gaff plays well, the Eagles play well and more often than not, get the four points. If we're talking pure outside runners, the West Coast winger would have to be right up there with the best in the league. His elite endurance allows him to spread well, cover the ground and spend 87%+ time on ground each outing. Gaff is the go-to man when exiting stoppages where his foot skills and ability to send the ball into the forward 50 are regularly utilised. This, of course, means he racks up plenty of the ball almost every week. So far in 2018, his equal lowest disposal game came in the round nine win over Richmond, where he was still able to post a score of 107. Last year, Gaff showed us how big he can go, by posting scores of 144, 146, 130 and 124. Already in 2018, he has seven strong hundreds, meaning he needs only another score of 110+ to match his tally from last season. Whenever I watch Gaff he always seems to be ready for the release kick on the outside of stoppages and seems to go big. Even his tackle numbers aren't that bad for a strictly outside-only wing-man.
Uniqueness And Consistency: For a guy who is currently going at 108 with a three round average of 113, averaged 100 last year and has pretty much been Fantasy relevant his entire career, Andrew Gaff still doesn't get the attention he deserves. Just a click under 5% of coaches own the ball magnet. Given Gaff's lowest score is 86, and he is currently averaging 109 points with seven hundreds, his consistency is a real positive.
Negatives: Tag Threat: There are minimal negatives to choosing Gaff, but perhaps a concern is his inability to break a tag in past years. Last season, Levi Greenwood did a very good job, restricting him to just 16 disposals, 2 marks, 2 tackles and a season-low, 51 Fantasy points. It's no surprise the Eagles lost to Greenwood's Magpies that day. Whether or not teams send someone purely to shut him down remains to be seen, but if history is anything to go by, his scoring is definitely affected. To-date, however, he hasn't copped much attention, however teams will surely have identified his damage if given time and space, perhaps prompting them play a tagger alongside Gaff.
Verdict: Gaff and Curnow have been two of the biggest surprise packets of season 2018 so far. Curnow has the higher ceiling of the two, having well and truly proven his ability to go huge, regardless of what role he plays within the midfield. Both have been consistent however I'd be worried about Gaff copping some added attention. Although it's possible, I can't honestly see Ed dropping off anytime soon. Curnow for me.
Loading ...