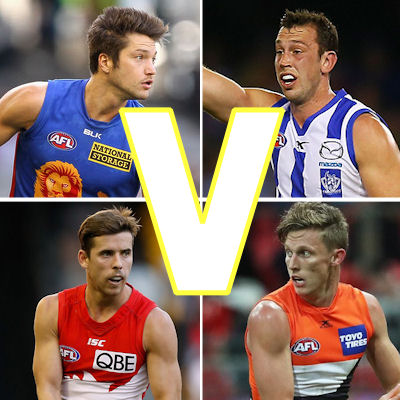 Stefan Martin ($665,000)

V

Todd Goldstein ($663,000)
Positives: Consistency: Stefan Martin has gone sub-90 just twice this season – 68 against Max Gawn's Demons and 67 against Dawson Simpson and the Giants. Whilst Martin, who's participated in all of the Lions games this year, has managed seven hundreds an additional seven 90's have been produced by the 31 year-old. Aside from the two 60's, Stef has provided his owners with regular scores of 90-100. Consistency is a real positive to selecting the Brisbane big man, who has endured another strong point-scoring year.
Ceiling: Martin is one of a handful of ruckman who has the potential to go huge on his day. So far this season he has scored 177, 137 and 130 opposed to a Ryder-deprived Port Adelaide, Sydney's Callum Sinclair and the 'Pies Brodie Grundy respectively. And this high scoring ability will be well known by the more experienced coaches. In recent years, particularly 2014 and '15, Martin, along with then-teammate Tom Rockliff, was a a regular captain option and, in the latter season, the second best overall ruckman behind Goldstein with an average of 114 from 20 games. During that year, Stef produced scores of 134, 138, 124, 151, 107 and 152 to conclude the campaign. He played just 12 2014 matches (all in the second half of the year) but averaged 112 off the back of eight 110+ scores and four which exceeded the 120+ mark. The guy has a high ceiling.
Negatives: Hard run of opponents: Throuhgout the year, Stef Martin has proven he can match it with the best rucks in the comp, however over the coming weeks he faces Sam Jacobs, Rhys Stanley, Todd Goldstein, Brodie Grundy, Jarrod Witts and West Coast's Nathan Vardy (If he is the replacement for Nic Nat). There are a couple of quality big men in that bunch for Stef to negotiate. Could he struggle against the bigger names? Doubtful but possible.
Positives: Ceiling: Three of the best Fantasy ruckmen this year – Grundy, Gawn and Martin – all have the ability to go big on any given day. Grundy has nine 120+ scores, Gawn nine and Martin, as was mentioned above, has three. Goldstein, although the sixth ranked big man before the aforementioned three, Callum Sinclair and Jarrod Witts, also have the capacity to pump out a big score here and there. He has just the two 120+ scores so far but, like Martin, has a history of producing big scores. Yes, he has dropped off since 2015, but the North Melbourne ruckman is still capable of the high scores.
Strong Form: After managing just two tons and two 90's in the first half of season 2018, Goldy has hit some strong form over the past month. In the previous four matches, Goldstein is averaging 117 thanks to scores of 118, 93, 132 and 125. But the big question must be asked, will he be able to continue this point scoring for the remainder of season 2018, which still has six rounds to go? He faces Brodie Grundy, a Naitanui-less Eagles (Nathan Vardy the replacement), Stef Martin, Jordan Roughead, Sauce Jacobs and Tom Hickey. Whilst there are a number of solid rucks in that list, expect a couple of strong showings against the Saints, 'Dogs and Eagles in-particular.
Negatives: Consistency: If you're after a consistent ruckman, Goldy wouldn't be on the top of your list, as a result of a troublesome and underwhelming start to the year. Goldstein, in contrast to Stefan Martin, has registered eight scores below 90 this season – not the sort of numbers coaches will be looking for, particularly at this stage of the year approaching Fantasy finals. Up until round 11, when things started to improve slowly, Goldy had produced the following scores – 91, 117, 60, 65, 79, 95, 70, 77, 107 and 77.
Verdict: Goldstein is in some strong form of late, however Martin's body of work across the years entirety makes him the more lucrative option here. If you can't get to Grundy or Gawn, Stef would quite easily be the next best option as a Naitanui replacement.
Loading ...
Jake Lloyd ($704,000, DEF) 

V

Lachie Whitfield ($679,000, DEF/MID)

Positives: Role: Jake Lloyd was drafted by the Swans in the 2012 rookie draft as a smaller, outside player who could be used on the wing or half-back. He didn't play a game in his first year at the club, but managed 18 games in 2014, earning a Fantasy average of 62 and being one of the years more popular rookie options in the midfield. After establishing himself as a regular fixture in the Swans best 22, Jake Lloyd continued to improve his points scoring ability, averaging 73 in 2015 before upping it to 84 the following year. In 2017, Lloyd, having gained defender status for the first time, really elevated his Fantasy game to put his name in the conversation for a top six defender spot, after concluding the minor rounds with an average of 92. As a result of his move to a role on the wing, many coaches saw plenty of upside in the classy 24 year old. Currently he is owned by close to 40% of the competition.

Ceiling: Jakey Lloyd's role allows for some big games here and there, like the 115 against the Eagles in round one, 120's on the Cats and Hawks and 125 in round 15 – all capped off by a massive 163 up at the SCG opposed to a struggling Freo. being the primary outside, link-up player for the Swans he is both destructive and prolific. The Fremantle game is a perfect model. That day, he collected 26 kicks, 15 handballs and no-less than 15 marks if you don't mind. He's in some cracking form, managing four hundreds in the last four games, and wouldn't a big score from a premo defender be handy in your head-to-head match-up.

Consistency: After registering four sub-90 scores in the first half of the season, Lloyd has dropped below that mark just once in his last nine matches. This blend of consistency and ceiling is just about all you could ask for from your premo backman.

Negatives: The SCG: I wouldn't exactly call it a big negative, however in eight games at home – the Sydney Cricket Ground – Lloyd has tallied just the three tons with five scores failing to hit triple figures as a result. The Swans play a further three games there this season in the last six weeks. These perhaps surprising statistics plant a bit of doubt in potential buyers minds.
Positives: Role: Lachie Whitfield's role is exceptional for Fantasy purposes. He has slotted in seamlessly and appears to be playing some of his best football as the Giants designated kicker off half back. Whitfield's heat maps very clearly sum up his backline role. Having spent the large majority of his five years in the system as an outside midfielder on the wing, the Giants identified Whitfield as a candidate to fill a defensive void left by the departed Nathan Wilson and injured Zac Williams. Lachie's blend of elite foot skills, decision-making, awareness, speed and endurance make 2012's number one draft pick perfect for the role. Against the Magpies way back in round two (when his new role was only just becoming apparent), Whitfield recorded 26 disposals, took a massive 13 marks, laid 3 tackles and kicked a goal for his 123 points. But more indicative of his role, Whitfield recorded just 2 contested possessions from his 26 total touches and all of his marks were uncontested. Those two statistics do a pretty good job of summing Whitfield's role up, together with his heat-map.
Ceiling: The best Fantasy defenders can all go big on their day and the same can be said for Whitfield, who picked up defensive DPP in the round 6 influx of additions. His 33 disposals, 8 marks and 5 tackle performance in round 6 yielded an impressive score of 126 and he was also able to crack the 120+ mark against the Magpies in the second round, with a score of 123. In more recent weeks, Whitfield has recorded efforts of 120 and, just last weekend, a 150 against the reigning premiers (23 kicks, 12 handballs, 12 marks and six tackles).
Negatives: Consistency: There isn't a great deal of negativity surrounding Whitfield, particularity after his massive score on the weekend, however if you look at his season scores, the classy former number one draft pick has struggled for consistency in some parts. He scored only 60's from rounds three to five and has gone under 100 a total of eight times.
Verdict: As potential replacements for the injured James Sicily, both Whitfield and Lloyd have been in some strong form of late. In terms of ceiling, both have posted 150+ scores this season, with Lloyd's high score of 163 eclipsing the 150 of Whitfield. However Lloyd's consistency is stronger than the Giants, so he takes the cake on this occasion in my books.
Loading ...