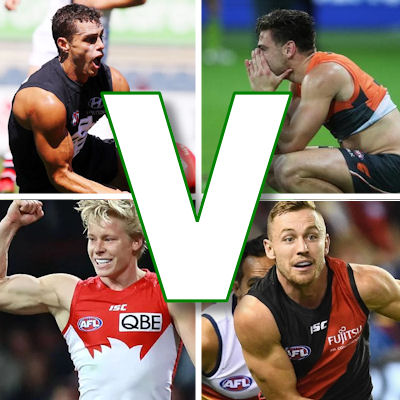 Ed Curnow ($776,000, MID)

 V 

Stephen Coniglio ($719,000, MID)
Positives: Ceiling: It's impossible to not be impressed by Ed Curnow's super start to the year. In eight games, the former Crows rookie has tallied six hundreds, including whopping scores of 160, 132, 137 and 142. At this point in time, the older of the Curnow brothers has one of, if not the highest ceiling in the game, perhaps behind only Bulldogs star Jack Macrae. And what is really impressive about these massive numbers is that the departure of Marc Murphy hasn't made any changes to his scores and that all-bar-one of these figures have have come in losses, most of which were hefty. In the absence of Bryce Gibbs and Marc Murphy, Ed Curnow, along with superstar on-ball bull Patrick Cripps, have both elevated their games immensely and would both likely be considered for the All-Australian squad. If you're after ceiling and already own/can't afford Macrae, Curnow would have to be in the conversation for the next best bet.
Role: I know I certainly wasn't even close to considering Ed Curnow at the start of the year. Knowing he is used as an effective tagger pretty much saw him cast off the watch-list straight away, assuming his scoring would be hindered by his role in the Blues side. And I assume many other coaches did the same thing. In hindsight, this was pretty unfair and Curnow has wasted no time in reminding us of his natural ability to run all day, find an abundance of the sherrin, rack up massive tackle numbers and use his extreme aerobic capacity and spread to cover the ground and take plenty of uncontested marks. His numbers can no-longer be ignored and neither should his ability to score even when he is given negating roles, like he was in round eight against Essendon's Zach Merrett.
Negatives: Potential Drop Off?: For someone who has taken the competition by storm and surprised so many coaches so far in 2018, it's not easy to find a genuine flaw in selecting Curnow. However, when given a tagging role for the last three games of his 2017 campaign, Curnow struggled to provide much of an impact on the stats sheet. Injury ensured his season came to an abrupt conclusion after he posted scores of 77, 64, 54 in the final three rounds. As Carlton look to add a few higher numbers to the wins column, the temptation of sending Ed Curnow to a star opposition midfielder could entice Brendan Bolton. Although it doesn't seem to restrict his scoring on a regular basis, it does have the potential to restrict his output.
Positives: Consistency/Reliability: As the Giants continue to struggle, Stephen Coniglio keeps on keeping on, smashing out quality scores week by week. The Giants are simply a better team when Stephen Coniglio is in the lineup. In fact, I'm willing to argue he is their most important midfielder. Pardon the pun, but he is the vital 'cog' in the Greater Western Sydney engine room. Coniglio's tough, contested ball winning, in-and-under approach beautifully compliments the Giants plethora of outside players, headlined by stars Josh Kelly and Lachie Whitfield. Unfortunately, a range of injuries restricted the on-baller to just seven home and away matches last year, ending 2017 with an average of 95 points from seven games. This year, he has gone under 100 just twice, scoring 92 both times. His consistency is terrific.
No Threat Of Tag: Despite Conigs' ball-winning ability, with the more-damaging Kelly, Shiel and Whitfield in the side, you just don't tag him. And that is certainly a positive for Fantasy coaches. However the Giants have turned to Stephen in order to execute there own tagging roles. Throughout the 2016 season, he was sent to the likes of Jack Steven, Sam Mitchell, Adam Treloar and Daniel Wells. All of which were restricted to 100 or less points, further demonstrating Coniglio's value. Interestingly, Coniglio was able to outscore his opponent on three of the four occasions, even producing scores of 123 and 119. Although it hasn't happened yet, given the Giants struggles, at-times throughout this year they could look to him to restrict an opposition mid, but rest assured his scoring will not suffer.
Negatives: Lack Of Uniqueness?: If your'e after a unique premium midfielder as an ace coming coming into the middle-later stages of the year, then Stephen Coniglio is not your guy. He was a reasonably popular choice in the midfield to start with, earning an ownership of around 10%. But as a result of his impressive start, that has blown out to around 30%. Admittedly, ownership percentage isn't exactly a huge deciding factor, but it is still something worth considering, especially with premo's.
High Ceiling But Low Frequency: Coniglio has demonstrated on numerous occasions that he has a high ceiling. However he doesn't hit those heights as regularly as someone like Dangerfield, Macrae, Mitchell or the aforementioned Ed Curnow. He's only gone above 120 twice, one of which was a score of 121 in a reasonably comfortable win at home against the Dockers. So yes, he can go big on his day, but the statistics suggest it won't happen as often as some of the other midfield names.
Verdict: Both of these guys have been used in negating roles by their respective sides from time to time but, crucially, can both score well regardless. Conigs and Ed have each been consistent this year, surprising many coaches with their scoring to date. I love what Coniglio brings to the table, but after a week off through suspension, I would lean towards Ed Curnow if you have the cash.
Loading ...
Devon Smith ($646,000, MID/FWD) 

V 

Isaac Heeney ($642,000, MID/FWD)

Positives: Consistency: In what has so far been a reasonably disastrous season for the Bombers, the recruitment of former Giant Devon Smith would have to be considered one of, if not the brightest of the shining lights.  In his six years at the Giants, Dev was a fairly productive scorer, knocking up season averages of 69, 73, 94, 85, 78 and 81. His time in the orange and charcoal was largely spent as a small forward who could rotate through the midfield if needs be. He provides plenty of defensive pressure in the attacking 50 in the form of relentless tackling, speed and overall x-factor. His sense around goal helped him bag 100 goals across 109 games for the expansion side. This year, he has dropped under 90 only once, when he scored 72 in the loss to the Bulldogs at Etihad. Expect 90+ every week from Dev.

Role: His season heatmap makes for good viewing if you currently own or are considering Devon Smith as a trade-in option. He has found 56% of his disposals in the defensive half of the ground, with the map suggesting he has spent considerable time operating on the ball, often off a wing. With just four goals to his name so far this season, Smith has been utilised as a speedy, ball-winning midfielder which he was perhaps expected to become whilst at the Giants. As a result of their star-studded midfield, his progression into the centre was restricted. But now, thanks to a move back to his native Victoria, Devon Smith is playing the best footy of his life and scoring at a good rate as well. He regularly finds 20-25 disposals each outing, to go with 2-4 marks. But where he really bumps up his scoring is by laying plenty of tackles. Apart from the 2 hugs he laid against the Dogs, which coincidentally was his lowest outing, Devon Smith has never registered below 5.

Negatives: Ceiling: Again, this could be considered nitpicking, but Devon Smith's ceiling has never really been one of his strengths. He plays the sort of game which will rarely see his scores drop off, but also puts a sort-of cap on his scoring, where by it seems unlikely he will go 120+ all that often. But given his tackling and ability to find the ball will ensure he keeps him away from the scores of 50 and 60, Smith is still considered a top six forward candidate. Just quickly, he's never played 22 games in a season before but you can't really predict injuries so that shouldn't derail any plans of bringing him in.
Positives: Consistency: For a forward, Isaac Heeney has been extremely consistent this year. He started the campaign with a fairly stock-standard 98 points from 26 disposals, 4 marks, 4 tackles and a goal. For the next three weeks he continued to plod along at a decent enough click, notching up scores of 88, 97 and 88 which, although is far from unacceptable, wouldn't be considered the greatest of starts for such a talented player. But in the last five weeks, the 22 year old from Cardiff, New South Wales has notched up three tons and a 91 to re-elevate himself back into the upper echelon of forwards. Heeney doesn't look like having a truly down game anytime soon. His consistency gets a tick.
Role/Upside: Heeney has long been regarded as one of the games most promising young stars.  When he was drafted, with a couple of seasons under his belt, Heeney was expected to be amongst the top-level mids. He has a terrific blend of contested ball winning, brutal tackling and strength overhead which prompted one draft watcher to label him a 'complete midfielder'. However he has played more of a half-forward role in his four years in the harbor city, with the power of the Swans midfield restricting him to only stints in the centre. This year has seen him spend far more time on-ball, with his heatmaps showing he has collected 55% of his possessions in the defensive half of the ground. As he spends more and more time in the guts, his Fantasy scoring will only improve. At 22 years of age with 67 games of experience under his belt, the time is now for Heeney to really become one of the games best medium forward/inside midfielder, and his performances so far have gone a long way to doing so.
Negatives: Ceiling: This call may be a bit harsh, but despite his solid consistency so far this year, Isaac Heeney has yet to prove he has the ceiling when compared to the likes of teammate Buddy Franklin and Toby McLean. His highest score in 2018 has been 115. In addition, he has only managed one score of over 110. Last season, he went over 120 twice in his six triple-figure efforts with scores of 122 and 120. Whilst this lack of ceiling may derive from some of his trade-appeal, it's unlikely to prevent him from becoming a top six forward by the times Sunday night of   round 23.
Durability: Also of slight concern is his lack of durability which has seen him miss 17 games in his opening three years.
Verdict: These two guys are extremely similar, perhaps the most similar pair of forwards I have ever featured on Versus. Both are thriving from the added midfield time their respective sides are handing to them. Both have good consistency but won't net you the real, game-breaking high scores. It really is a toss of a coin and may come down to each coaches bye situations, but I prefer Devon ever-so slightly.
Loading ...