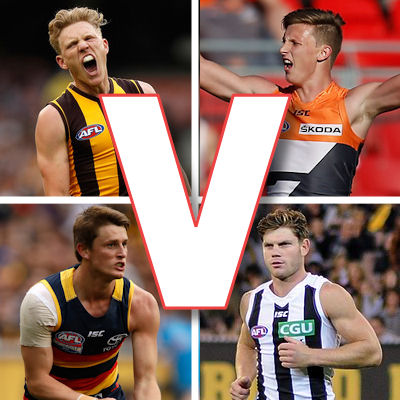 James Sicily ($626,000, DEF/FWD)

 V 

Lachie Whitfield ($631,000, DEF/MID)
Positives: Ceiling And DPP: His efforts in round 7 against the Bombers at the MCG, provided us with an example of what Sicily offers his owners. He racked up collected 29 possessions at an elite 83% efficiency, 8 intercept possessions, 14 marks (11 uncontested and 3 contested), six score involvements, 606 metres gained, 5 inside 50's, 5 rebound 50's and managed to sneak forward to bag his first major of the season in what was his best statistical performance of his five-year AFL career. He recorded career-highs in kicks (23), marks and most-importantly, Fantasy points. Just last weekend, Sicily was again impressive, collecting 25 disposals (21 kicks), 9 marks and 104 points.
Role: To quote last weeks versus article on the Hawthorn star, Sicily made his way to Waverley Park via the 2013 National Draft, in which he was selected in the third round with pick 56 overall. This already looks to be one of the absolute steals of the draft, adding to the Hawks talent ID and recruiting staff's long list of late-draft successes. He has always had a knack of being able to read the play before anyone else on the ground. This, combined with his neat foot skills and strong overhead and intercept marking makes him a near perfect option in defence, having been deployed as a marking third-tall forward throughout almost all of his junior career and early years at AFL level. His role in the Hawthorn line-up is crucial to the way they intercept and rebound from the back half. Having owned him for the first few weeks, despite perhaps not scoring as well as I would have liked, it was terrific to see him position himself a kick away from the contest and intercept more often than not. I would argue his role is the best thing about Sicily as a prospect.
Negatives: Durability: Every football fan knows Sicily enjoys a bit of banter with the opposition or, as we saw on Sunday afternoon, the umpires. Sic-dog, despite the Hawks trying to change his ways, will always be ultra-competitive and, as a result, suspensions will come his way from time to time. This is without a doubt his biggest negative. Having already spent two weeks of the season on the sidelines as a result of two separate misconducts, the odds suggest it won't be the last time the Hawthorn star sits out a game or two in 2018.
Consistency: So far this season, Sicily has notched up three tons, all coming in his past trio of games. However prior to those impressive games, he put up scores of 78, 69 and 92, hinting that his consistency may not quite be there yet. In addition, with other teams now fully aware of his powers, Sicily may start to cop more attention with sides eager to nullify his influence off half-back.
Positives: Role: Lachie Whitfield's role is exceptional for Fantasy purposes. He has slotted in seamlessly and appears to be playing some of his best football as the Giants designated kicker off half back. Whitfield's heat map from the weekend very clearly sums up his role on-field, as the kicker off half-back.Having spent the large majority of his five years in the system as an outside midfielder on the wing, the Giants identified Whitfield as a candidate to fill a defensive void left by the departed Nathan Wilson and injured Zac Williams. Lachie's blend of elite foot skills, decision-making, awareness, speed and endurance make 2012's number one draft pick perfect for the role. Against the Magpies, Whitfield recorded 26 disposals (at 88% efficiency), took a massive 13 marks, laid 3 tackles and kicked a goal for his 123 points. But more indicative of his role, Whitfield recorded just 2 contested possessions from his 26 total touches and all of his marks were uncontested. Those two statistics do a pretty good job of summing Whitfield's role up, together with his heat-map.
Ceiling: The best Fantasy defenders can all go big on their day and the same can be said for Whitfield, who picked up defensive DPP in the round 6 influx of additions. His 33 disposals, 8 marks and 5 tackle performance in round 6 yielded an impressive score of 126 and he was also able to crack the 120+ mark against the Magpies in the second round, with a score of 123. Although his big scores may not be as frequent as some of the other big premiums, Lachie Whitfield's ceiling is still at a good height.
Negatives: Threat Of Tag And Consistency: With Tom Scully out indefinitely with a significant ankle injury, do opposition teams put more work into Lachie Whitfield? The Giants are well-known as having an abundance of damaging midfielders, however teams may deploy a defensive forward in order to nullify Whitfield's damage from the defensive-50. On top of this tag threat, Whitfield severely struggled from rounds 3 to 5, only managing three scores in the 60's. Although, given his efforts over the past fortnight, these score look to be behind him, the threat of a similar drop off still looms imminent.
Yet To Average 100+: Lachie Whitfield came into the league as the coveted number one draft pick and slotted straight into a very young, inexperienced Giants side. Since then, he has played out four seasons, recording season averages of 79, 83, 84 and, most recently, 97. This season, he will have to bump up his average by 6 points in order to crack the ton. His previous season averages don't exactly fill owners with the confidence he can become an out-and-out premium defender, in the mold of Laird or Simpson.
Verdict: Both of these defenders with DPP status have flourished in their new roles so far in 2018. Sicily's annoying threat of suspensions will deter many, however I am of the belief that his scoring for the remainder of the year will be higher than Whitfield. If you prefer to play it safe, however, then the Giant may be your man. But as the saying goes, no one ever won this thing by playing it safe.
Loading ...
Matt Crouch ($648,000, MID)

 

V Taylor Adams ($625,000, MID)
Positives: Value For Money: Considering the sorts of numbers he was able to produce last season, Matt Crouch is criminally undervalued at the moment. This all comes as a result of his unfortunate hamstring injury, sustained in round two against the Tigers which unfolded early in the second quarter, leaving him stranded on a measly 33 Fantasy points. Since then, his price has been in free fall, dropping by around $80k despite producing far from disappointing scores. The footy world had always been aware of Matt's talents, especially when since his brother Brad headed to West Lakes, however last season, Crouch really broke out onto the Fantasy scene. He averaged 106 points, playing all 22 games and producing 11 scores of 110+. In terms of value, Matt Crouch may just be the most tempting option out there.
Consistency: Not including the heavily injury-affected score back in round 2, Matty Crouch hasn't gone under 80 since round 16, 2016. Now that's consistency. In 2017, Crouch finished the year on fire. From round 14 onward, Crouch hit triple figures 8 times including scores of 128, 127 and 150. Having watched him every weekend for pretty much his entire career, being a Crows fan, I can't remember the last time Crouch had a real bad game. He just always finds a way to locate the ball.
Role: Crouch entered the AFL regarded as a slower, inside midfielder who, although could find plenty of the ball, had below average foot skills. This weakness was evident in his first few years in the system but, after in the 2017 pre-season, he worked extremely hard on sharpening his kicking. Crouch isn't the type to kick long and direct, instead he completes short-range kicks, often with terrific precision. His role in the Crows midfield is to accumulate as much as the ball as possible. He does this as well as anyone who has ever graced the hallowed turf, as proven by his record-setting disposal count last year.
Negatives: Can He Improve On 2017?: Matt was a deserved All-Australian in 2017 after he led the Crows on-ball brigade into a Grand Final, in partnership with Rory Sloane and co. It was a truly outstanding season, but will he be able to at-least replicate it or even improve on last years efforts? With a kick:handball ratio which unfortunately slants toward the latter, it will be very difficult to see Crouch getting any more of the ball than what he currently does. His marking numbers are standard for a midfield of his size but his tackle numbers have been a bit below par so far this campaign. Perhaps improvement comes through tackling more? Even still, I can't really see him being able to boost his 2017 average of 106 much further.
Positives: Ceiling: Coaches were given a first hand look at just how big Taylor Adams can go. Allow me to reel off so of the numbers which saw him conclude the year as the fourth highest point scorer. Playing all of Collingwood's 22 home and away games, Adams produced 15 hundreds in total: 5 scores of 130+ and 10 between 100 and 129. In contrast to Matt Crouch, the Magpie started his season on fire, recording scores as high as 151, 137 and 148 all within the first six rounds. He was also able to conclude the year in tip-top shape, with efforts yielding scores of 151, 124, 128 and 132. There is no issue when it comes to ceiling.
Value For Money: Having started at the lofty price of $808,000, it was always going to be difficult for Adams to maintain the 114 average required to not lose any cash. However his limited number of owners would be fuming, after he kicked off the new season by failing to crack the triple figure mark in his first three weeks. Then, he succumbed to a low-grade hamstring injury which saw him sidelined for three rounds. Once he did make it back into the side after the layoff, Adams played spent just 73% time on ground for a score of 48 – his lowest total in quite some time. Granted, Collingwood were more or less easing him back into the swing of things, given the threat hamstring injuries pose, however there is no excuse for such a prolific ball winner to rack up just 14 disposals against the lowly Lions. But his 124 last weekend may have reignited things, snapping the former Giant back to life.
Negatives: Consistency And Role: It's no surprise, Taylor Adams has really struggled to find any real consistency in his game of late. It comes after he put up quality scores week-in-week-out across the 2017 season. This season the Magpies look to use their gun midfielders consisting of Pendlebury, Adams, Sidebottom and Treloar in a variety of different positions. As is best proven by the outputs of Treloar and Sidey, being taken away from the middle does have a negative affect on a players Fantasy score. Adams boasts a wide range of strengths, one of them being the flexibility to play in almost all roles, from inside mid, to pinch-hitting forward or rebounding defender. With Buckley's willingness to use his aces in different roles, a shadow is cast over Adams' scoring output.
Verdict: I'm a big fan of Matt Crouch and although Adams has a higher ceiling and is able to score bigger more often, I just can't trust Adams yet. Crouch, on the other hand, is as reliable as they come. You'll 90+ each week with him, hopefully more as he regains full fitness. It's the Crow for me.
Loading ...