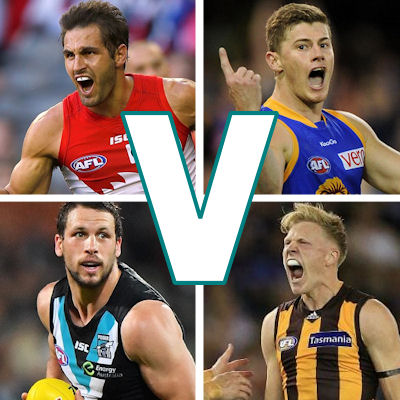 Josh Kennedy ($607,000)

 V

 Dayne Zorko ($576,000)
Positives: Second Half Of The Season Specialist: Since he moved to Sydney at the conclusion of the 2009 season, Kennedy has been one of the games premier big-bodied midfielders. When it comes to the in-and-under stuff, JPK is as good as anyone, bollocking through the midfield with no regard for opposition safety. His stoppage work and contested-ball winning are elite and have played a vital role in Sydney's sustained success over the past number of years. Whilst he may start his seasons slowly, JPK is renowned as being a second half of the season specialist. Allow me to take you back to 2016. From rounds , the Swans inside midfielder didn't go under 100 and managed scores of 118, 131 (twice) and 156, highlighting his Fantasy capabilities. In 2015, the former Hawk finished with the fifth most points of all players (behind only Steven, Pendlebury, Hannebery and Goldstein), with an average of 107, which is tied for his career-best output. This impressive ranking came because of an impressive late flurry of points on the downward side of the season, with scores of 120, 127, 130, 132 and 151 helping his cause. There's no reason to suggest a similar pattern won't occur this year.
Ceiling: He may be approaching 30 years of age, but Kennedy can still score big when he wants. From 2014 to 2017, he has totaled 21 120+ scores from 81 games. This means that JPK goes 120+ 25.9% percent of the time, with most other games earning him lower triple figure scores. He managed to get on the board in 2018 with a 122 against North Melbourne last week in the disappointing loss. JPK, at $607,000 is definitely undervalued and with a breakeven of 74, should be considered at the very least as we start to venture closer into the year.
Durability: Another positive with bringing in JPK is that he has been exceptionally endurable throughout his 12 years in the big league. In fact, last year he played 19 games, his lowest total since 2009 when he was still in the brown and gold. From 2010 to 2013 he did not miss a match, playing in 88 consecutive games. And since then he has missed on just 7 occasions. Despite his age, Kennedy is a reliable option when it comes to injury and suspension issues, which have been present in the seasons of a handful of premiums, as is unfortunately always the case. Not with JPK.
Negatives: Consistency: There have been a couple of games this year which have led some to question whether Kennedy may have had his last Fantasy-relevant year. Now into the latter stages of his career, which has been full of bumps and bruises, Kennedy is finding himself struggling to muster together more than two hundreds in a row. In the game against a depleted Adelaide midfield, without Sloane or either of the Crouch boys, Kennedy quite-frankly looked slow and past it, collecting just 13 touches. If it wasn't for his 8 tackles, his score of 66 would have been even worse. Kennedy also looked down the previous weekend against the Bulldogs in Melbourne, where he managed jut 43 points – his worst outing in a number of seasons. All these signs suggest his previous consistency may not be there in 2018.
Positives: Ceiling: We should all have been aware of Dayne Zorko's massive ceiling even before he exploded last weekend. In 2016, where he averaged 114 points in 21 games, the small forward turned midfielder posted no less than 14 scores of above 110, including some efforts yielding totals of 139, 157 (twice) and 181, amongst a handful of other big numbers. In his two biggest games of the year, which both came in reasonably hefty losses against the Cats and Power, Zorko managed a combined 24 tackles and 6 goals. If racks up heaps of tackles and manages to hit the scoreboard, history suggests his Fantasy score will make for pleasant viewing by the final siren. Don't get me wrong, he finds a heap of the ball as well, but its his tackles and goals which are the two greatest indicators. So it was of no surprise to see him amass 10 tackles and kick 4 snags last weekend, contributing toward a score of 176.
Role: When he moved to the Lions, having dominated the Queensland leagues and been dumped by the Gold Coast Suns in their early years, Zorko was expected to be more of a small forward. But instead, his burst of speed, production through the midfield and ability to hit the scoreboard have seen him spend most of the games in the center, limited only to stints up forward. Although his performances so far in 2018 suggest otherwise, this move has transformed him into a genuine Fantasy star.
Negatives: Tag Threat: Part of Zorko's horrendous start to the year can be put down by his inability to deal with and work through added opposition attention. He has kicked 9 goals in 7 games but his disposal, mark and tackle numbers are all considerably down on the heights of last year. The influence he is capable of having on a game was on show for all, especially Collingwood, to see. His ball winning, spark and goal kicking ability is vital in the young Lions on-ball brigade. Shutting him down has proven to go along way to stopping Brisbane and prevent any sort of quality Fantasy production.
Extremely Frustrating Start: Having started with Zorko from day one, this paragraph will be more-so used to vent my anger and frustration. After seeing him dominate last season, I thought I would lock in Zorks as one of my five premo midfielders. He was expensive, $805k to be exact, but I was confident the three time Lions best and fairest winner could at the very least maintain his impressive average from last year and continue to pump out huge, potentially match winning scores on a fairly regular basis. Boy was I wrong. The man has delivered just two hundreds, along with scores of 57, 72, 63, 55 and 43. Those numbers are pretty bad from anyone besides maybe a rookie, let alone a top dollar uber-premium midfielder. In typical fashion, I traded Zorks out after round six, only for him to follow up with 176 on the Magpies. To the never again list you go, Dayne.
Verdict: Both of these guys are solid trade-in options this week, especially with rookies starting the max out, bu said with plenty of salt, I would firmly pick Josh Kennedy ahead of Dayne Zorko. Mind-you, Zorko is still an entertaining option for those who wish to experience the very best and worst Fantasy footy has to offer, such is his consistency this year. Kennedy's second halves of the year are difficult to ignore, so he gets the nod here.
Loading ...
Travis Boak ($602,000, MID/FWD) V 

James Sicily ($594,000, DEF/FWD)
Positives: Role And DPP: The Power skipper took over the reigns from Dom Cassissi ahead of the 2013 season and has since been a solid leader. He's seen it all throughout his career, having experienced the highs of grand and prelim finals and lows of facing serious off-field money issues, where the club was in serious debt and close to facing extinction. He hasn't really been recognized or seen as a star at many stages throughout his 12 years in the business outside of South Australia. Having spent years as a pure mid, Boak has made more of a move into the forward line at stages throughout the past few seasons. Importantly, it hasn't affected his numbers much.
Runs On The Board And Consistency: Boak has maintained a season average of between 80 and 100 for 11 straight years now. In this time he's only averaged triple figures once, but that's reasonably good going if you ask me. There's no evidence to suggest this trend will be broken this year, despite the additions of Motlop, Watts and, when he returns, Tom Rockliff. At the moment, you'd probably take an average of 90+ from a guy who would be sitting at F4 or 5 by the end of the year. He's managed that feat four of the last five years. His year-to-year consistency and runs of the board are reassuring.
Ownership: For the captain of a club that should feature come September, despite a recent and rather dramatic form slump, Boak is far from a big name. I'm sure he's vocal and sets the tone for the rest of the squad at training and on match-days, but generally speaking he doesn't create any major headlines and just about keeps as lower profile as a skipper could possibly manage to achieve. Now this is no knock of Trav, because he is a great leader and by all reports a good man off the field too, but his low ownership of just over 1% is reflective of the public attention headed his way.
Negatives: Top Six Fwd?: As was mentioned above, Travis Boak isn't exactly a household name around the Fantasy traps and I'm always mindful of whether I think the player will be amongst the top players in the line at the conclusion of round 23. When it comes to Travis Boak, I'm not so sure he makes the cut. Trav's teammates Robbie Gray and Justin Westhoff are both firmly in the frame, with Toby McLean, Heeney, Taranto and Menegola all looking more likely at this stage. The forward line is dodgy enough this year to have to worry whether you've even pick a top option.
Bye Round: The Power's second trip to China in as many years will create plenty of headlines across the footy world. But what matters most, at least to Fantasy coaches, is the impact the mid-season vacation will have on out bye structures. Having to sit a premium forward on your bench, as was the case with Blake Acres' owners last week, is a frustrating experience with potentially catastrophic repercussions, given the severe lack of rookie bench coverage. But some will see the positive side to this, which enables us to play him every week through the normal bye weeks whilst all others sit out for a week. It's comes down to your structure and plans for the bye round really.
Positives: Ceiling And DPP: Last weekend provided us with a perfect example of what Sicily can provide his owners with. The 23 year old collected 29 possessions at an elite 83% efficiency, 8 intercept possessions, 14 marks (11 uncontested and 3 contested), six score involvements, 606 metres gained, 5 inside 50's, 5 rebound 50's and even managed to sneak forward to bag his first major of the season in what was his best statistical performance of his five year AFL career. He recorded career-highs in kicks (23), marks and most-importantly, Fantasy points. Granted, other teams will surely put more attention into him, given the damage his can do in the air and by foot, but this really was the template game from Sic-dog. His DEF/FWD dual position status may be of some use as well.
Role: Sicily made his way to Waverley Park via the 2013 National Draft, in which he was selected in the third round with pick 56 overall. This already looks to be one of the absolute steals of the draft, adding to the Hawks talent ID and recruiting staff's long list of late-draft successes. He has always had a knack of being able to read the play before anyone else on the ground. This, combined with his neat foot skills and strong overhead and intercept marking makes him a near perfect option in defence, having been deployed as a marking third-tall forward thoughout almost all of his junior career and early years at AFL level. His role in the Hawthorn line-up is crucial to the way they intercept and rebound from the back half. Having owned him for the first few weeks, despite perhaps not scoring as well as I would have liked, it was terrific to see him position himself a kick away from the contest and intercept more often than not. I would argue his role is the best thing about Sicily as a prospect.
Negatives: Durability: You either love Sicily or, as is the case with the large majority, hate the guy. There's no question he plays football on the edge. Sometimes he looses his cool. It seems like every game he gets into a scuffle or brawl over nothing much. Sic-dog, despite the Hawks trying to change his ways, will always be ultra-competitive and this will no-doubt lead to plenty of suspensions and fines. This is not what you want from a premo, led alone a forward given the lack of depth in this line. Having already spent two weeks of the season on the sidelines as a result of two separate misconducts, the odds suggest it won't be the last time the Hawthorn star sits out a game or two in 2018.
Consistency: He has been touted as a potential star for a number of years now, but James Sicily is yet to really find the consistency in his game to elevate him to the next level. This can in-part be put down to the games him misses through suspension and a rather dramatic change in role. Apart from a late season flurry of three consecutive hundreds last campaign, Sicily is yet to find consistency over a lengthy period of time. Maybe that will change this year. I don't know about you, but I'm after consistency when trading in premium guns.
Verdict: Boak gets the points for runs on the board and overall consistency, but Sicily has a higher ceiling and additional upside given his lucrative role. I must admit to being a big James Sicily fan and think he becomes an elite Jeremy Howe-like defender for the Hawks soon enough. It's Sic-dog here.
Loading ...