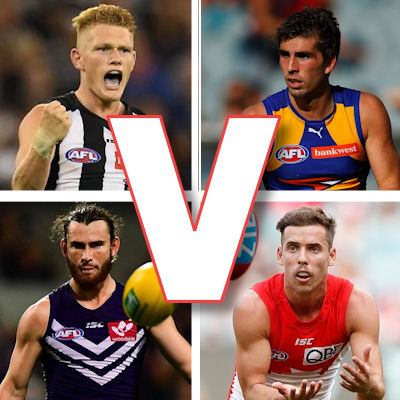 Adam Treloar ($765,000, MID)

 

V 

Andrew Gaff ($733,000, MID)
Positives: Role: It has been an up and down, inconsistent start for Adam Treloar, with his owners left frustrated after scores of 90 and 84 in rounds 2 and 3, which came in the loss to GWS and win over Carlton. Whilst these scores weren't all that terrible, it was his role which would have no-doubt worried the select Fantasy coaches who started with the Magpies star. With Sidebottom, Pendlebury and Treloar all very keen to absorb plenty of midfield minutes, Nathan Buckley needed to play someone up forward. And as the heatmaps suggest, for the first three weeks (in-particular rounds 2 and 3) Treloar was the man in attack. Although he did this job well, kicking three goals from six scoring shots, his disposal numbers were slightly down on his usual high-standards. However, Steele Sidebottom has assumed this role over the past three weeks, and coincidentally, his Fantasy scores have also dropped. Could Pendles be the next in line for the forward gig? Having been back in the mids for the past three games, Treloar has exploded, suggesting his pairing with the club captain is the best option for a rejuvenated Collingwood. However doubt still looms ominously over his ability, or inability, to still score productively when utilised up forward.
Ceiling: It was touched on before, but Adam Treloar has rewarded those who kept the faith over the first few rounds by posting scores of 135, 122 and 147 against the Crows, Bombers and Tigers respectively. He collected 36 disposals against Adelaide at AO, to go with 2 marks and 11 tackles in wet conditions. In a far different game in terms of conditions, the former Giant found the ball 34 times and snuck forward to nail 2 majors and in doing so, winning the traditional Anzac Day Medal. Despite the Magpies being overran in the final term by the flag favourites and defending champions, Richmond, Treloar had another field day which could land him the three votes. His 42 touches, 6 marks, 5 tackles and a goal ensured he posted his first really big score of the year to date.
Runs On The Board And Consistency: Ever since he debuted for the Giants, Adam Treloar was always going to be a star on-baller. After 79 impressive games with GWS in New South Wales, where he averaged 82, 88, 103 and 104 Fantasy points across four seasons, the 2010 under-age selection announced he would return to his native Victoria. Richmond and Collingwood were the two clubs eyeing off his signature. But it was the 'Pies who won out. Treloar then proceeded to hand the Tigers ammunition, by stating he chose Collingwood as he felt they had the superior list. Whilst this infamous statement has not gone to plan, Treloar is starring in the black and white, where he has averaged 110 and 108 since 2016. He has the runs on the board and hasn't dropped below a 103 point average since 2013. Runs on the board can be vital, installing confidence in coaches. Additionally, Treloar dropped under 100 just seven times last year, going below 80 only once, proving he posseses the winning blend of consistency and ceiling.
Negatives: Could He Cop A Tag?: Given the influence he has had on the previous three games and his ability to break matches apart with a neat skill set, burst from the stoppages and ability to find the sherrin in bulk, could Adam Treloar cop some additional attention? The Crows sent Riley Knight to him and future Lions star Jarrod Berry also ran with Treloar last year, however he was able to ton up in both matches – a positive sign for potential buyers. Collingwood head to the Gabba this weekend, so it will be interesting to see whether Berry or perhaps Mitch Robinson are assigned to the speedy ball-winner. If a tag will make much of a difference is another question.
Positives: Ceiling: If Gaff plays well, the Eagles play well and more often than not, get the four points. If we're talking pure outside runners, the West Coast winger would have to be right up there with the best in the league. His elite endurance allows him to spread well, cover the ground and spend 87%+ time on ground each outing. Gaff is the go-to man when exiting stoppages where his foot skills and ability to send the ball into the forward 50 are regularly utilised. This, of course, means he racks up plenty of the ball almost every week. So far in 2018, his lowest disposal game came in the round one defeat to Sydney, where he was still able to post a score of 96. Last year, Gaff showed us how big he can go, by posting scores of 144, 146, 130 and 124. Already in 2018, he has three strong hundreds (120, 122 and 120 against the Cats, Suns and Dockers), meaning he needs only another four scores of 110+ to match his tally from last season. Whenever I watch Gaff, which to be honest isn't all that often living in Adelaide, he always seems to be ready for the release kick on the outside of stoppages and seems to go big. Even his tackle numbers aren't that bad for a strictly outside-only wing-man.
Uniqueness: For a guy who is currently going at 108 with a three round average of 113, averaged 100 last year and has pretty much been Fantasy relevant his entire career, Andrew Gaff still doesn't get the attention he deserves. Just a click over 2% of coaches own the ball magnet. Only Power outside mid Jarrad Polec averages more and is owned by less of the entire player pool.
Negatives: Tough Fixtures: The Eagles have endured a great start to their 2018 campaign after many thought they would slide down the ladder, despite reaching the semi-finals last season. After a had fought loss to the Swans in Optus Stadiums AFL football christening, West Coast have beaten the Bulldogs, Cats, Suns, Blues and Dockers to reach the heights of a 5-1 start. But it gets harder from here. This week they play Port Adelaide at home, the only side which allows less Fantasy points than themselves. The Power are also ranked first for least amount of 100+ scores conceded. Next up are the Giants, who sit behind West Coast as the third ranked side for points against. They also concede the third least amount of 120+ scores. Richmond await in round 9, however they are ranked low in terms of Fantasy points leaked this year. Hawthorn rounds off the first 10 rounds and will likely prove to be another challenge, given they are ranked fifth for points against and second for 120+ scores. Yep, it's not an easy set of fixtures for Gaff or the Eagles.
Not Super Consistent And Tag Threat: Last season, Gaff went under 100 on eleven occasions, demonstrating that his consistency leaves a bit to be desired when compared to the performances of other premium midfielders. Already this year, despite scoring three 12o+ tons, Gaff has failed to hit triple figures a further three times – not the sort of ton:no-ton ratio coaches would be eyeing off. The other concern is his inability to break a tag. Last season, Levi Greenwood did a very good job, restricting him to just 16 disposals, 2 marks, 2 tackles and a season-low, 51 Fantasy points. It's no surprise the Eagles lost to Greenwood's Magpies that day. Whether or not teams send someone purely to shut him down remains to be seen, but if history is anything to go by, his scoring is definitely affected.
Verdict: It has to be Treloar here. After his frustrating start and the confusion over his role up forward, the star  has returned to his native midfield and proceeded to tear it up in tandem with Scott Pendlebury ever since. His ceiling and consistency are superior to Gaff's, so he gets the nod without much of a doubt, although I don't mind the Gaff selection.
Loading ...
Connor Blakely ($628,000, DEF/MID) V 

Jake Lloyd ($618,000, DEF)
Positives: Role: Having spent much of his junior years as a midfielder, it came as no shock to see Blakely used in the guts for the majority of his first two years in the league, as either a tagger or contested-ball winning inside midfielder. However he was thrust into a role as ball-winner who can rebound and set up the play across the half-back line. He averaged 91 Fantasy points in 17 2017 games, linking up well with his teammates and providing the Dockers with plenty of rebound. His role has still allowed him to find the ball often.
Upside And Uniqueness: The guy is still just 22 years old and learning how to best player the half-back role. Whilst his start to the season has been very much an up and down experience, there is definitely some upside and improvement in Blakely's game. If he could find more of the ball on a more consistent basis, like he did in the on-ball role, Blakely would be a genuine star in the back-line and go close to a triple figure average. There aren't a lot of unique premium defenders available, with the likes of Simpson, Lloyd, Yeo, Laird and now Whitfield all owned by a fair portion of coaches. Blakely will average around the same mark as those guys, but has the ceiling and uniqueness to give you a leg up in your head-to-head fixtures.
Fixtures: Blakely plays at home in two of the next five games, with the Optus Stadium games sandwiched by trips to the MCG and SCG, but still has a total of nine games at home before the conclusion of the home and away season. This week, Blakely's Fremantle play Richmond, who although have started the season off in terrific fashion, have not been super restrictive when it comes to points against, ranking 12th in the area. However it is worth noting that last weekend, Collingwood's half-backmen Murray, Howe, Scharenberg and Crisp all scored over 75. They then play St.Kilda, Sydney, North, Collingwood, Adelaide, Carlton and Brisbane. Of those sides, only two are ranked in the top half for points against.
Negatives: Consistency: Unfortunately one of the two main issues with bringing in Connor Blakely is his lack of consistency. The midfielder-turned backman has managed three tons so far in 2018 – 119 against the Bombers, 107 against the Bulldogs and 116 in the derby clash with West Coast. All of these tons came at home, suggesting he has fitted in extremely well to the brand new ground. He also scored an acceptable 86 when the Gold Coast came to town, also playing at Optus Stadim. However his scores of 63 and 62 against the Power and Giants, both away from home, were disappointing. He failed to clock over 20 touches on either occasion and took a combined 8 marks. Consistency has been hard to come by in premiums this year and bringing in another gun with consistency issues may not ease stress levels.
Positives: Ceiling/Role: Jake Lloyd was drafted by the Swans in the 2012 rookie draft as a smaller, outside player who could be used on the wing or half-back. He didn't play a game in his first year at the club, but managed 18 games in 2014, earning a Fantasy average of 62 and being one of the years more popular rookie options in the midfield. After establishing himself as a regular fixture in the Swans best 22, Jake Lloyd continued to improve his points scoring ability, averaging 73 in 2015 before upping it to 84 the following year. In 2017, Lloyd, having gained defender status for the first time, really elevated his Fantasy game to put his name in the conversation for a top six defender spot, after concluding the minor rounds with an average of 92. As a result of his move to a role on the wing, many coaches saw plenty of upside in the classy 24 year old. Currently he is owned by over 25% of the competition. His role allows for some big games here and there, like 115 against the Eagles in round one and the 120 on the Cats last weekend.
Strong Fixtures: Lloyd has a stretch of six weeks with favourable fixtures. He plays the Kangaroos next week, who are currently defying virtually all pre-season expectations, have been better than anticipated when it comes to leaking points to opposition sides. They are ranked 11th for points against but 3rd for 100's against and 120+'s against, suggesting this fixture may not be as easy as it may initially appear for Lloyd or the Swans. Hawthorn follow in round 8 are are ranked 13th for tons against. But the next month of games, starting with the Dockers at the SCG, should be profitably for Lloyd. Freo, Brisbane, Carlton and St.Kilda are all ranked well-down in the bottom of the points conceded column, along with 100's and 120+'s against.
Negatives: Consistency: Lloyd is similar to Blakely in that he has a reasonably high ceiling, which is attractive for buyers, but has so far struggled to find consistency and in doing so, frustrating owners. When Lloyd tons up, he finds in excess of 25 disposals, most of them kicks, and plenty of marks. But when the ball simply isn't being shovelled out to him from the inside mids on a regular basis, he will struggle to find as much of it as he usually does. His consistency wasn't too much of an issue last season, however his two scores under-80 and total of four under-100 are not the sorts of numbers you need from a premo defender, especially one who you are likely to carry through the season.
Verdict: I feel as if Connor Blakely has more upside to his game, given he plays a bit of a different role across half-back than Lloyd. Both have pretty good ceilings for premo defenders but consistency is a common flaw in their games this season. I'd go with Lloyd, as he seems to be warming up nicely to mount an assault on a top six defender spot.
Loading ...