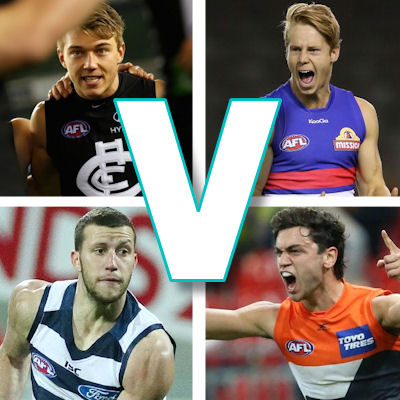 Lachie Hunter ($705,000, MID)

 V 

Patrick Cripps ($701,000, MID)
Positives: High Ceiling: Throughout his previous five years with the Western Bulldogs at AFL level, Lachie Hunter is renowned for racking up plenty of the ball across the wing and using it with precision most of the time, despite an awkward-looking kicking action. He was instrumental during the 'Dogs incredible 2016 season, where he averaged 105 fantasy points, having played in all 22 home-and-away matches. This 2016 campaign came after Hunter, the son of former Footscray player Mark, managed just 35 total games in his first three years in the red, white and blue. He finished the victorious season as the clubs leading possession winner (averaged 28 disposals, ranked sixth in the AFL), ranked second for inside-50's, equal third for goal assists and capped it off with a third-placed finish in the clubs B&F. Not bad for a then-21 year old in a midfield boasting the likes of Macrae, Bontempelli, Liberatore and Daniel. Lachie Hunter finished the year with nine scores 0f 110+ from his total of eleven tons, including hauls of 163, 133 (twice) and 130. Whilst he was significantly quieter last year, Hunter has kicked off 2018 in style, already recording scores of 119 and 148. The signs are there to suggest he is back to his 2016-best where he tons up regularly and goes huge often.
Low Ownership: Low ownership rates are always handy, especially later in the season when things may be getting a little closer in your head-to-head matchup. With most of the better midfield options gaining popularity, its nice to see guys like Hunter continuing to maintain their low fantasy profiles. A current ownership rate of just a tick over 1% is just about as good as it gets for a premium midfielder. Heck, even the criminally underrated Ed Curnow has more than 6% ownership!
Value For Money: Perhaps the recent score of 48 has turned some coaches away, but Lachie Hunter is one of the best value for money picks out there. If he can replicate some of the performances he managed in 2016, he will close to elevating his name into top 8 midfielder calculations come the end of the home-and-away season. Currently priced at $705,000 after sitting out the ANZAC round clash with Fremantle through suspension, Hunter was ranked as the premium midfielder with the best economic rating (price divided by points) over the first three rounds.
Negatives: Consistency (In 2017): Firstly, it's not east to find a genuine negative to Hunter's fantasy appeal. But whilst it has to be acknowledged that Hunter certainly has a fantasy game and a knack of scoring highly, he was not all that consistent in 2017. Yes, in his career-best 2016 campaign, he was consistent, but last year he went under 90 on 10 occasions, with scores of 69, 67, 47, 73, 66, 79, 79 and 63. He only exceeded the 110+ mark four times in his nine hundreds and struggled against Carlton in round four where he collected 17 disposals, failed to take a mark and only recorded 48 points. These figures may be worth taking into consideration.
Positives: High Ceiling: When Patrick Cripps is on, he is brilliant, dominant and without a single doubt the best player in the Blues lineup. And when he is in beast-mode, not only does he hit the ton, Cripps goes big. Throughout his first four and a bit years at AFL level with Carlton, the big-bodied inside midfielder has tallied a total of 20 career hundreds. Of these tons, 14 of them have been scores of 110 or more. So 70% of the time Cripps manages to crack the three figures, he also scores highly. This year already Cripps has two hundreds, both of them being big. His 130 in the gallant loss to Richmond on opening night could see him collect brownlow votes for his dominant 36 disposal, 5 mark, 7 tackle and 130 point display. And in last weekends loss to the Bulldogs, he again managed 34 touches, took 5 marks and laid 11 tackles for a score of 138, all whilst skippering the side for the first time in Marc Murphy's absence. He gets a tick for ceiling.
Upside: Drafted to the club via pick 13 of the 2013 National Draft, Cripps played just 3 games in his debut season in the navy blue before bursting onto the scene as a 19 year old in 2014. He played 20 games, averaged 86 fantasy points and showcased to the footy world the damage a big-bodied midfielder can inflict on opposition teams around the country. He had tags sent to him in just his second season in the league. Now not many players can say that about their entrance into senior football. Back-to-back years of 98 point Fantasy averages followed in '16 and '17, with minor injuries frustrating him and the Blues for parts of the year, allowing him to play 20 and 15 games respectively. The regular tons are not there on a consistent, week-in-week-out basis at the moment, however he has shown extremely promising signs of production, as was eluded to in the above paragraph. And most importantly, he is still very young.
Negatives: Tag Threat: As has been briefly eluded to, Cripps' production, dominance around the stoppages,  marking ability and potency up forward make him an obvious candidate to cop a tag. And for some players, particularly younger guys with less experience like Cripps, having someone run around with you all game, giving you minimal room to move and lack of time with ball in hand can be difficult to deal with. Ben Jacobs went to him when the Blues clashed with the Kangaroos, restricting Cripps to his worst game of the young season. He still managed reasonable stats (19 disposals, 1 mark, 6 tackles) but his score of 78 was well below what is now expected of him.
Not A Renowned Ton-Scorer: He is a renowned stoppage specialist and arguably the best young player in the competition, but Cripps has shown only glimpses of a real ability to score hundreds on a regular basis. And greater point-scoring consistency is the only aspect holding him back from becoming a certified premo mid. Last year, he did get on a role, with eight tons in his last eleven games. However to date, he has been more of a 90's scorer. Hopefully he can manage to string together three digit scorer more often but he just isn't a renowned ton-scorer yet.
Verdict: It's never choosing against a genuine gun like Patty Cripps, but I like Hunter here. Having started with him in 2016 when he was priced at just $433,000, I do have a soft spot for him. He feels safer. Both have high ceilings which will no-doubt attract appeal, however I'd back Hunter to rectify his consistency woes from last year and return to previous heights.
Loading ...
Sam Menegola ($657,000, MID/FWD)

 V 

Tim Taranto ($565,000, MID/FWD)
Positives: Top Six Forward: His midfield DPP may be handy during the bye weeks, but let's be real, you'd only bring Sam Menegola in as a forward. The former Docker and Hawk's first four years on an AFL list totalled zero games, largely due to a couple of season-ending ACL injuries. However, when given an injury-free run at things, the 26 year old got straight to work, aiming to repay the faith shown by Geelong. After featuring in 5 games for the Cats throughout 2016, the goalkicking inside mid/half-fwd fronted up 19 times last season, averaging 102 Fantasy points to finish as the third highest averaging forward (beaten only by Sidebottom and Macrae, both of whom are not available as forwards this year). His scoring was strong, accumulating ten hundreds including scores of 133, 132, 131, 124 and 120. Especially given the lack of premium forwards this year, Menegola, despite his shaky start, is without a doubt one of the best options in attack.
Consistency And Ceiling: Given his 2017 season was interrupted twice through non-selection and suspention, Menegola's scoring consistency was fairly strong, dropping under 90 just five times (scores of 86, 65, 84, 75 and 79). When he did crack the triple figures last season, he went 120+ 50% of the time. Often spending plenty of minutes in the forward line, rotating through with the other big hitters, Menegola's scoreboard impact is crucial to his point scoring ability. He averages just under a goal a game (0.93), regularly notches up in excess of 5 or 6 tackles and spreads well away from the contest, allowing him to rack up solid mark numbers. There is a nice blend of consistency and ceiling in Menegola's game.
Negatives: Scoring When Big-3 Are Back: It's no real surprise that Menegola's midfield time and scoring suffer when Dangerfield, Ablett and Joel Selwood are in the side. Throw in Scott Selwood and Mitch Duncan and it becomes even slimmer. Thankfully for the teams sake, Menegola is a handy forward option for Chris Scott who can deploy him across the forward flanks. But unfortunately for us Fantasy coaches, his production just isn't the same with limited mid time. His game against the Hawks in round 2 is perhaps the best example to-date of his struggles with the big three in the team. Menegola could only manage 14 disposals, 4 marks and a goal on his way to 50 points (the worst output of his career by a margin of 15 points). With Ablett out for a while and Selwood/Dangerfield both not immune to a week off through injury or suspension here and there, Menegola's output should remain strong for the moment, but it is a genuine concern for the future rounds.
Positives: Value For Money: Many of the better forward line options will set you back upwards of $600k (I'm talking Heeney, Buddy, Westhoff, Gray and co.). Not Taranto. The Giants gun will likely save you $100k and is arguably playing a better, more Fantasy friendly role than any of the aforementioned players. Taken with the second pick of the 2016 National Draft, Taranto brought himself into top 10 calculations late in the year, with a stellar performance in the Under-18 All-Star game. He spent time through the midfield and also up forward for the Sandringham Dragons in the TAC Cup, as well as Vic Metro during the National Championships. His overhead marking, ability to impact the scoreboard and inflict damage on the opposition with almost every disposal saw him taken above the perhaps more-fancied Hugh McCluggage and Ben Ainsworth. As was the case with Demon Clayton Oliver, Taranto is already becoming a recognised star in just his second season at the highest level. After laying the foundation with 12 senior games last year, Taranto looks set to be a key cog in the Giants seemingly annual September quest.
Role: Having seen him show flashes of brilliance across half-forward as an under-18 and given the Giants strong midfield core, it has been a bit of a surprise to me to see Taranto spend so much time in the guts. An at-times powerful contested-ball winner, smart stoppage player and avid tackler, the 20 year old also boasts the ability to work up the ground and impact the play up forward, but then run back to help out defensively, using his strong endurance base. This trait isn't always common amongst younger players, let alone some 150 game veterans. Leon Cameron and the Giants coaching staff clearly like what Taranto brings to the table. They brought the first-year forward in for the Giants second final, despite not having played an AFL game since round 14 earlier in 2017. And it's easy to see why they love him, after he managed 32 disposals, 6 marks, 5 tackles and 112 points in round one this year. He followed this up with a 91 point showing before struggling against Sydney. Taranto tackled up a storm against Freo in round 4, laying 11 hugs accompanied by 22 touches, 3 marks and a goal, contributing to his career-high score of 120. A 95 against the Saints last weekend came from just 19 touches, proving to Fantasy coaches that he has a number of different scoring avenues. Unlike Oliver, there is no threat of a tag with Taranto, which only suggests his current form line should continue.
Negatives: Output Against Top Sides: Of the teams GWS has played so far – Western Bulldogs, Collingwood, Sydney, Fremantle and St.Kilda – only the Swans look like mounting a genuine case in September. And it was against the Swans where Taranto struggled. Perhaps he was overawed by the 'battle of the bridge' or the star power of Sydney's midfield. Whatever it was, it contributed to his only poor showing of the current season so far. In contrast to other weeks, when he wasn't finding as much of the ball, he didn't tackle his way to a better score, didn't hit the scoreboard and didn't take heaps of marks to make up for it. GWS face the likes of Geelong, West Coast and Adelaide over the next month and a half which could make a dent on TT's current 94 point average.
Verdict: Both forwards come with DPP which is always a bonus, but really isn't all that important now. Menegola, after a false start, has reminded coaches he is still in the frame as the best forward out there when he gets mid time. Taranto, on the other hand, is tracking well in a similar role to the Cat's. I like them and would predict both to be top six forwards, or there abouts, but Taranto gets the nod here. Menegola has proven to struggle with the big 3 back and TT will save you $100k for a similar output with reduced risk. He is young though and not immune to a potential drop off or week off.
Loading ...