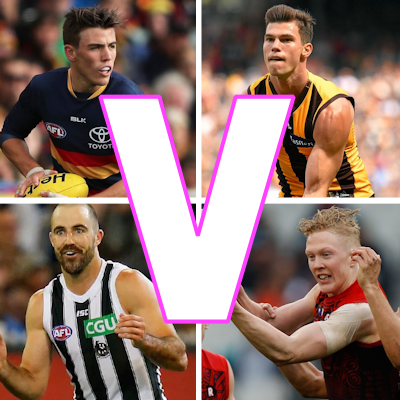 Paul Seedsman ($575,000, DEF/MID)

 V 

Jaeger O'Meara ($537,000, MID)
Positives: Role: With Brodie Smith out of the Crows side for the year, after rupturing his ACL in the finals win over GWS, Paul Seedsman seemed the logical replacement. The pair share similar traits: speed, penetrating foot skills and the ability to really damage the opposition. And in the four games this year, Seedsman looks to be covering the loss of Smth well, averaging a career-high 26 disposals at 74% efficiency, 5.3 marks, 3.8 tackles and, most importantly, 101 Fantasy points. Since crossing the SA-Victoria border at the conclusion of the 2015 season, Seedsman has been in-and- out of a strong Adelaide side, but now he is playing the best football of his career and looks a certainty to remain in this  role across half-back – and it's certainly a Fantasy friendly role.
High Ceiling: The Seed has never really been able to breakout in terms of Fantasy output. Prior to coming to the Crows, his best season average was 79 with Collingwood. Injury and the strength of the Crows side restricted Seedsman to just the two home and away games in 2017, where he managed scores of 80 and 92. Judging by his performances against St.Kilda and in the loss to Collingwood, Seedsman can go big. His scoreboard impact (3 goals so far in 2018) and tackle numbers (15 in 2018) are positive from a dashing backman.
Value: Seedsman has already increased in price by $115k, but with a breakeven of just 43 and current average score of 101 points, his price will continue to rise over the coming weeks. When compared to the likes of Lloyd, Simpson, Tuohy, etc (all of which failed to hit three figure last weekend), Seedsman is terrific value and should be at the very least included in top six defender discussions. Seed reportedly "started pre-season training earlier than required in a bid to get ahead in 2018", according to AFC.com. And that decision looks to be not only benefiting Seedsman and Adelaide, but also his Fantasy owners.
Negatives: Lack of past performance?: The dashing wingman/half-back flanker is in the middle of a career-best period and looks like a great Fantasy options in defence or perhaps even the midfield. However Seedsman has managed just four tons in the past three seasons (29 games). Before jumping aboard, as no-doubt a number of coaches will, it would pay to just consider his lack of real Fantasy production in years gone by. Granted, he was playing in different roles and sides to the one he is now, but never before has he managed to average over 90 in a season. Do his previous numbers raise concern?
Tendency To Miss Games: Since being drafted ahead of the 2011 season, the 26 year-old from Melbourne has played 73 of a possible 158 matches. Injuries have contributed to this lack of game time and consistency, but one of the reasons he left the Magpies was because of a lack of opportunity. The Crows certainly haven't gifted him games in his time at West Lakes, however he is more than likely going to front up in 22 games, but will his body allow him to? Seedsman has had groin, hamstring, hip, glute, calf and even buttock injuries in years gone by which have sidelined him.
Positives: No Tag Threat: The debate about Titch's influence on games is trending at the moment, but personally I think its fairly safe to say Jaeger O'Meara is a more damaging player than Tom Mitchell when both are at their bests. So therefore, if teams felt the need to restrict the output of a Hawks mid, JOM would more than likely be the guy they target. This says a lot for O'Meara, given the 24 year old from Dongara, Western Australia had only played 50 games prior to the start of the season. As everyone is well aware of, Mitchell went ballistic in the opening three weeks, breaking records and dominating Fantasy headlines. But when the Demons sent Nathan Jones to him, he failed to ton or have much of an impact on the games. Despite the Hawks big win, Jones' tag was successful. Teams will recognise this and sides not named Collingwood will surely put more work into him. O'Meara thrived as a result of this, collecting 26 disposals, 3 marks, 9 tackles, 2 goals and 126 Fantasy points.
Upside And Value: O'Meara is one of the most talented players in the comp. He was supposed to be a star alongside Ablett at the Suns. But injuries and a host of other issues have forced both to make the journey back down south. After playing 22 games in his first two seasons in the big league, averaging 89 and 92 respectively, we all thought he would be a star much earlier than it has turned out. Having played just six games in three seasons, all of which came last year, JOM is still getting used to worrying about football, not his knee. Chuck in a breakeven of 37 and you can pencil in a few very healthy price rises over the next few rounds. For these reasons, JOM has some of the biggest upside and best value in the player pool.
Scoring: Has he averaged over 95 in a season – no. Will he – yes, and it could well happen this year. Those who have followed him for a while now would know of his point scoring ability. In 2014, Jaeger managed 10 scores of 100+, to back up his first season in which the Sun-turned-Hawk went under 70 only twice! He has the ability and there is no disputing that. He looks extremely fit and with the confidence that would've stemmed from what was a successful first month of football, it won't be long before he starts stringing together a few big hundreds.
Negatives: Injury Prone: As much as I would love to not mention injuries when it comes to the uber-talented O'Meara, his troublesome past just demands attention. Jaeger has had long-term knee issues for three years now, ensuring he spent much of these seasons in the weights room instead of on the track. Judging on the first few rounds of football, O'Meara looks to be working up the level of performance he was expected to reach when taken as a 17 year old in the 2011 mini-draft. But if you pick him, the injury cloud may cause for some anxiety. It's up to you, if you are confident he is over his knee complaints, like I am myself, then go for it.
Verdict: This comparison is as much about providing a few stats and opinions of two of the better options out there as it is actually choosing between the two. If you're after a defender, perhaps upgrading the likes of Doedee, then Seedsman is arguably the best value pick of the lot. In terms of midfielders, Jaeger is a handy pick up that will net you cash and score at a strong rate. I'd take O'Meara here. His Fantasy potential is still large, despite two knee reco's.
Steele Sidebottom ($769,000, MID)

V

Clayton Oliver ($735,000, MID)
Positives: High Ceiling: Throughout his 10 years at AFL level, Sidebottom has demonstrated to us that on his day, he can score very well. He sets up these big scores by racking up a heap of the football, often across the wing and flanks. Sidey has a regular, almost weekly impact on the scoreboard and is certainly not unfamiliar with kicking a bag. When allowed to roam, he racks up mark after mark and hits targets with precision on either side of the body. Already in 2018 he has two scores of 130+, having managed a total of six 120+ scores in 2017. Whilst he may not have 150+ outings, Sidebottom instead gives owners high scores on a consistent basis. Having Steele in your side certainly makes watching Collingwood more enjoyable.
Consistency And Low Ownership: We've established that Sidebottom goes big often, but even when he doesn't explode, the dual-sided premiership star will still more-than-likely hit the three figures. Last season, where he finished with an average of 105 from all 22 games, Sidey went under 100 six times, with three of those scores landing in the acceptable 90's. And just 5 of 14 hundreds were under 110. Ceiling and consistency are obviously keys when picking premo's, and the Magpie ticks both boxes. When I think of Collingwood's midfielders, particularly in terms of Fantasy relevance, Pendlebury, Adams and Treloar come to mind before Sidebottom does. That isn't the case anymore. Sidebottom is fast becoming the best of the lot. Low ownership is considered a bonus, and with a current ownership rate of 2.5%, the 27 year old also fits that brief.
Positive Fixtures: In the next few months, Collingwood has a pretty good run. But when looking at the sides they play in the context of Fantasy, it becomes a great run. Up until round 16, they face just three of last years eight finalists (one being Essendon) and only two of the eleven teams rank inside the top half of the league when it comes to points against (Geelong and Melbourne). They play the likes of Carlton, Fremantle, St.Kilda, Essendon, Brisbane, Gold Coast and the Bulldogs with Sydney and Richmond also ranked 13th and 11th for average points against. Sounds good to me.
Negatives: Tag Threat: Traditionally, opposition teams would send taggers to Pendlebury or Treloar before Sidebottom. But if you ask me, Steele should be the one to target. Yes, it is a small sample size, but the Eagles sent Mark Hutchings to him last year and restricted his output to just 71 points. If I remember correctly, Ed Curnow spent more time on him in the second half of the round 3 clash with Carlton a couple of weeks ago. He had 71 points at half-time but was reduced to the tragic lows of 59 points in quarters three and four. There is a few pieces of evidence to suggest the tag can work on Sidebottom and surely, having seen his dominance over the course of the year so far, teams will get to him more.
Positives: Third-year Breakout: You could argue Clayton Oliver broke out last year, when he averaged 101 after fronting up in all 22 games. And you'd probably win that argument. But the signs are there to suggest he will become an out-and-out Fantasy star this season. Oliver has always had a strong ability up forward, showcased in his under-18 days at the Murray Bushrangers where his overhead marking strength meant he was always a threat going forward. The guy is only 20 years old and wasn't selected in the Vic Country championships squad.  But he defined the odds, starred throughout his draft year, was picked up early in the draft as a bolter and is now tracking toward being one of the more dominant in-and-under, stoppage mids in the league. Players third season are generally the ones in which they truly announce themselves on the AFL scene. There is a growing sense that Oliver may become one of the games best midfielders by the close of play in 2018.
Well-Rounded Game: There aren't many standout features that jump off the page as to why you should definitely pick Oliver. He offers a bit of everything: good value (He is likely to plateau around the $750-800k mark given his breakeven of 117) and the ability to go 120+. But his ultra consistency is something that will  entice coaches, given the distinct lack of the sort in certain players. Last year, in just his second year mind you, Oliver's lowest score was 81. He went under 90 just twice, ending the year with nine tons and eleven 90's. With another year under the belt, expect these 90's to turn into three figure scores. I like what I see from Oliver.
Negatives: The Tag: On the back of two very strong performances in the opening fortnight of the year, North Melbourne sent renowned tagger Ben Jacobs to him with the request to hinder the impact of the former number 3 pick. The fact he's even getting attention at his age just goes to show how good a player he really is. From a Fantasy point of view, it worked well enough to plant a seed of doubt in the minds of Oliver-owners. He didn't collect his usual tally of disposals (7 kicks and 13 handballs for the day), but he did work hard and when hurled forward, kicked two goals to finish with a score of 88. It was a pretty respectable showing from the red-headed on-baller, but for a guy that'll set you back in excess of $730k, 80's are not going to cut it. Personally though, I think he can break a tag if he continues to receive them every now and then.
Kick:Handball Ratio: This isn't really a negative, considering he is still scoring well, but it would be nice if Clayton Oliver's kick to handball ratio was flipped. He has managed 37 kicks in the first four games of the season and 74 handballs which conveniently equates to a 1:2 ratio. Yes, I get it his role is to get the ball from under the pack in congested, tough and contested situations and fire it off to teammates who can better deliver it to a target. It can get a little frustrating – imagine if the ratio was switched.
Verdict: Sidey and Oliver have both endured positive starts to the year, but have each been exposed to and restricted because of a tag or added attention. As consistent as he is, I have to lean toward Sidebottom here, because of his ceiling, runs of the board and strong fixtures.