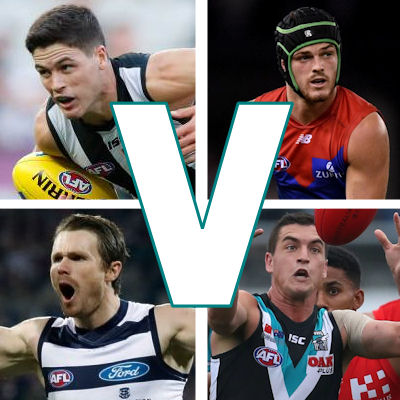 Jack Crisp ($644,000, DEF)

 

V 

Angus Brayshaw ($592,000, DEF/MID)
Positives: Ceiling: Jack Crisp has the rare ability to be able to play in just about every position on the ground. He has been tried through the midfield and up forward in years gone by, however his clean foot skills, strength and overhead marking favour a role along the Magpies half-back line. His heat-map from this year shows 71% of his possessions being won in the defensive half, with only five of Crisp's total disposals coming in the forward-50. A frequent contested ball winner whose tall frame and tackling strength saw him given run-with roles from time-to-time, in 2018 Crisp has so-far flourished down back, averaging 91 points – putting the year on-par with 2015 as the former Lions best. In the Magpies round eight loss to Geelong, Crisp was everywhere, collecting 32 disposals (20 kicks, 12 handballs), 7 marks, 11 tackles and 147 Fantasy points. This is the template performance for the rest of the year and, if he can continue to notch up scores of 110+, as he has done three times in 2018, Crisp will surely put his name in the mix as a top six defender.
Fixtures/Low Ownership: With the likes of Laird (70% ownership), Simpson (38%), Yeo (38%), Lloyd (34%) all boasting high ownership percentages over 30%, with Seedsman and Sicily gaining popularity by the round, it's not easy to find a point of difference in defence. But Crisp may just be your best bet. Currently owned by a measly 3.3% at the time of writing, I'd suggest his limited owners would be very pleased with his recent improving form after a poor start to his campaign. In addition, the Magpies have some favourable fixtures coming up in the next month. This week they play Fremantle at the 'G', who are ranked 16th for points against, before facing Melbourne (who admittedly have been tough but not impossible to score against), Carlton (ranked 15th) and Gold Coast (ranked 17th). Expect this flurry of high scores to continue through the next few games at-least.
Negatives: Consistency: After scoring just one ton in the first seven rounds of the year, there has to be some doubt cast over Crisp's consistency. Typically, when Jack Crisp scores well, he is taking plenty of uncontested marks. In his four tons, Crisp has notched up a combined 34 marks. In stark contrast, he has tallied just 22 marks in the six games where he has stayed in double figures. This statistic should be seen as his barometer.
Fixtures From Round 17-20: I'm not suggesting the 'Pies fixtures from rounds 17 to 20 should really make much of a difference in the debate between Crisp over Brayshaw, but it is something to keep in mind. They face West Coast (ranked 1st), North Melbourne (ranked 4th) and Richmond (ranked 10th) before actually leaving the MCG to play Sydney in the harbour city, who are ranked 6th.
Positives: Ceiling: Take one look at Angus Brayshaw's efforts last week and you can see the ceiling he is capable of reaching. Against the wildly underwhelming Crows, Brayshaw had a complete game, finishing the clash in Alice Springs with 37 disposals, 14 marks, 2 tackles, 3 goals and 166 Fantasy points. Lately, his scoring has been aided by the ability to hit the scoreboard. In seven 2018 games, he has kicked 5.5 – that's 35 Fantasy points from goals and behinds. With virtually all of the top defenders having high ceilings, Brayshaw's ability to go big is a big plus.
Breakout Year/Upside: There was a heap of expectation placed upon Angus Brayshaw when he was drafted with the coveted pick 3 by the success-deprived Demons back in 2014. After playing 21 games and averaging a solid, yet unspectacular, 61 points in his first season in the AFL environment, it was anticipated that the hard, contested ball winning midfielder would rise to stardom sooner rather than later. But largely as a result of continued concussion issues, Brayshaw has managed only a mere 14 games since his debut season. Coming into season 2018, Brayshaw missed the Demons opening three games, before making a long awaited comeback against the Hawks at the MCG. This is itself was a serious job well done for the talented on-baller, who many wondered would ever grace the hallowed turf again. Now, with seven games under his belt, Brayshaw's endurance and ability to win the ball are shining through.
Dual Position Status: With the main bye rounds just around the corner, it's always handy to have a few dual position players in your team to switch around in tricky situations. With his DPP status, Brayshaw could be an upgrade target in the midfield for the likes of Tim Kelly, before switching him to the back-line later in the season. It's not vital but it is handy.
Negatives: Injury/Rest Prone: Despite his terrific recent form, the Demons utilities troubled past must be cause for some concern. He has missed 69% of games through concussion in the past two seasons. Whist it may appear as if his issues are over, the numbers aren't great. Hopefully for his sake, and the sake of the Demons, Brayshaw gets a clean crack at it.
Verdict: I'm a fan of both Crisp and Brayshaw here. Brayshaw likely has more upside, given his ceiling and building confidence, whilst Crisp's role across half-back has seen him flourish. It may come down to personal situations here with the bye rounds but I prefer Brayshaw.
Loading ...
Patrick Dangerfield ($699,000, MID)

 

V 

Tom Rockliff ($545,000, MID/FWD)
Positives: Consistency: No genuine complaints can be made in reference to consistency, or lack of, when it comes to Geelong's Brownlow Medallist Patty Dangerfield. Even a player of his calibre is not immune to an off-day here and there, but for the most part, you can certainly expect hundreds from the former-Crow. Last season, Dangerfield went under 100 just four times, highlighting his ability to find a heap of the ball and hit the scoreboard almost every game. He plays very few bad ones.
Undervalued: Having started the year at the lofty heights of $849,000, Dangerfield's price has since dropped by $150k, despite his scoring being at a consistent level. It may only take one 130+ game for the wheels to get rolling again and for the superstar Dangerfield to start pumping out the big scores on a regular basis. As it stands, Dangerfield has mounted a strong case as the most undervalued player on the Fantasy market. One would think he can surely only inflate in price from here on in. Jump on now, or he may be out of reach before you know it.
 Negatives: Ceiling: We all know just what Dangerfield is capable of when he's hitting his straps. Last season he produced scores of 156, 150, 142 and 140, along with a whole host of 120-135 point efforts. Dangerfield is one of the select midfielders that can go huge even when paid particularly high attention from opposition sides. He is untaggable, so the thought of his scores dropping in size because of struggles with a tag must be put to bed. But with that being said, his highest score of the year so far is the 118 he had in the one point loss to Hawthorn in round one. By comparison to 2017, it took Danger just two games to score higher than 118. Perhaps the most logical explanation for these lower scores is the presence of prolific ball-winners Ablett, Selwood and Duncan all firing on most weekends, restricting Dangerfield's output as a result. It's a credit to him that low hundreds are being criticised, but he just hasn't quite clicked into first gear yet.
Positives: Current Role: A lot was made of Rocky's move to the forward line in his first few matches in the teal, black and white. He kicked three goals in his four games but generally struggled to find the football or lay the tackle numbers we are so used to seeing from the Fantasy pig himself. He battled with injury and form issues from rounds 5-7, but returned to the Power midfield in their thrilling five point Showdown win. Rockliff showed he still had plenty to offer when in the guts, finishing the game with a stat-line of 31 disposals, 4 marks, 9 tackles and 127 points, which prompted many dream team followers to praise the return of a former hero. The following week, Rocky also showed he can score well internationally, as the Power took the chocolates over the Suns in Shanghai. His heatmap from the highly talked about clash made for far better viewing than previous games, with an even 50-50 split between his disposals won in each half of the ground. By foot, he far from damaging, going at 42% disposal efficiency and finishing with 6 turnovers. But disregard these figures which are so obviously irrelevant in this format. Thank goodness he's back in the midfield!
Ceiling: I shouldn't have to remind anyone of the sort of numbers Rocky produced in his prime. But I will do so anyway. In 2014, Rockliff notched up 15 tons from 18 games with 14 110+ scores and seven 150+ efforts, concluding the year with a 134 point average. Coming into the 2015 season, we knew Rockliff was one of, if not the top Fantasy midfielder, but by the midway point of the year, he had registered just one ton. In the second half of the year, he managed scores of 128, 111, 53, 124, 123, 143, 140, 159 and 149, showcasing both consistency and ceiling. Since arriving at Port, he's needed time to adjust but is now hitting his straps. There are more ball winners to content with at the Power, but we all know his capabilities in this field.
Points Per Minute And DPP: Perhaps due to his battles with a calf complaint, Rocky has had very low time on ground percentages for the entire season. The most percentage of a game he has been on-field for was 77% in round 8, where consequently, he managed to score 127. Even this figure is well below the average for a midfielder in his 10th year in the business. Hopefully his scoring can continue to improve as his time on ground rises. Rocky's forward DPP status, that was awarded in round 6, is also a positive to bringing in the king.
No Bye Issues: The Power are fresh off their bye round, so you won't have to sweat about Rocky missing a week if you're considering him. Rockliff's availability is a real plus and would no-doubt be one of the key deciding factors when looking to slot him in.
Negatives: Injury Prone: Given Tom Rockliff has managed to play all 22 games in a home and away season just once in his career (2012) and his troubles with a calf issue earlier in the current campaign, Rocky is injury prone. Perhaps he could even be rested if the Power do enough to get into a strong position. That being said, you cannot predict injuries and, given he looks likely to stay in the midfield now, this is the only genuine worry or concern with Rock Wiz.
Verdict: It's a real clash of the heavyweights here, with both Rockliff and Dangerfield well within the conversation as the best Fantasy player of the past couple of years. Rockliff is building in fitness and form. I feel he is on the verge of getting back into the swing of things. It's the Fantasy pig for me here.
Loading ...