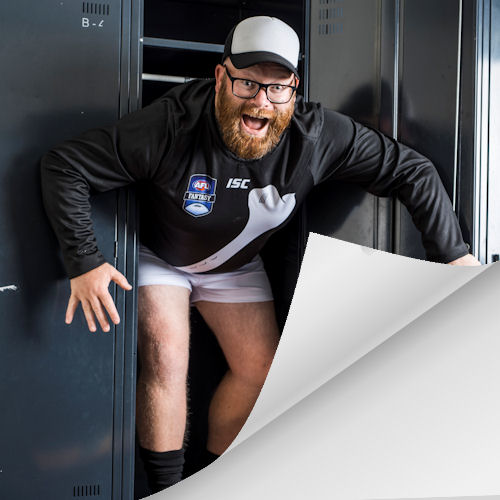 It has been a busy pre-season for us doing our thing as The Traders (check out all of our content at afl.com.au/fantasy). Podcasts, articles, the Draft Kit, the AFL Record and being as active as possible on social media, it is fair to say this has been one of our biggest and best pre-seasons yet. The Deck of DT was huge on DT Talk and Pete's price reveal articles were monster – something you should definitely head back to if you want all of the knowledge to help you make the right decisions.
This pre-season has also been my first with a small human to look after. This Fantasy coach is lucky to have an understanding partner, although, prioritising the stuff to help others (podcasts don't just take the hour they go for, and there is a mountain of work in getting all of the stuff out to the quality we have done this year) has meant my team has taken a bit of hit for time.
This is probably a good thing.
I haven't tweaked it as much as I usually would. I haven't undone all of my good work and research from the pre-season. I haven't been too sucked into the JLT hype. Maybe.
Anyway, a lot of people have scrolled down to the bottom of the page to see the team without reading this rubbish – bloody millennials – but here are some things about my squad as it stands, right now, 9pm on the Wednesday night, less than eight days out from the first lockout.
Tom Mitchell was always going to be in my team from the get-go. Captaincy is one thing, but there's no-way you're getting him back in. Even a drop in his scoring (what to 120 instead of 127?!), wouldn't get you to him. And hey, the Pies first up will see a monster score where he could even increase in price after round one. I've opted for midfielders that have been big dogs in the past and who I see as massive chances to bounce back. M2, M3 and M4 have been in the extended squad for the last six months. All have shown during the JLT that their selections are warranted. Adam Treloar will be well up over 110 following his girlfriend issues of 2017, Lachie Neale – see JLT2 – enough said and Luke Parker is the Swan to get his mojo back – his average/price was hampered by their slow start last year.
Three top six defenders and forwards are there to start with. Devon Smith is the 'reach', but he's going 90+ without a doubt. Christian Petracca is realistically my only mid-priced option. I don't love it, but happy to pay up for him. Has shown enough to say he'll be in that 85-90 range with some upside on top of that if he is getting that mid click we're predicting.
As for the rucks, Max Gawn is the biggest no-brainer of the year and with the word that Stefan Martin will be the solo man at the Lions (no Archie to be seen), he's my safest set-and-forget pick. Grundy has Cox issues, Sauce is max-priced, Kreuzer injured and overpriced in my opinion, etc. Not touching NicNat even if he's named.
So the rookies. Well, structure-wise, it's pretty vanilla… and selection-wise, I think most will be rocking with the same guys I have there. I can't wait for The Milkmen's next article. It is going to be exciting – some pretty cool stuff to come from these lads. I'm fairly confident on the guys I've got on most lines to be playing round one – a few dodgy ones on the pine – but as you can see, we're going to be paying up for a lot of our rookies this year. The massive locks for me for round one (not excluding guys I don't name) that I'd be happy to play on field are: Sam Murray, Andrew Brayshaw, Tim Kelly and Bayley Fritsch. Also on my pine, I'm confident that Tom Doedee, Bailey Banfield, Jeremy Finlayson and Liam Ryan will be suiting up for the first game.We'll be hoping that we can have a few other names next to them on that all-important and stressful Thursday night next week.
On a side note – we will be on Facebook live next Thursday from 6pm in the countdown to the first lockout of season!
Anyway – there's my team as it stands now. There will be changes, that's for sure. It is quite vanilla, but it's not the worst flavour going around. And for those wondering, there's just $16K in the bank.