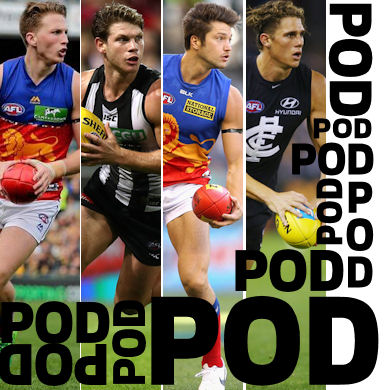 POD = Player of Difference. These guys who are unique in the fact that they haven't been selected by many coaches, and no fantasy coach trusts them enough to justify a position in their team. Well the Wiz is here to offer a different perspective on some guys that may have been overlooked. Whilst it would be incredibly brave and gutsy to choose the players I am about to discuss, there will be valid points you might want to contemplate.
DEFENDERS 
Granted Alex Witherden has only played 9 games of AFL, and yeah some of you don't even know who he is, but boy you should. He has come into the system and looked at home, averaging 24 disposals, 5 marks and 16 kicks per game. He has been trusted with the kick ins at the Lions from day one, and this will not change. His debut year of averaging 88 points can and will grow. McDonald's fantasy stock will keep rising with a new role playing as an inside midfielder. He ended 2017 with scores of 92,88 and 113 and this can be expected to carry on.
Ah our boy "Heater"… 2017 can be seen as a blip on the radar, his previous year of 102 in 2016 is the man we know and love. He is surely under-priced and ready to return to his +6 best given the giants injury woes and lack of leadership in the back half. Fremantle drafted former giant Wilson for a reason, to get the ball into his hands. The Dockers lack pace and line breaking players across HB and that's the role I can see him playing. In a recent intra club Wilson floated across the back 50 racking and rebounding, it wouldn't surprise me to see him average above 85+.
Ed Richards (Who?) is a beautiful kick, a lovely intercept mark who reads the game well. Whilst his junior numbers weren't spectacular – a recent interview saw Rohan Smith take a likening to the young man and seems to think very highly of the left footer. Marcus Adams didn't score highly in a Fantasy sense as a junior and we all know what he did as a cash cow. Get on. Nathan Brown… plays every week?
Witherden: 4.04%
McDonald: 3.31%
Shaw: 4.47%
Wilson: 3.85%
Richards: 0.88%
Brown: 3.82%
MIDFIELDERS
Let's be honest, the only reason we aren't picking Gary Ablett is because he is old and we think he will play maybe 15 games this year? Fair point. But no guts, no glory! Gaz is back at home, in familiar colours and training the house down. His body and mind are both rejuvenated and I can see the little master averaging above 115+ easily and playing close to 20 games. The beauty about Ablett is that is the "punt" doesn't work out, you can trade him for ANYONE else you desire.
How Taylor Adams and fellow team-mate Adam Treloar have been overlooked absolutely stumps me. Adams does DT easy, he has a bit of "pig" about him. Last year was what we can expect to see from him again in 2018. He averaged 6 tackles, 5 marks and 30 disposals. Why would it change? He's a top 8 mid. Treloar is potentially 5 points under what he can produce, sitting at 761K he can also be a top 8 mid. In 2016, ads had 15 tonnes (13 times over 115) and went onto average 112. This is a sign that we can trust him to return to that mark and lock him into our sides.
Bryce Gibbs going to Adelaide will not stop him from averaging 110, in fact in Bryce's wins for the blues last year he averaged 123.8. I can assure you the Crows will win more games than the Blues this year, he also won't get any attention whilst Rory Sloane is in the side, unique. Lachie Whitfield will be given NO attention with the star that Kelly is, and will be given the ball at EVERY opportunity. He went at an 98 average last year off the back of starting the season in RD 8. There is no reason that with his exponential growth as a player and his career best pre season that he cant reach 110, seriously consider. Connor Blakely's secret to success is his half back role, which if he is given WILL see his 2016 average of 90 be around 20 under what he will score in 2017. Blakely averaged 113 between RD 7 & RD 18. This is the exact reason why we pick him.
Freako says Lachlan Fogarty's elite pressure numbers and ability to hit the scoreboard suggest he will be the ideal modern small forward. I wont be surprised to see him play early on off the back of his defensive work. He averaged 25 disposals in the TAC cup at a Kick to Handball ratio of 1.85. Perfect for us fantasy lovers. Jake Patmore could be an early bolter if picked, he was a ball magnet as a junior and has an elite kick – watch closely.
Ablett: 5.05%
Adams: 5.11%
Gibbs: 3.77%
Treloar: 4.89%
Whitfield: 1.05%
Blakely: 2.48%
Fogarty: 0.7%
Patmore: 0.57%

RUCKS
Stef Martin is the #1 ruck, no doubt about it. Forget about Archie! He went at 100 last year with the capability to go 110. He is as safe as houses and you should feel comfortable picking him! Overlooked. Big Aaron Sandilands has been overlooked and forgotten. Whilst it's been a while since he has gone at a respectable average (2015, 88) – there is no doubting what he can do. In a recent interview with Fremantle he told how he wants to play 22 games and that his body has never felt better, save some cash and get on!
Martin: 3.59%
Sandilands: 1.51%
FORWARDS



Toby McLean is just getting better, from RD 14 to RD 23 Toby averaged 95. This would of taken him to be the 3rd best FWD if he spanned this across the entirety of the year. The back half of the year in 2017 succeeded due to his role playing primarily midfield. If this role continues in 2018 then he is a must have. Yep, a must have!
Rhys Mathieson will be gaining more midfield minutes in 2018, as Fagen tries to replace Rockliff, we can expect the bull's 3rd fantasy year (Breakout) to rise significantly in numbers.  Charlie Curnow is entering his third year as a bagger (hint), and he is starting to show the signs that could turn him into a seriously good player in a purely football sense, as well as from a Fantasy standpoint. Big Charlie rated as the #2 Key Forward in the AFL behind Buddy from RD 14 onwards (from a champion data assessment) and averaged 88 Fantasy points between the rounds of 14-22. We can expect him to continue his growth and blossom into a top 10 FWD, breakout looming.
Tim Taranto is going to be a gun, a genuine GUN. His composure and decision making is as good as I have seen from someone who has played just the 14 games of AFL. He showed signs of fantasy prowess last year with a few 30 point quarters. It would not surprise me to see Timmy average at least 80 this year with the possibility to go bigger, just like Clayton did in his 2nd year. WA boys Zac Langdon and son of a gun Jake Waterman are basement price and are looking close to RD 1 Debuts. If selected then choosing these guys will open you up to other areas.
McLean: 1.98%
Mathieson: 0.41%
Curnow: 2.79%
Taranto: 2.32%
Waterman: 2.21%
Miers: 0.71%