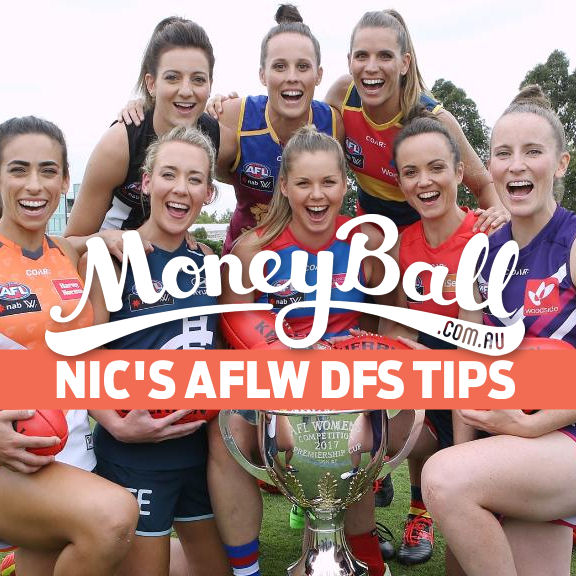 Sunday afternoon sees Carlton host Melbourne at Ikon Park in a must-win game for the Demons if they want to stay in Grand Final contention. With so much on the line, there's plenty for you to chase with Moneyball's $250 special as well. Here are the players you should be considering.
FORWARDS
Bianca Jakobsson ($6,900)
Jakobsson will be coming up against her old team here and has all but established herself as an All-Australian defender with her intercept marking across half back this season. She's the most expensive forward available, but she's also the only one available you can rely on for a decent score in this game.
Tayla Harris ($5,900)
Harris is the best of the Carlton options here. While she's not a high-disposal player, she'll take plenty of marks and when the Blues are inevitably getting destroyed in the midfield, she may get moved in there to help change the tide of the game. She's pretty cheap too at that price tag.
Eden Zanker ($3,500)
Zanker looked good in her debut last week for the Dees. She didn't get a lot of the ball, but was dynamic in the first half and should get more opportunities this week with Melbourne set to dominate time-in-possession. Given the money you're going to need to spend in the midfield, she's a cash-saving option.
RUCK
Lauren Pearce ($6,700) or Breann Moody ($5,300)
Pearce's selection will revolve entirely around whether Erin Hoare is recalled into the team. If Hoare is, I wouldn't be picking either Melbourne ruck. Pearce got back to her best as the number one ruck for the Dees last week, but was struggling for any impact when Hoare was taking those duties. Moody meanwhile has been excellent for the Blues and is a good option if the two Melbourne rucks are named. Stay away from Alison Downie ($6,600) as she's had a poor patch of form and is struggling with Moody doing most of the ruck work.
MIDFIELD
Pick 2 of Daisy Pearce ($11,600), Karen Paxman ($11,000) or Elise O'Dea ($10,600)
To put it simply, these three could get as many disposals as Carlton do. Pearce is the best of the three as she torched the Blues last year, but do whatever you can elsewhere to make sure you have two of these three in your team. They should all rip the Blues to shreds and put up massive scores this week. Paxman and Pearce especially if you can afford it.
Maddison Gay ($5,900)
Gay has been one of the few shining lights for the Blues this year and leads the competition for inside 50s. If you can afford her with two of the Melbourne midfielders, she'd be a decent third option. She's the most likely of the Carlton midfielders to have any sort of impact on this game.
Kate Hore ($5,000)
Hore is another sneaky player who could go big in this game. She gets plenty of the ball, but could also sneak a few goals against this rabble of a Carlton midfield. At $5,000, she's cheap enough to go with Pearce/Paxman/O'Dea too. You're putting yourself in a strong position if your midfield is made up of Pearce, Paxman and Hore.
DEFENDERS
Melissa Hickey ($6,900)
Hickey has looked far more comfortable in the last few weeks returning to a half back role and is someone you can rely on picking off a few intercept marks and getting plenty of the ball across the half back line. She may be a bit pricey, but there aren't too many options available down back.
Meg Downie ($5,800)
Downie will likely get the big job on Tayla Harris which means she'll be in the action for most of the day. She's had a good season in terms of getting the ball and putting up decent scores and is probably the second best option behind Hickey down back. I'd be taking her over Nicola Stevens ($6,900) who's been in poor form recently.
Reni Hicks ($3,200)
Hicks is the cheapest player in this game who's likely to play. Given the money you should be spending in the midfield, Hicks is likely someone you'll have to pick in order to stay under the salary cap. Hicks isn't a great scorer and plays a more traditional lockdown role and if you have the money to get Kerryn Harrington ($4,200) or Katherine Smith ($4,400) those two would be better options.