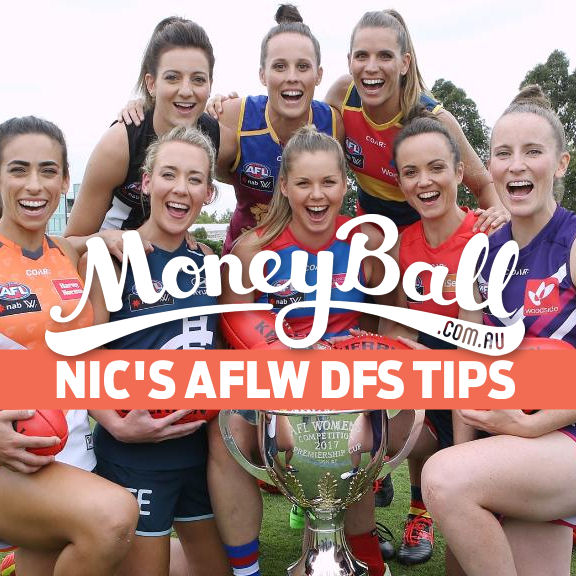 (ROUND 7)
The final round of the AFLW season will be kicked off by two of the best teams battling it out with Grand Final implications on the line. Here are the best options for your daily fantasy Moneyball line-up for this game.
FORWARDS
Sabrina Frederick-Traub ($7,800)
Frederick-Traub is the most expensive forward available, but she's likely the only Brisbane option you can rely on to get a bit of the ball and impact all over the ground. She'll spend time in the ruck and in the midfield as well as up forward and should get more of the ball than Jess Wuetschner or Kate McCarthy. She's worth the extra money.
Jacinda Barclay ($5,700)
Barclay has had a fantastic season as a lead-up marking forward and if the Giants can get the midfield ascendancy in this game, she should get plenty of opportunities up forward. Barclay is capable of winning a bit of the footy too and is a decent option at that price.
Phoebe McWilliams ($5,300)
McWilliams may be the most improved player in the competition and should have an All-Australian spot locked down at this stage. She's a contested marking animal and is excellent value at $5,300. You don't have too many options in this position so I'd be locking her in.
RUCK
Erin McKinnon ($5,300)
McKinnon is essentially your only option available in this position. Sharni Webb ($5,700) is also playing, but won't spend much time in the ruck and likely won't score anywhere near as well as McKinnon can. The GWS ruck should dominate the hit-outs on her way to a decent score here.
MIDFIELD
Alicia Eva ($9,700)
Eva is worth the money. She's a lock for an All-Australian spot at this stage and has found the perfect balance between getting the footy and laying a large number of tackles each week. She's a fantasy scoring gun in this competition and should be in your team.
Courtney Gum ($7,500)
Gum has had a fantastic season for the Giants and is probably only behind Eva in terms of best fantasy options at the Giants. She's at a decent price and you'll certainly get your money's worth from the veteran midfielder.
Alexandra Anderson ($6,800)
Anderson has also been one of the competition's most improved players this season. She's getting far more of the ball and has become a tackling machine. At that price tag, she's a pretty easy pick given her body of work so far this season.
DEFENDERS
Kate Lutkins ($7,100)
Lutkins could be in line for the competition MVP award given her form so far this season. She's constantly picking up 25+ disposals across half back and is one of the highest scorers in the competition consistently. Given she's only $7,100, you should be locking her in immediately.
Tahlia Randall ($5,200)
Randall will once again carry the ruck load for the Lions and has been reasonably effective in the role so far this season. While McKinnon should win the battle, Randall will get a decent amount of the ball to go with her hit-outs and is a decent option given her price tag.
Tanya Hetherington ($3,400)
Hetherington has been the Giants' most consistent lockdown player in defence this season and if you're looking for a cheap option so you can spend more money elsewhere, Hetherington is the player. She won't score particularly well, but you can bank on her to put up 25-30 points and save you money you can spend elsewhere.