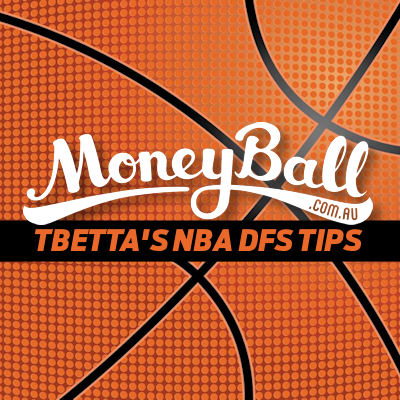 G'day Moneyballers! If you were here for the AFL season, this article will need no introduction. If you're tuning in for the NBA action, welcome to your first port of call for your DFS tips this summer! Before we get into the good oil, a quick reminder that Moneyball have adjusted their scoring system this year:
Playing is easy, you can sign up here and play in minutes! Now that we've taken care of the housecleaning, let's get into the good stuff – the tips!
• Mouse in the House?
PGs vs Sacramento
With a lack of overwhelmingly strong trends on this slate, we're taking Sacramento's woes a little bit more seriously as they lead the pack for Moneyball points conceded to PG's over the past month. Rajon Rondo ($6,700 PG) has finally acquired the final ingredient that he needs to succeed – consistent minutes – and that makes him a strong option. He's played over 30 or longer over his past five games and it's no coincidence that he averaging 37 MB over that stretch while he's entrusted to run the offense for longer stretches.
If you're looking to gamble on a cheapie, Ian Clark ($3,500 PG) sporadically finds himself with enough exposure to make a dent in DFS, averaging 24 mins a game since the All-Star Break. He's got a good shot at exceeding 20 MB here with the soft draw and blow-out potential.
While he's not technically a PG, Jrue Holiday ($8,700 SG) might be able to cash in on the vulnerability at the more vertically-challenged positions. He's been awesome since Boogie went down, increasing his output from 35 MB a game to 42.4 MB as he takes on more responsibility on the offensive end. With an O/U of 224 for this game, he'll be expected to contribute a lot of buckets on Thursday.
Smalls vs Memphis
Memphis are barely an NBA-quality team when their current roster is healthy, let alone with G-League trash littered throughout their rotation. They're playing for lottery balls, which means that those who come up against Memphis (and specifically their gutted guard stocks) are going to see a big boost in opportunity.
Chicago's rotation is in flux for a number of reasons, so I only really feel comfortable recommending those with relatively secure minutes. Kris Dunn ($6,800 PG) is significantly underpriced thanks to that lingering concussion issue, and he's already produced a couple of 40+ games since returning. He's priority numero uno. Zach Lavine ($7,800 SG) has a similar ceiling but is a bit pricier – I'd be saving him for Chicago stacks in tournament entries. David Nwaba ($5,500 SF) is the least talented of the lot but keeps walking into 30+ minutes and is another tournament-only option having returned big value in half of his past 6 starts.
Bigs vs LA Lakers
Curiously, neither Aaron Gordon ($7,500 PF) nor Nikola Vucevic ($8,900 C) were fit the last time Orlando faced the Lakers, so we're left with a vacant historical data column while the Lakers have filled out the Defense vs Positional column with plenty of interesting numbers to ponder. A high-paced offense and two versatile big men for Orlando spells big fantasy scores against the defense-averse Lakers, so through both these guys into your player pool. For the record, Gordon would be my priority here at a lower price – he's averaged 38.4 MB over his last 6 and has noticeably cut into Vooch's upside since returning from injury.
• Short Stacks
Cleveland vs Denver (231 O/U, +2.5 Line)
Firstly, let's deal with Cleveland. They're basically playing "3 Guards, 1 LeBron and 1 Big" line-ups at the moment, and the wording of that probably indicates who your main target should be. LeBron James ($12,700 SF) is priced so exorbitantly for a reason – his lowest score in his past 12 starts was the 49.9 MB effort against Detroit in a blow-out. If you want to try and cash in on the high O/U with some of the supporting cast, it'll be more about figuring out which of their shooters gets hot. Jordan Clarkson ($4,900 SG), Rodney Hood ($4,800 SG), JR Smith ($4,500 SG) and Kyle Korver ($4,100 SG) typically share about 100 minutes between them at the moment, weighted towards those with the hot hand.
As for Denver, you want to be targeting the shooters. Cleveland ranks 5th last in Opponent Shooting %, 4th last in Opponent 3-Pt Shooting % and 2nd last in Opponent 3-Pts Made, which gives you just a few numbers to justify the focus here. Like clockwork, Will Barton ($8,100 SG) and Gary Harris ($7,400 SG) both fired against the Cavs earlier this week with scores of 42.1 and 43.4 MB respectively. Great options.
Of course, PG's against Cleveland has been a winning strategy all year long so don't count out Jamal Murray ($7,100 PG) despite finding his way into Mike Malone's doghouse against Dallas – with only 9 MB to his name. This is the perfect opportunity to jump on a contrarian play, and you can throw Nikola Jokic ($9,900 C) into that category also after also finding himself benched for the last quarter. He's just a big kid, so it will be interesting how the maturity-challenged phenom reacts to being sent to the naughty corner. We know his upside is huge.
• The Replacements
Willie Cauley-Stein (back, OUT)
With Skal Labissiere also expected to miss with miss Thursday's clash with knee soreness, Sacramento are left with just veterans Zach Randolph ($6,300 PF) and Kosta Koufos ($4,600 C) at the 4 and 5 slots. We've seen what Randolph can do when unleashed – he's often shelved as the Kings opt into a youth policy when they feel like it – and Z-Bo has a healthy 38.8 MB average whenever he's limped to 30 minutes or more this season. He's value based on that alone.
Similarly, Koufos is an excellent per-minute player who thrives with extra exposure, averaging 34 MB from the four games this season when he's active for over 28 minutes. I love him at the lower price on this slate with Anthony Davis now relegated back to his PF eligibility.
My favourite stat though: the last time these two teams faced off, both Cauley-Stein and Skal were missing…. And Randolph popped off with a 42.4 MB gem thanks to a big double-double, while Koufos flopped it all out on the table with a 17/17 game for a season-high 46.4 MB points. The pair played 69 minutes between them in a game that didn't go to overtime, so I'm all over them here.
Brandon Ingram (groin, OUT)
In 6 games without Ingram this year, Kyle Kuzma ($5,800 PF) averages 35 minutes and 33 MB points, a generous little boost from the 29 min/26 MB he's notched alongside him. But he's also a better player now then many of those games early in the year, more confident and more trusted by the Lakers' coaching staff and obviously by people betting at https://uk.mansionbet.com/sports/darts/. With Orlando 4th-worst in Defensive Efficiency this season, I can see Kuzma capitalising with a big game on Thursday.

Of course, Ingram's workload will spill over to other players, and in his two games off that appears to be chiefly Julius Randle ($7,700 PF) and Kentavious Caldwell-Pope ($6,600 SG). While Randle has been awesome ever since the trade deadline (averaging 40.8 MB in his last seven games), KCP's minutes have spiked with 41 and 43 minutes games in these past two. With scores of 44.6 and 33.8 from those games, I'd be feeling pretty confident in slotting him into both cash and GPP line-ups whenever Ingram sits.
Memphis Grizzlies (tanking, FOREVER)
With all of Tyreke Evans, Mike Conley, Andrew Harrison and Mario Chalmers missing, it's a severe case of "next man up" for the Grizzlies. And seeing as these next men all suck to varying degrees, we'll have to use the most recent data to try and pin down their DFS worth.
Ben McLemore ($4,400 SG) is probably the safest of the lot – he's been in the system for a long time, a high draft pick who could theoretically find minutes on a handful of other squads. Over the last two games, he's scored 33.6 MB (30 mins) and 37.4 MB (38 mins) and you'd have to be silly not to pick him at this price.
After that, it's a lottery. Kobi Simmons ($3,900 SG) seems to pop up with a decent scores whenever he's given minutes, and he did just that against the Spurs with a tasty 27.3 from almost-basement price and 25 minutes of action. However, Memphis' only remaining PG in Xavier Rathan-Mayes ($3,500 PG) was impressive in his first game for the club after signing a 10-day contract, and might demand more than 25 minutes this time around. XRM should 100% be in your pool after a solid 20.9 MB on debut.
Cleveland Talls (various, OUT)
We talked about Cleveland's shooters earlier, but one guy you should be keeping a close eye on at the other end of the height spectrum is Larry Nance ($6,000 PF) after his recent exploits. With Love, Green and Thompson all languishing in the sick bay, Cleveland has been forced into splitting the 48 Centre minutes between Nance and the vanilla Zizic.
And didn't Nance earn his fair share of those! The former Laker and famous high-flier went and had a "career night" with 22 points, 15 rebounds and 2 steals in what caps off an impressive Cleveland stint so far. The guy's already averaging a healthy 33.7 MB in his last six for the Cavs, and that's only in 24 minutes a night – those are only going up moving forward and so will his scoring needle.
Always remember to gamble responsibly. If you're having problems with your betting, you can get help at Lifeline or talk to someone at Gambling Help Online.