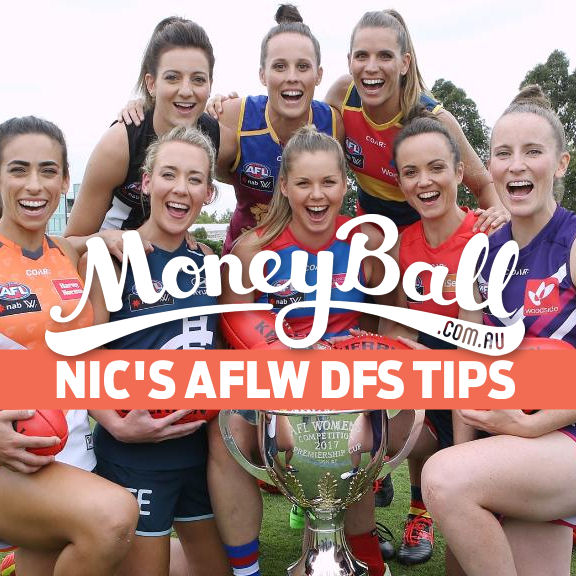 Two teams coming off massive wins will meet on Sunday afternoon and with plenty of Moneyball value up for grabs, here are the players to consider for your line-up.
FORWARDS
Chloe Molloy ($6,700)
Molloy has been Collingwood's best player by far this season, quickly becoming the side's ball distributor coming out of defence. She had a quieter game against Melbourne, but should see more action against a red-hot Dogs side. She still managed a passable 33 points despite not laying a tackle or taking a mark last week.
Aasta O'Connor ($6,000)
O'Connor has quietly gone about her business this season. After a bumpy 2017 recovering from injury, she's returned to her best and if her 61-point game against the Blues is anything to go by, she's a great value pick at $6,000. She takes marks, wins hit-outs and can get plenty of the ball.
Bonnie Toogood ($4,500)
Toogood is coming off a three-goal game and despite coming into the season as a rookie, has been superb. She scored 71 points against the Blues and given her price, she's a pretty easy selection to make this week against Collingwood.
RUCKS
Emma King ($8,000) or Tiarna Ernst ($5,700)
This is once again the choice between the better option – King – and the money saving option – Ernst. If you have the money to spare, King is the best option here, but the gap in quality between the two isn't big enough to force you into picking King. Ernst will do a serviceable job, even if she had a poor game against the Blues. It all depends on if you have the money to spare.
MIDFIELDERS
Emma Kearney ($11,500)
Kearney is simply the best fantasy option in this game. She's the only player in the competition averaging 20 disposals per game and given the shortened quarters, it's insane that she can find ways to pick up the numbers she does. She also averages six tackles per game so she's the complete package. Feel free to pick Ellie Blackburn if you want to go against the grain here.
Brooke Lochland ($7,600)
Lochland is coming off setting the AFLW goals record last week and it's fair to assume Collingwood will pay her more attention than Carlton did. However, someone in form that hot can't be ignored and she is definitely someone you should be looking at. If you're worried it was a one-off performance, go with Steph Chiocci in this price range.
Christina Bernardi ($5,700)
Bernardi has been close to Collingwood's best player this season and has spent most of it as a small centre half forward. She gets the ball, she kicks goals and she's always involved in the play. At this price, she's very good value.
DEFENDERS
Hannah Scott ($7,600)
Scott comes into this match as the most expensive defender available, but she's also clearly the best option. She's averaging 12 disposals per game and always has a decent kick to handball ratio. She's probably the only defender in this game you can bank on getting double digit possessions.
Aisling Utri ($4,200)
This game doesn't present you with too many options down back, but Utri had a brilliant game against the Blues and was rewarded with a Rising Star nomination. She scored 55 points from 18 disposals and you'd take a score like that any day of the week.
Illish Ross ($3,900)
Ross has slotted perfectly into this Collingwood backline and while she's been a low-disposal player, she managed to score a respectable 41 points last week. Given her price tag and the money you'll be wanting to spend in other positions, there are worse options than Ross here.