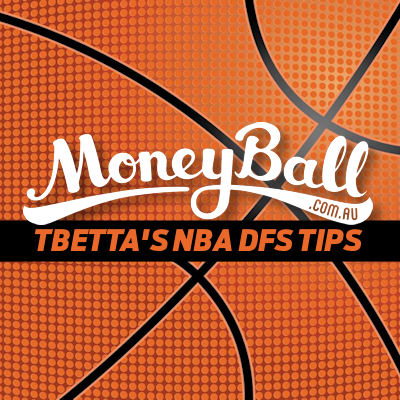 G'day Moneyballers! If you were here for the AFL season, this article will need no introduction. If you're tuning in for the NBA action, welcome to your first port of call for your DFS tips this summer! Before we get into the good oil, a quick reminder that Moneyball have adjusted their scoring system this year:
Playing is easy, you can sign up here and play in minutes! Now that we've taken care of the housecleaning, let's get into the good stuff – the tips!
• Mouse in the House?
PG's vs Memphis
While Memphis are out there grooming Andrew Harrison and trying to figure out which of everyone else's G-League trash could become their treasure, opposition guards are cashing in. We've collected a decent chunk of data to help us evaluate Elfrid Payton's ($7,700 PG) new reality in Phoenix and the outlook is bright, increasing his production by over 25% (his Phoenix average sits at 37.4 MB) now that he's added a little orange to his jersey. He's a nightly triple-double threat in that system and he's still underpriced, so get on board.
Of course, the Suns have been very vocal about Devin Booker ($8,600 SG) developing his playmaking skills as they find ways to salvage the back half of a playoff-doomed season, so it's possible he taps into some of that PG goodness that Memphis allows. He's worth looking at regardless now that's he's fully healthy after a few niggles – he's played 80 minutes over his past two outings for hefty scores of 47.3 and 62.5 MB. The most impressive thing is that he's starting to add stats outside of his usual gaudy scoring numbers, totalling an uncharacteristic 19 rebounds over those two gems. Hopefully this continues moving forward.
Smalls vs Detroit
This trend is probably the weakest on this list and has only really reared it's head over the past month. I personally feel that the loss of Avery Bradley hurt Detroit most from a defensive POV, because the giant list hole they have at SG can be filled offensively by the versatile Griffin – but not so much on the defensive end (espeically when you see the Detroit depth chart at the more vertically-challenged positions). Numerically, they're 5th easiest at PG and 1st at SG on this slate over the past month, so the weakness is certainly there.
To capitalise, I'd be looking at the obvious big-name Bucks. Giannis Antetokounpmo ($11,200 SF) is a bona fide choice on any slate, but there'll be enough fantasy goodness to go around for Eric Bledsoe ($8,100 PG) and Khris Middleton ($7,700 SG) to have their fill too, and crucially at a significantly lesser price-tag.
Bigs vs Phoenix
This trend is basically automatically added into this article each week, that's how clear it is – and my desire to exploit it only increases with every game that Tyson Chandler (neck) spends on the sidelines. Marc Gasol ($7,100 C) was my first port of call here, but interestingly, he's failed to put the foot down against Phoenix from 3 tries already this season: 40.7, 36.2 and 33.5 MB. Much like Gasol himself, they're good, but not great and certainly not the kind of boost other C's seem to gain from facing a side like Phoenix. I'm torn as to whether he's worth picking in a typically competitive position where we only get one selection in DFS.
I feel much better about targeting JaMychal Green ($4,900 PF) here instead on a value basis. He only needs to hit 25 MB to be in the money zone, and he's averaging 29.5 MB from 31 minutes over his past three starts. We've already seen he has a decent ceiling with two scores over 40 MB since the New Year ticked over, so throw him into your GPP pool. He does the basics well and that's all he'll need to do here.
C's vs San Antonio
Despite being ranked #3 over the past month for fantasy points conceded to Centres, the stigma of stifling defence still exists for San Antonio – which means there's a perception imbalance than you can potentially exploit. Well, normally anyway, because the Centre that faces the Spurs this week is the rampant Anthony Davis ($12,700 C) and given the blistering 79 MB average over his past six starts, everyone's going to be keen for a sniff of his sh*t regardless.
41.5 points, 15 rebounds, 3 steals, 3.2 blocks and 1.5 made treys is what this beast is averaging over that stretch. They're video game numbers. Actually, if you created a video game where a player smashed out those type of stats, it'd be slammed for being so damn unrealistic. At this point I'd pay anything up to $15k to slot Davis into my line-ups, so don't let his exorbitant price dissuade you – the dude's worth it.
• Short Stacks
Golden State vs Washington (227 O/U, -8.5 Line)
The Wizards have scored in the triple-digits for 13-straight games now (all of which were without their superstar in John Wall, by the way) and rank 8th this season for Offensive Efficiency – which is why the bookies think they can still put a big score together against the reigning World Champs. Of course, the Warriors would rather go all 'Merica on the Wizards if they start firing – instead of just "taking away" their "guns" with extra effort on defense, they'd rather just whip out more/bigger "guns" and blast them away, particularly with the Finals still so far away.
You know the names – Steph Curry ($9,800 PG), Kevin Durant ($10,400 SF), Klay Thompson ($6,700 SG) and Draymond Green ($8,300 PF) all have weapons capable of producing big scores here. Meanwhile, Bradley Beal ($8,700 SG) will need to produce the DFS equivalent of a mortar gun if he's going to keep Washington engaged deep into this game. He's averaging 43.5 MB over his last few; with a heavy minute and responsibility load in Wall's stead, he's stepping up so far.
• The Replacements
Aaron Gordon (hip, DTD)
Gordon is the first of a few "questionable" or "doubtful" listings for Thursday, so keep your eyes particularly peeled and ears particularly perked for news leading into tip-off. As for the Magic specifically, if Air Gordon was to miss then Nikola Vucevic ($8,100 C) sees a big boost in offensive responsibility as the remaining pillar of their frontcourt. The numbers strongly agree – Vooch is 27% more productive with Gordon off the court, averaging 1.50MB/min. That's huge if he's going to play 35 minutes without him.
Of course, while Vucevic takes the usage, someone needs to soak up the minutes. Bismack Biyombo ($4,000 PF) has been out of the rotation lately but could see a return to his mid-20's role, which usually produces Moneyball scores in a similar range – that'd be huge at his price. More likely though, it's Mario Hezonja ($6,200 SF) who sneaks his way back into the starting line-up… Here's his last four scores where he's played over 30 minutes this year: 39.5, 33.6, 51.2 and 43.5 MB. Very interesting.
Clint Capela (illness, DTD)
With Anderson and Wright already ruled out, Houston's big man stocks dwindle alarmingly if Capella remains out with illness, and it's definitely going to be a focus on this slate if that's the case. Nene Hilario ($3,700 C) is a former fantasy stud and unfortunately isn't able to reach those heights when he's stuck in a mid-teens role – crank his clock up to 26-ish minutes and his 0.98 MB/min scoring velocity starts to look really enticing for quasi basement-priced meat.
Likewise, Tarik Black ($3,500 PF) is normally anchored by his minutes load, but his output actually betters Nene's slightly at 1.00 MB/min. He's been a streaming option at many points this year depending on availabilities of others and nearly always returns value when he gets the exposure. In fact, almost half of his games in the past month have been north of 20 MB, and that's while being starved of minutes.
At the end of the day, the biggest beneficiary is probably DeAndre Jordan ($8,500 C) from an allowance perspective. Capella is a formidable foe on the glass but Nene/Black aren't even in the same postcode when it comes to rebounding. I expect him to bounce back strongly after a curiously invisible effort against Denver today – as they say, we've got the rotten one out of the way so it should be smooth sailing from here.
Pau Gasol (knee, DTD)
No Gasol and no Kawhi makes LaMarcus Aldridge ($8,900 PF) a very busy boy. Pau hasn't been ruled out just yet, but if the veteran can't suit up, then Aldridge becomes the sole focus offensively. That's been a goldmine over the course of the year, with Aldridge seeing a 18% bump without Gasol and an even bigger boost of 31% when you take into account the absent Leonard. He's a no-brainer in a weak PF pool for mine.
Minutes-wise, Dave Bertans ($4,300 PF) and Joffrey Lauvergne ($4,300 C) start to become relevant if they're able to push closer to the high-20's roles they've held at times in the recent past. Coach Pop is notoriously fickle with his rotations so good luck figuring out which benefits most; if either.
Of course, it would also leave one less defensive obstacle for Anthony Davis ($12,700 C) to deal with… and that could get very nasty based on the The Brow was able to do to the Phoenix frontcourt on Tuesday (hint: carnage).
Michael Kidd-Gilchrist (hamstring, OUT)
MKG's dodgy pigrope throws Jeremy Lamb ($5,000 SF) back into significant time in the rotation, and those who were locked into DFS early in the season know just how potent an unleashed Lamb can be. He averages a very healthy 31 MB in games where he's been active for over 26 minutes this year, and that obviously increases significantly once he starts moving towards the mid-30's. Lamb's returning value moving forward, and his ceiling is high as a famously streaky shooter.
Always remember to gamble responsibly. If you're having problems with your betting, you can get help at Lifeline or talk to someone at Gambling Help Online.