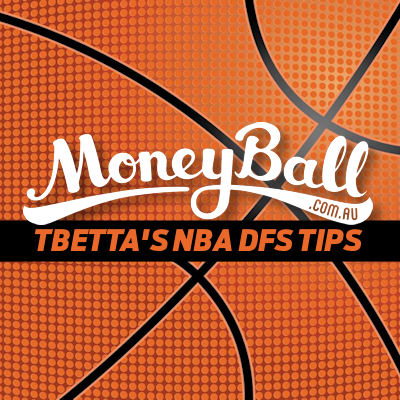 G'day Moneyballers! If you were here for the AFL season, this article will need no introduction. If you're tuning in for the NBA action, welcome to your first port of call for your DFS tips this summer! Before we get into the good oil, a quick reminder that Moneyball have adjusted their scoring system this year:
Playing is easy, you can sign up here and play in minutes! Now that we've taken care of the housecleaning, let's get into the good stuff – the tips!
• Mouse in the House?
PG's vs LA Lakers
The Lakers hold the unwanted title of PG bunnies over the past month, and actually find themselves just a few bad games away from taking the title over the course of the entire season too. Dennis Smith Jr. ($7,600 PG), contrary to his rookie status, had been extremely consistent heading into the All-Star break and his record against the Lakers has been similar – he's notched 29.9 and 34 MB against them already this season. I think the increasingly mature version of Dennis can hit 40 against them this week, a mark he's already exceeded 4 times this season.
While DSJ is the clear #1 ball handler in Dallas, J.J. Barea ($5,800 PG) and Yogi Ferrell ($4,700 PG) share the back-up duties traditionally, but the Puerto Rican has seemingly pushed ahead in recent times. It certainly doesn't hurt that JJ's last showing was a 13-assist, 43.5-MB effort against the Kings while Yogi barely registered a stat.
In saying that, Ferrell has played almost twice as many minutes against the Lakers than Barea this year, so nothing is set in stone. Keep both in mind as their per-minute numbers are exceptional and allows them to often return value even if they play minutes in the low-20's.
PG's and SF's vs Memphis
Over the last two weeks – where the trade period has warped and shifted power throughout many squads – Memphis finds themselves as the team atop of the 'ease' rankings in both the PG and SF slots. And hey, what do you know? They come up against Cleveland this Saturday, who boast a certain player called LeBron James ($11,800 SF) – the nominal Small Forward who takes on the team's entire Point Guard responsibilities as well. Maybe he'll do alright?
Seriously though, only half of Memphis's current rotation is actually NBA-quality, and I'm surprised that they didn't blow it up or at least trade their one piece with any market value (the again Marc Gasol) to kickstart an aggressive rebuild. They're getting bullied each and every game now, against players far less talented than LBJ. My only concern is a blow-out in a back-to-back set limiting LeBron's minutes, but the upside is too high to avoid completely.
Bigs vs San Antonio
Coach Pop just came out over the break and said that he'd "be surprised if we saw Kawhi again this season", which means that future 'big man' opponents are only going to have to deal with the weak individual defences of Aldridge and Gasol over the second half of the year. While the Spurs have been a defensive pillar for a decade, we're starting to see Centres sneak through the cracks in their oppressive team-oriented armour. 
Case in point: Nikola Jokic ($10,200 C). The multi-talented big man casually dropped a triple-double on the Spurs on Valentine's Day, notching 23/13/11 for a healthy 57.1 MB gem. And, for the record, he backed that up against the Bucks with 30/15/17 for a monstrous 74.5 MB, so you could say that he's in reasonable form. Like other players with versatile stat profiles (Davis, Giannis, Cousins, etc), he has no fantasy ceiling when he can contribute in so many categories.
Bigs vs Phoenix
With Tyson Chandler unlikely to suit up, a soft match-up gets even softer for the high-flying Clip. After initially struggling following the departure of his best friend in Blake Griffin (averaging a modest 29.9 MB in the first four games without him), DeAndre Jordan ($8,300 C) has averaged 49.3 MB over his past three as he adjusts to being the Big Man On Campus in LA.
Who's gonna stop him wiping the glass in Phoenix? Len? Bender? Chriss? Please. I'm expecting Jordan to easily exceed his League-penultimate rebounding average of 15 per game here, and we could be on for his second 20-20 game of the year. He's a serious alternative if you don't want to pony up for the likes of Davis, Drummond or Jokic for whatever reason. 
• Short Stacks
LA Clippers vs Phoenix (224.5 O/U, -4.5 Line)
The bookies have had their say on Saturday's slate and, once again, a Phoenix game sits at the top of the Over/Under table, with a relatively healthy Line for us to try and abuse. With so many baskets expected in this high-paced affair, the obvious targets are the high-volume shooters in Lou Williams ($7,200 SG) and Devin Booker ($7,600 SG). I love both at under $8k and only each other's lacklustre defence to contend with.
Elfrid Payton ($7,700 PG) has been a beast since moving to Phoenix, increasing his average from 29.9 MB as a Magic player to a whopping 41.3 MB as a Sun. It's an absolute gift that we can snap him up at Orlando-based prices, so keep flogging this horse until it keels over.
The Matt Priddis of the NBA, Tobias Harris ($6,900 PF) isn't sexy to watch, but he boasts some very solid numbers. Toby has a crystal clear road to as many minutes as he can handle in Los Angeles and is a talented shooter at a position where Phoenix doesn't have any disciplined defenders. He needs to be in your player pool at that price.
• The Replacements
John Wall (knee, OUT)
Given his stellar play in the absence of his superstar mentor, we're going right back to the well on Tomas Satoransky ($6,100 PG) and the 30 MB basement he's exhibited over his last four starts. If his worst effort is a 5X value rating, then we're giving ourselves a huge amount of room for upside with this pick.
Like Satoransky, Bradley Beal ($9,700 SG) has enjoyed a boost since Wall's demise. Unlike Tomas, you have to pay for it though and I'm not sure he's worth almost $10k given the other options floating around in other lines around that price. Shooting Guards are notoriously streaky though, and Beal should remain firmly in your tournament-based player pool whenever Wall is absent, regardless of his price. Bradley's always a chance to go bonkers, with 3 games over the magical 60 MB threshold already this season.
DeMarcus Cousins (knee, OUT)
Cousins' injury is old news, but here's just a friendly reminder that Anthony Davis ($11,900 C) is an absolute beast who, now that he doesn't have a giant cockblock in the paint, is crushing each and every slate he's on. He's averaging 76 MB over his past three for Christ's sake, and his average has shelved a fistful of steroids and increased from 50.6 MB to 59.6 MB since Boogie went down. If he's under $12k, he's too cheap, in my opinion.
New Orleans' structures were based on the assumption they'd be working with two usage-heavy big blokes, and instead of reworking their style from the ground up, they've simply slotted Nikola Mirotic ($7,200 PF) into their existing methodology. As a result, the former Bull is receiving more minutes and more offensive responsibility then he ever saw in Chicago, and he's seeing the benefits with a 46.3 MB average in his last few. Given the system he's been transplanted into, I'll keep smashing Mirotic until his price reflects his current situation.
Darren Collison (knee, OUT)
Move aside Lance Stephenson – Cory Joseph ($4,300 PG) is the back-up to target in Indiana nowadays. While Lance has always been a handy one-size-fits-all bandaid for Indiana's injury problems, the coaching staff has seemingly realised that Joseph's square-shaped skillset is much more suited to the square-shaped hole they have at PG.
Given just 25 minutes a night with the second unit all year, it's no surprise that he'd failed to shine – that's until they gave him the starter's role in Collison's 32 minutes. Four games later, Joseph drops a 42.7 MB bomb, complete with 11 rebounds and 2 steals and blocks apiece. He won't be this good every night, but at $4,300, I'm pretty confident he's hitting at least 5X value for the foreseeable.
Mike Conley (Achilles, OUT), Mario Chalmers (ankle, DTD)
Memphis is a joke, but the one thing they're serious about is the development of future starter (in his own right) in Andrew Harrison ($4,900 PG). With Conley and possibly Chalmers missing on Saturday, Harrison gets a chance to face Cleveland – who ranks as the 3rd easiest team to score PG fantasy points against this season – with unlimited minutes on the second night of a B2B set. This is any rookie's dream, and I'll be riding the roller-coaster with him in my Moneyball line-ups.
Always remember to gamble responsibly. If you're having problems with your betting, you can get help at Lifeline or talk to someone at Gambling Help Online.