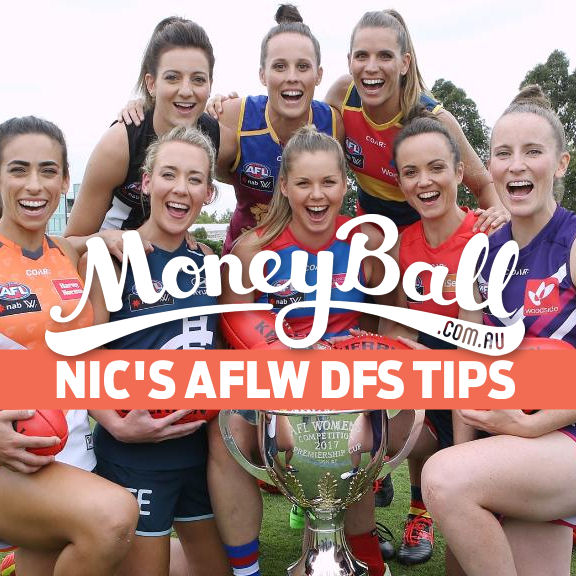 Collingwood and Melbourne are set to face-off on Saturday night in a game featuring plenty of Moneyball value. With $500 of prizes up for grabs, make sure you get involved in this week's AFLW Moneyball contests. Here are the players you should be looking at.
FORWARDS
Chloe Molloy ($6,600)
Molloy has spent most of the season in the backline and has averaged 16.3 disposals per game (ranked 10th in the competition) and 3.7 marks. She's fantastic value at $6,600 and is a good chance to be Collingwood's highest scoring player.
Tegan Cunningham ($6,000)
The key forward has burst onto the AFLW scene, kicking five goals so far this season and averaging 4.3 marks per game. Collingwood's backline will struggle to contain her and with goals being so value to fantasy scores, expect Cunningham to score pretty well on Saturday.
Jessica Duffin ($5,400)
Duffin, like Molloy, has spent a lot of time in the backline this season, but is still Collingwood's go to player. They want the ball in her hands and that's reflected in her averaging 13 disposals per game and 4.5 marks. She's an elite player and is priced far too low. Get on.
RUCKS
Emma King ($7,900) or Erin Hoare ($4,000)
King is clearly the better option of the two, make no mistake about that, but with so much value in other positions, you may want to consider taking Hoare and saving the money here. The decision is as simple as that. King gets more of the ball and wins more hit-outs, but Hoare is absolutely fine if you want to load up elsewhere. Avoid Lauren Pearce as Hoare has taken her mantle as number one ruck, leaving Pearce with not much left to do.
MIDFIELD
Karen Paxman ($11,000)
You'll want to strongly consider picking up two of the three Melbourne midfield guns, but if you can only take one, Paxman is the one to go with. She is a possession winning machine and should tear this Collingwood midfield apart. If you can squeeze her and Daisy Pearce into your side, then you'll have a massive advantage on everyone else.
Steph Chiocci ($6,300)
Chiocci is the best of the Collingwood midfielders here and is definitely underpriced at $6,300. She's averaging 13.7 disposals per game which is a little low, but you can also add five tackles per game to that mix. She's also a consistent scorer which is something to consider for daily fantasy.
Kate Hore ($4,400)
If you want to fit Paxman and Pearce, you'll probably have to look for a cheap option and Hore is definitely a player you should be looking at to fill out your midfield or as your flex option. She's averaging 13 disposals per game, four marks, three tackles and is a livewire around goal. For the price you're paying, you'll likely get a far greater return.
DEFENDERS
Melissa Hickey ($7,300)
Hickey is the most expensive, but also the clear best of the backline options. For starters, she's spending far more time in the midfield this season and is averaging 11.7 disposals per game. You can add 5.3 tackles per game to that and the fact she can sit behind the play and dominate with intercept marks if required. You don't have too many options down back and Hickey is the most likely to produce a consistent score.
Emma Grant ($6,100)
Grant has had a sneakily good season and is a decent mid-priced option in this position. She's averaging 11 disposals per game, four marks and three tackles. She won't set the world on fire, but she's another player who is capable of scoring consistently and has spent quite a bit of time in the midfield this season.
Meg Downie ($5,600)
Downie has had a great season after missing most of 2017 with an injury and is averaging a decent 10.3 disposals per game, four tackles and three marks. Melbourne should dominate this game in terms of time in possession and this should help players across their half backline including Downie. This is the position you should be saving money with to boost your midfield and if you need someone cheaper, Illish Ross ($3,600) won't score too well, but will still get something and it'll allow you to get the big guns in the midfield.
Good luck!