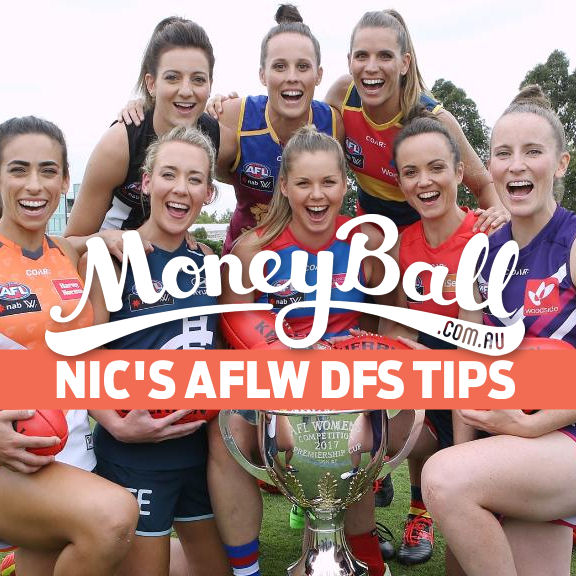 If you're looking for the best chance to pocket some nice cash for the weekend, this Moneyball contest between the Giants and Blues provides you with a great opportunity. With plenty of value at each position, here are the players you should be targeting tonight.
FORWARDS
Tayla Harris ($5,600)
Harris looked outstanding in her debut for the Blues, scoring 50 fantasy points and showing she's going to be tough for defenders to stop. She cost herself a few extra points too with some wayward goal kicking. GWS will struggle to contain her and she's probably the most likely Carlton forward to score big this week.
Jacinda Barclay ($4,700)
Barclay had a fantastic game against the Demons, top scoring with 88 points thanks to her two goals, 14 disposals, four marks and six tackles. She seems to be getting further up the ground this year which is allowing her to get more of the ball and that lends itself to her becoming quite a dangerous fantasy prospect this season.
Phoebe McWilliams ($4,700)
McWilliams looks a rejuvenated player this season, kicking three goals on her way to 76 fantasy points. She is undoubtedly the Giants' most dangerous forward and someone with fantasy value if she gets on the scoreboard.
RUCK
Alison Downie ($7,400) versus Erin McKinnon ($4,900)
McKinnon's price tag makes her the better choice here. She scored 50 points last week compared to Downie's 38 and the Carlton ruck's value is hindered because she has to share the ruck duties with Breann Moody. McKinnon is cheaper, just as likely to score big and will get more time in the ruck. Downie isn't a bad option by any means, though.
MIDFIELDERS
Alicia Eva ($8,300)
Eva quickly established herself as GWS' leader in the midfield last week, gathering 14 disposals and laying 13 tackles. The latter leads itself to fantasy gold and you can expect her to reliably pick up a decent number of disposals most weeks, especially against a Carlton team which struggles to quell opposition midfielders.
Renee Forth ($4,000)
The GWS marquee had a reasonably quiet debut, scoring 40 points, but she is far too good a player to be priced at $4,000 and again, Carlton's midfield should give up some decent points this week. Forth is a riskier option than someone like Britt Tully or Jessica Hosking, but she's cheap and more than capable of dominating this game.
Sophie Li ($3,500)
Li is another money-saving option you should consider so you can spend money elsewhere. She scored 42 points last week on debut and will only be better for the experience in round two. Li may only be in her second game, but she's an experienced player who should continue slotting into this Carlton midfield.
DEFENDERS
Brianna Davey ($10,200)
Davey only scored 57 points last week, but spent much of the first half deep in defence. Once she was freed up in the second half, she showed what she's really capable of and dragged Carlton over the line. She's expensive, but clearly the best option in this game.
Nicola Stevens ($7,300)
Stevens spent quite a bit of time in the midfield and up forward for Carlton which lends itself to better scoring than her previous role as a lockdown defender at Collingwoood. She scored 55 points from 11 disposals and four tackles.
Amanda Farrugia ($6,400)
The GWS captain scored 48 points last week, but missed a few intercept marking opportunities that could've boosted her score further. She'll bounce back this week and is a reliable option for your backline.