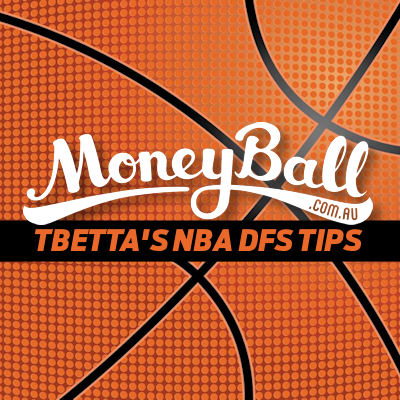 G'day Moneyballers! If you were here for the AFL season, this article will need no introduction. If you're tuning in for the NBA action, welcome to your first port of call for your DFS tips this summer! Before we get into the good oil, a quick reminder that Moneyball have adjusted their scoring system this year:
Playing is easy, you can sign up here and play in minutes! Now that we've taken care of the housecleaning, let's get into the good stuff – the tips!
• Mouse in the House?
Guards vs Phoenix
Phoenix on a back-to-back set is the match-up dream and might just help PG-of-the-future Dejounte Murray ($6,000 PG) get back on track with what he was producing immediately after Coach Popovich gave him the reins. After averaging 34 MB over a 6-game stretch, Murray regressed in his past couple with sub-20 MB scores, unsurprisingly reflecting his on-court exposure. Thankfully, as unpredictable as Pop can be, I think Dejounte's minutes will be determined by his playmaking, rather than the other way around.
Of course, Patty Mills ($3,600 PG) is a GPP-specialist and has been known to go bonkers while the majority of the field ride the "chalk" play. His score chart looks like the heart monitor of a comatose patient, flatlining in the teens only to be punctuated with a sharp rise of 30 MB or better every so often. Like Mills, Danny Green ($5,300 SG) has no conscience when the first couple of 3-balls fall and, as a result, he boasts the 45-MB upside that we saw just two games ago against the rallying Rockets.
Bigs vs Brooklyn
With half of the Twin Towers falling ominously in New Orleans' frontcourt, Blake Griffin ($9,300 PF) and Andre Drummond ($10,700 C) are the new oversized duo to fear in fantasyland. Griffin has averaged 42 MB as a Piston and seems to be massaging well with Drummond in terms of both being able to eat in the paint when the time comes.
Many would have been concerned about whether the skill-set overlap between two usage-hungry beasts would cut into Drummond's fantasy value; but that's been far from the case, particularly in the rebounds column. Drummond's actually averaged 55 MB with a low of 15 boards since Griffin arrived in town, with his blocking rate seeing a significant boost as he finally has someone to bounce off.
Brooklyn, with almost no one of note above 6'4, are going to be murdered on the glass in this one and I can see a situation where you pick both these guys in order to milk this overwhelming trend.
Bigs vs Indiana
Myles Turner, while an exciting talent, simply leaks fantasy goodness to opposition Centres and it's not even up for debate. Yes, he tallies a lot of blocks, but even the most uneducated of eye-tests will report that he gambles on defensive plays, and for every highlight-reel block, there are three easy lay-ins that follow it.
Anthony Davis ($11,900 C) is the most expensive player on this slate but I highly recommend you still think long and hard about paying up for him. Without even approaching this from a Boogie-less angle (yet), The Brow puts himself in the sure-thing bracket following his stat-stuffing 66.8 MB against the Pacers the last time around.
Before we move on, don't write off Nikola Mirotic ($7,000 PF) as a likely beneficiary either. He struggled against the dominant Gobert-lead defence in his last start, but Mirotic's first game as a Pelican was a 16/12 effort with a tasty 4 steals in a 48.4 MB gem. He'll shine again here in the 32+ minutes he's earning, which he was rarely bequeathed as a Bull and therefore limited him in DFS time and time again.
• Short Stacks
Minnesota vs Cleveland (221 O/U, -3.5 Line)
Cleveland are an absolute mess right now and are proving what everyone in the modern NBA knows to be true – one man can't win the Championship by himself. You certainly can't do it while ranked #30 on the Defensive Efficiency charts, and especially not while conceding a whopping 116 ppg to their opposition over the past month.
In fantasy-specific terms, Cleveland are the easiest team to score against in 3 separate positions on this slate, and in the top half for the remaining two (PF and C). You simply need to put every active Wolf into your player pool. Karl-Anthony Towns ($9,300 C) and Jimmy Butler ($9,100 SF) are your whales, but don't forget about what Jeff Teague ($6,400 PG) and Andrew Wiggins ($6,400 SG) can do on their day with ideal match-ups at both of their respective positions.
• The Replacements
DeMarcus Cousins (Achilles, OUT)
We've talked about Anthony Davis ($11,900 C) above but it's worth mentioning again here – everything really does line up for another one of those slate-breaking monsters from the man with the most diverse stat-set in the League.
As far as the boost he receives without Boogie, it's significant. With DMC on the floor, Davis ticks along at 1.25 MB/min; without him, Davis' output steroids to a monstrous 1.68 MB/min. Interestingly, despite no overlap between their on-court roles, Jrue Holiday ($7,500 PG) sees a 50% boost under the same conditions as he soaks up some of Boogie's considerable usage. Both are excellent plays this Thursday.
Victor Oladipo (illness, DTD) & Darren Collison (knee, OUT)
Lance Stephenson's ($4,600 SF) fast becoming a DFS special, as he's our go-to every time the Pacers find themselves thin in the backcourt. Not only does he see a 24% boost on his per-minute fantasy production without Oladipo, his minutes also surge from 22 per game to a much healthier 34. With Oladipo only listed as 'doubtful' with his illness, make sure you're checking Twitter dutifully prior to tip-off for confirmation. If Victor fails to dress, Stephenson becomes the highest-owned player on this slate and you don't want to miss the boat at this price.
For what it's worth, Lance is still a decent cheap play without Collison regardless – he just becomes as must-have as it gets with both missing.
Tyreke Evans (pending trade, OUT)
Given that Memphis is a low-volume team filled with G-League trash, it's hard to recommend any individual against the stingiest defense in Gobert and his Utah sidekicks, but I'll try. Tyreke leaves a gaping hole in the Grizzlies offense and Gasol can't do everything on his own – someone has to score the other 60 or so points it takes to call yourself a competitive NBA team.
Andrew Harrison ($5,600 PG) is the obvious play thanks to a solid four-game stretch where he averaged 29 MB heading into the Atlanta game. That trend was muddied with the return of Mario Chalmers ($3,600 PG) however, splitting minutes against the Hawks for 12.2 and 17.2 MB points, respectively. Who knows how that plays out moving forward.
Outside of that pair, if I was going to suggest that Utah had a weakness, it'd be the outside shooting where Gobert can't stifle them. Wayne Selden Jnr ($3,800 SG) could be worth a gamble in the event where he drains multiple treys again (he poured in 9 over two games just a week ago), but that's about as far as a I can stretch my imagination in this one.
Devin Booker (hip, DTD)
Can Tyler Ulis ($3,700 PG) be the low-priced linchpin we need this Thursday? The first step is confirming Booker's availability, as he's just "doubtful" at this point. But if so, who takes ball-handling minutes off Ulis? Canaan's horrific leg injury rules him out, Mike James was brutally cut from the team not long ago and Daniels is purely an off-ball scorer. Common sense says that Ulis' 30 mins against the Lakers will be there for him again and we've seen him light it up on occasions this season when given the clock. In fact, Ulis has played 9 games of over 30 minutes this year and never failed to reach 20 MB in any of them. Slot him in.
For ceiling, T.J. Warren ($7,000 SF) is your Suns target. In his last 5 games with Booker sitting, Warren has shouldered the Phoenix offense and averaged 42.6 MB doing so. The only thing holding me back from executing this pick is the Spurs – they've been the benchmark for stinginess over the past 15 years, and very few individuals embarrass them. Select him for the upside by all means, but I recommend keeping TJ confined to your tournament line-ups only.
Always remember to gamble responsibly. If you're having problems with your betting, you can get help at Lifeline or talk to someone at Gambling Help Online.