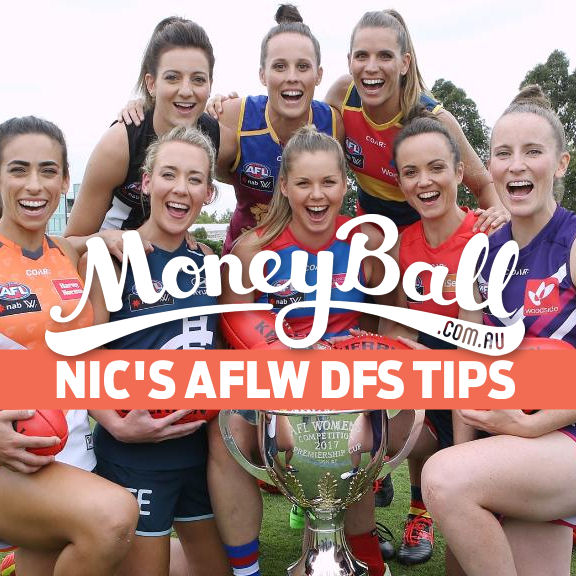 Season two of the AFL Women's competition kicks off on Friday night as the Blues take on the Pies at Ikon Park. Another lockout crowd is expected and you'll have the chance to win $2,000 with Moneyball's daily fantasy game. Now, with women's footy fantasy information few and far between, these articles will give you the stats and numbers you won't find anywhere else! Let's break down your best options by position.
FORWARDS
Jasmine Garner ($7,700)
Garner comes into this game as the most expensive forward and there's a good reason for that. Garner averaged 51 AFL Fantasy points in 2017 which is in the upper echelon given the shorter length of AFLW games. Garner kicked Collingwood's only goal against the Blues last season and has been in excellent form across the State of Origin game and the VFLW competition.
Tayla Harris ($5,600)
Harris is the big name of this section and you may be surprised to see her at only $5,600. She only averaged 34 points per game in 2017, but will have a lot more flexibility with her role at Carlton as opposed to Brisbane. Expect the contested marking beast to get up the ground and get a few more cheap possessions, making her the best Carlton option of the forwards.
Jess Duffin ($5,400)
Fresh off dominating for the Melbourne Renegades, Duffin (formally Jess Cameron) was the only Collingwood player (who stayed at the club) to be rated elite by Champion Data in 2017, averaging 49 fantasy points per game last season as a medium forward who can push up the ground. She is value for money at $5,400.
Be wary: Darcy Vescio ($7,500): Vescio was the competition leading goal kicker last year and booted four on the Pies last year, but she is a low possession player who doesn't get much of the ball. She could still score BIG, but be wary!
Smoky: Sarah D'Arcy ($7,300): Darcy was one of three Collingwood players who averaged over 10 disposals in 2017 and should be used further up the ground this year.
RUCKS
Emma King ($7,900) versus
Alison Downie ($7,400)

versus

Breanna Moody ($4,700)

This is a tough one. Emma King was the number one ruck in the competition last season and backed that up by averaging 50 fantasy points per game last season. She will also carry the vast majority of the ruck duties, while the Carlton duo will share them. However, Alison Downie could spend a lot of time this season up forward or down back and is capable of getting far more of the ball than King. Downie averaged 47 points last season and probably has a higher ceiling than King does. Moody only averaged 29 points in 2017, but will likely line up as Carlton's starting ruck if you're looking to save money. King is the best option of the three, but you can't go wrong with Downie or Moody if you want to save money.
MIDFIELDERS
Shae Audley ($7,600)
Audley is an inside midfielder and a tackling machine. She averaged six tackles per game in 2017, ranked fourth in the competition and may also carry a larger midfield role for the Blues this year. Audley averaged 47 points per game in 2017 which is very solid and she should be a consistent contributor.
Jaimee Lambert ($6,500)
We didn't see the best of Lambert at the Bulldogs as she was plagued by injuries all season. Despite that she was still handy, averaging 39 points per game. She'll have a greater midfield influence at the Pies and is a threat up forward or down back. At her best, she's value for money at $6,500.
Maddison Gay ($5,900)
Gay will make her AFL debut for the Blues after being signed as a free agent/rookie earlier in the year. She spent the VFLW season dominating for the St Kilda Sharks through the midfield. She has plenty of pace and hits the scoreboard regularly. We obviously haven't seen what she can do just yet, but she certainly seems someone who you should be considering.
Be wary: Lauren Arnell ($8,400): Arnell averaged 53 points in 2017 which is excellent, but is in the twilight of her career and could spend large chunks of games deep forward. Given she's the most expensive midfielder, it's a risky option given we don't know how reduced her role will be.
Smoky: Sophie Li ($3,500): Li is incredibly tempting at base rookie price. She's an experienced South Australian midfielder who should slot straight into a regular role with the Blues.
DEFENDERS
Brianna Davey ($10,200)
Davey is the best player in this game and may well be the best player in the competition come the end of the season. Yes, she's expensive, but she averaged 67 points last season despite a limiting injury across the final few weeks. Just pick her and build your team around her price tag.
Danielle Hardiman ($7,400)
Hardiman was unlucky to miss out on All-Australian honours in 2017 and a late-season injury may have cost her that spot. She averaged 46 points last season across half back as an intercept marker who ranked second in the competition behind Bri Davey for rebound 50's per game.
Nicola Stevens ($7,300)
Stevens won Collingwood's best and fairest in 2017 before defecting to the Blues and should slot straight into a role across half back and occasionally on the wing. Stevens averaged 47 points per game last season for the Pies and was their general down back.
Be wary: Emma Grant ($6,100): Grant is the most expensive Magpie available in this game, but there are better options in her price range. It's hard to know exactly what her role in the side will be at this stage.
Smoky: Caitlyn Edwards ($5,400): Edwards averaged 33 points per game last season, but with Stevens and Alicia Eva gone from the side, expect her to get more of the ball and could be the side's breakout defender.