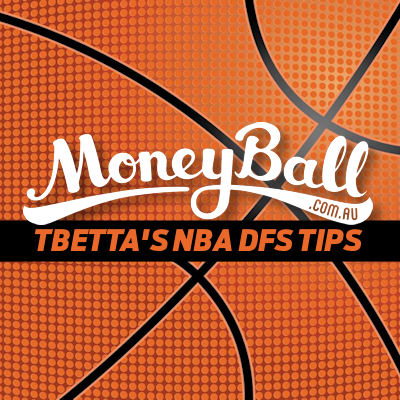 G'day Moneyballers! If you were here for the AFL season, this article will need no introduction. If you're tuning in for the NBA action, welcome to your first port of call for your DFS tips this summer! Before we get into the good oil, a quick reminder that Moneyball have adjusted their scoring system this year:
Playing is easy, you can sign up here and play in minutes! Now that we've taken care of the housecleaning, let's get into the good stuff – the tips!
• Mouse in the House?
PGs vs Cleveland
Ball handlers have been tea-bagging the Cavaliers all season, dealing with some of the NBA's worst perimeter defenders in what is officially the League's worst team defense (Ranked 30th in Defensive Efficiency). PG's seem to benefit the most, and my personal opinion is that it's because it's the furthest position from the reach of LeBron's considerable individual efforts. The numbers are hard to argue against; earlier this week, Westbrook carved out a 20-point, 23-assist effort, while Dejonte Murray backed that up with a 19/10/3 game on top of a tasty 7 steals.
Goran Dragic ($6,800 PG), you could say, is in a slump. Zero 30 MB games in his last five, minutes are winding down… but what better way to break out of this funk than by running the offense against glorified witches hats? If you prefer someone in form, Josh Richardson ($6,500 SF) can influence the game on both ends of the floor and is averaging 36 MB over his last couple. He's a cash-counter specialist who shoots the long ball sweetly, and Cleveland are ranked 29th for defending the 3-point line. Safe pick.
Smalls vs Orlando
Do we need to look any further than Harden's incredible performance on Wednesday to justify this trend? I'm thinking the casual 98.5 MB from 60 points, 10 rebounds, 11 assists and 4 steals says it all.
Unfortunately, with Lonzo Ball out injured, we don't have a clear heir-apparent to Harden's antics. Jordan Clarkson ($7,200 SG) was a red-hot DFS play a week ago with his 48, 59 and 38 MB outings on the trot, but he's cooled since. Maybe that's got something to do with the trade deadline looming and his name constantly in talks, but I'm not crazy about his swollen price regardless. Trust Tyler Ennis ($3,500 PG) and Josh Hart ($3,500 SG) at your own peril, because consistent minutes aren't there.
Brandon Ingram ($6,000 SF) is my preferred play here. His minutes are back up to his healthy 33-ish per game, he's producing bonus stats in the steals and blocks columns and that's got him ticking over at 39 MB over his past couple. He's "the man" on this Lakers squad with Lonzo sitting, giving him an excellent shot at hitting that 50-MB ceiling in this match-up.
Bigs vs Brooklyn
This is just one of those things that you do without thinking – licking your lips whilst eating a sugary jam doughnut, closing your eyes when you sneeze and picking any half-decent Centre that comes up against the Nets are just the fundamental ways of life on Earth. Joel Embiid ($9,700 C) has an extremely high ceiling and has been known to stomp the cellar-dwellers, as those who rode Embiid all the way to his 93.5 MB effort against against the Lakers would know. He was rested against the Bucks so he'll be fresh and raring to go, and I'm worried for whoever gets the short-straw for Brooklyn and has to guard him.
Bigs vs Atlanta
At 51.5 MB per game over his last few, Dwight Howard ($10,100 C) is officially the most in-form player on this slate and it's going to be really hard to say no to him based on his form and Atlanta's preference to do absolutely sweet FA to stop opponent big men. He's a lock for a 20-point, 15-board game based on recent output, and I think 50 MB is pretty much his worst-case scenario outside of an injury or early foul trouble here. Atlanta simply don't have the personnel to stop him wiping the glass.
• Short Stacks
Dallas vs Phoenix (? O/U, 2 Line)
Even seen a boxing match where two blokes don't even bother to hold up their hands and just throw haymakers at each other for 12 rounds? That's what we have here. Both Dallas and Phoenix rank in the bottom 10 for Defensive Efficiency and with the Suns 5th for Possessions Per Game, there's going to be a lot of "punches" thrown.
Devin Booker ($8,000 SG) is the obvious target candidate thanks to his guilt-free shooting trigger and the massive ceiling (6 games over 50 MB this year) that comes with it. Unfortunately though, he's sore and still DTD – if he misses, that's a big blow to Phoenix's scoring that'll most likely be replaced in part by T.J. Warren ($6,600 SF). Keep him in mind.
The Suns are matadors when it comes to defending guards, so look closely at Dennis Smith Jnr ($6,400 PG), especially if he soaks up the injured JJ Barea's minutes again. Harrison Barnes ($6,600 SF) is a candidate for the biggest downhill skier in the League so feel free to take a punt on him in tournaments – he had 37.9 against the Suns when they met earlier this season.
Chicago vs Portland (214 O/U, 7.5 Line)
With Portland coming off a back-to-back, it's not out of the question that Chicago can push them to a close finish, as they did a week ago with a 2OT game against the more accomplished Pelicans…. And we all know that went for stacking in DFS, with Grant, both Holidays, Boogie and Davis all returning big value and targets going off everywhere.
I'd be looking closely at the Rolls Royces in Damian Lillard ($9,100 PG) and CJ McCollum ($7,500 SG) here, especially in cash games as I can't see them failing to hit their price-implied benchmarks against the Bulls.

• The Replacements
Kevin Love (Hand, OUT)
With just a day between games, how do the Cavaliers adjust and prepare for an existence without Love? In terms of minutes, I think they're spread between a very underwhelming committee of Cleveland's veteran puzzle. Given the price, Tristan Thompson ($4,000 C) is worth a look in the hope that he can hit 30+ mins and produce his first 30 MB game of the year with a nicely-rounded double-double. Jeff Green ($3,600 PF) saw 30 minutes himself the last time the Cavs played without Love – can he fill the void again?
Ultimately though, it'll be LeBron James ($11,400 SF) that sees the biggest boost in responsibility, and we all know that translates very strongly to legacy-protection and the Moneyball goodness as a by-product. In that aforementioned game against the 76ers without Love, he busted out a 30/13/13 gem for 68.1 MB. I'm scared to think of what he might do with the added incentive of a visit to his old locale in Miami.
Just quickly, it could be worth look at Hassan Whiteside ($7,900 C) if you can't afford either Howard or Embiid for whatever reason. With Love down for most of the Detroit game on Wednesday, Drummond took full advantage and finished with a bloated stat line of 21/22/7 and an extra 3 steals and blocks to go on top of that. There's a definite weakness there.
Nikola Vucevic (hand, OUT) & Aaron Gordon (hip, DTD)
His form is lacking, but don't be surprised to see Bismack Biyombo ($5,500 C) outperform his price-tag with the starters missing, up against the abysmal interior defence of the Lakers. Don't forget, BB had consecutive scores of 51.6 and 48.2 just a fortnight ago with Orlando under similar injury pressure.
Devin Booker (ribs, DTD), Alex Len (ankle, DTD), Marquese Chriss (ankle, DTD)
As mentioned in another section above, TJ Warren ($6,600 SF) is the guy you want to target if Booker elects to Netflix & Chill instead of ballin' with his bruised ribs. In his last three games with Devin inactive, TJ has averaged 24 points and 43.1 MB, so a lacklustre shooting night would be the only thing stopping him from adding to that against Dallas.
As for the big man situation, Phoenix's 4-man committee of Len/Chriss/Chandler/Monroe could be down to two, which would thrust Greg Monroe ($4,500 C) firmly into DFS relevancy. As we've seen, he just needs the minutes to contribute, having already produced 3 scores above 40 MB in his short time as a Sun.
Nikola Mirotic (leg, DTD) & Lauri Markkanen (personal, OUT)
The last time Markkanen missed time, Bobby Portis ($4,900 PF) ran rampant with an average of 33 MB over three games in just 25 minutes of playing time. If Mirotic also misses here, Portis is looking at an open lane to unlimited clock – what can he do with 30 minutes and no competition for inside touches?
Of course, Chicago cop a big hit to their interior defense in the process, which opens the door for us to look closely at the Portland giants. Jusuf Nurkic ($6,000 C) pumped out 45 MB against the Bulls the last time around and that was with actual competition, so he's a high-ceiling option to target as a unique pick. Ed Davis ($5,200 PF) is his counterpart in an awkward timeshare but he's still churning out excellent per-minute numbers, averaging 32 MB in his past four outings.
Always remember to gamble responsibly. If you're having problems with your betting, you can get help at Lifeline or talk to someone at Gambling Help Online.