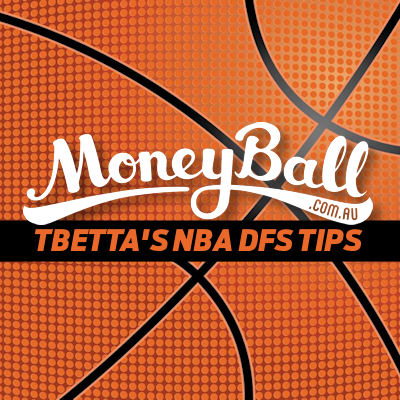 G'day Moneyballers! If you were here for the AFL season, this article will need no introduction. If you're tuning in for the NBA action, welcome to your first port of call for your DFS tips this summer! Before we get into the good oil, a quick reminder that Moneyball have adjusted their scoring system this year:
Playing is easy, you can sign up here and play in minutes! Now that we've taken care of the housecleaning, let's get into the good stuff – the tips!
• Mouse in the House?
PGs vs LA Lakers
He's the most expensive player on the slate, but when you purchase Russell Westbrook ($12,200 PG) you're buying his exquisite consistency and using him as a foundation to build a line-up around. In fact, his most recent 44.7 MB effort against the Kings was his lowest offering in 29 games, a period in which he's averaged a whopping 58.0 MB points.
The Lakers have PG defensive issues even when Lonzo Ball is fit (Ranked #1 for conceding Moneyball points to opposition PG's of all active teams this season), and his likely absence means one of the lesser LA guards are going to be tasked with halting the unstoppable force that is Westbrook. All I can say is: Good luck. He was only needed for 28 minutes the last time these two teams squared off in a 37-point demolition (46.2 MB), so if LA can keep it relatively close and Russ plays his normal 36+ minutes, look out.
Guards vs Chicago
Without boring you with the exact numbers here, Chicago are comprehensively behind the rest of the League in guarding PG's and SG's, which Steph Curry ($10,200 PG) is a superhuman blend of; he's gifted with the handle and passing sense of an elite point guard, coupled with the shooting marksmanship of which we've never seen before. If Chicago makes ordinary opposition guards look like superstars, then a genuine phenom like Curry should appear to be floating around the court with wings and a halo hanging above his head.
Like Westbrook and the Lakers above, Steph was only required for 27 minutes in an inhumane flogging of the Bulls back in November yet still managed to squeeze out a standard 51.4 MB points. This is the softest of match-ups that you could hope for, and honestly, the only concern here is that the Warriors blow them out so early that Curry spends more time with a towel draped over his head than with a basketball at his fingertips.
Bigs vs Brooklyn
One player out of the current meta core of DFS premiums is LaMarcus Aldridge ($9,500 PF) – partly due to mediocre fantasy form, partly due to playing under the unpredictable reign of Coach Popovich and his jarring whims. But I like him here as a smokey, particularly if Pau Gasol ($5,700 C) misses with that hand issue and even more so if Kawhi Leonard ($9,500 SF) continues to be rested with his thigh saga.
Digging deep into the numbers shows that Aldridge's output increases from 1.03 MB/min to 1.27 without Gasol on the floor, and again to 1.30 without Kawhi as well. Against a team that doesn't even play a legitimate Centre for anywhere near 48 minutes, Aldridge will have his way on the offensive end.
• Short Stacks
New Orleans vs Atlanta (220.5 O/U)
This isn't your standard "stock up against Phoenix or Dallas" kind of slate, but from a purely statistical point of view, this game is perfect for stacking. You have the high O/U of 220.5, and that's coupled with a close Line of -2.5 with the Hawks at home and the Pelicans closing a back-to-back set. The teams themselves even lend to a promising scoring profile – Atlanta are a bottom 5 team while the Pelicans rely on the brilliance of a few individual studs who soak up the majority of the fantasy points on offer.
This is primed for a Pelicans stack. You've got Anthony Davis ($11,000 PF) fresh off Moneyball scores of 85.4 and 75.2, thanks to a diverse scoring profile and video-game kind of numbers in every column. DeMarcus Cousins ($11,200 C) has been "quiet" in comparison with a form line of "just" 57.7 MB, but we all know what he's capable of with 4 scores north of 70 MB already this season. Add in the exemplary play of Jrue Holiday ($7,500 PG) lately (49, 54 and 48.3 in his past three) and you have a rock-hard core to build around before you even have to consider glue guys or even (God forbid!) other games on the slate.
NOTE: At the time of writing, Vegas lines for San Antonio @ Brooklyn , Golden State @ Chicago, LA Lakers @ Oklahoma City and Denver @ LA Clippers had not been released, so make sure you check those out and act accordingly. Remember, we're looking for a high Over/Under with a low Line for maximum stacking potential.
• The Replacements
Lonzo Ball (knee, DTD)
It looks like our future overlord Lonzo won't be cleared to play with a knee issue, which means we once again load the revolver with Tyler Ennis ($3,500 PG), Jordan Clarkson ($3,900 SG), and Josh Hart ($3,500 SG) and spin it for another game of fantasy Russian Roulette in Los Angeles.
I really liked what Clarkson was able to do the last time Ball was missing and he's always value for money when he gets the minutes, notching totals of 40.7, 39.2, 45.7, 30.8 and 36 MB in the five games where he's been allotted at least 31 mins this season. Unfortunately, even though Lonzo missed against Memphis, Clarkson was only allowed 17 minutes and even conceded the starting gig to the uncapped Ennis (who only played 17 minutes himself). While it's based on the smallest sample size possible, Josh Hart was the big winner with 27.1 MB in 32 mins and I'd probably take my pails back to that well again against the Thunder.
The Clippers (almost literally everyone)
DeAndre Jordan now joins Beverley, Rivers, Gallinari and CJ Williams on the shelf for the Clippers which means there's a ton of fantasy value left to be distributed amongst the soldiers left standing. Willie Reed ($3,700 C) went nuts against the Kings with 44.6 MB in Jordan's stead but unfortunately shat the bed immediately following that with just 8.2 MB in 10 minutes against the Rockets. If Doc Rivers sees the Reed as a better match-up against Jokic than Montrezl Harrell, then he could be in for another 10X kind of performance here. I'm not sold however.
Tyrone Wallace ($4,200 SG), despite being a G-league special, has been solid since entering the starting line-up with a 27-point average over his past four, which is excellent for his price-tag. He'll be super popular and rightfully so.
Of course, Lou Williams ($9,500 SG) and Blake Griffin ($9,000 PF) will be asked to do the bulk of the heavy lifting in a fast paced game without a lot of defence, and I'd be taking out shares in both of these guys if you're multi-entering the Thursday Monster.
Rudy Gobert (knee, OUT)
Like my ex after a few sherberts on Saturday evening, I keep finding myself crawling back to Derrick Favors ($6,000 PF). Why would you risk taking home that glassy-eyed girl whose name you don't know from the darkly-lit nightclub when you've got Favors' number on booty call speed dial and you know exactly when you're going to get from them? The numbers suggest that Favors is 49% more productive without Gobert on the court, and I can't say no to that at $6k.
As we've talked about before, Utah's league-famous defence turns to Swiss cheese with the Stifle Tower closed to tourists, so I'd also be looking at Willie Cauley-Stein ($6,300 C) to capitalise. Big Willie's in some strong form lately, pumping out 45.8 in a favourable match-up against Denver and 48.6 against a Jordan-less Clippers in recent times. The ceiling is there and I think he's worth a gander from a match-up perspective.
Reggie Jackson (ankle, OUT) and Avery Bradley (groin, DTD)
It's taken him a while to get going, but Ish Smith ($6,500 PG) has finally busted out the double-digit assist game we knew he was capable of against Charlotte, finishing with 10 dimes and 43.6 MB points in 34 minutes. That's slightly above his post-Reggie exposure, but when you're flinging fireballs to open teammates, the coach is going to keep you active for longer, right?
Now, with the news that Avery Bradley is doubtful to play with a possible recurrence of that groin injury, I'm all over Ish. Detroit are already thin enough talent-wise at the guard positions, but now also health-wise with both Luke Kennard (thumb) and Stanley Johnson (hip) popping up on the injury list. Smith could potentially play 40 minutes here and he'll be the primary ball-handler for all of those, so make sure he's in your player pool this Thursday.
Always remember to gamble responsibly. If you're having problems with your betting, you can get help at Lifeline or talk to someone at Gambling Help Online.