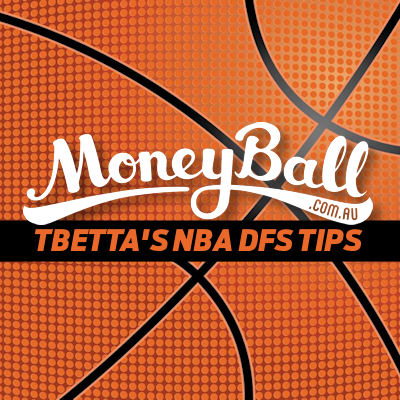 G'day Moneyballers! If you were here for the AFL season, this article will need no introduction. If you're tuning in for the NBA action, welcome to your first port of call for your DFS tips this summer! Before we get into the good oil, a quick reminder that Moneyball have adjusted their scoring system this year:
Playing is easy, you can sign up here and play in minutes! Now that we've taken care of the housecleaning, let's get into the good stuff – the tips!
• Mouse in the House?
Guards vs Phoenix
Honestly, at this point you can cherry pick from every position against the Suns, but they are particularly juicy for opposition guards – ranking clear #1 for fantasy points conceded to opposition PG's and SG's. As clear as the trend appears, the situation is somewhat muddied by the health status of Ricky Rubio ($8,200 PG). The former Timberwolf has been on an absolute tear lately, clocking 44 MB per game in the five games before copping a hip injury against the Hornets. He's in a perfect spot here save for the fitness test, so keep an eye on his availability heading towards tip-off.
Of course, if Ricky isn't right to go then we're smashing Donovan Mitchell ($7,800 SG) throughout our line-ups. With Rubio absent in Utah's last two, The Don has pumped out scores of 37.2 and 48.9 MB in heavy minutes; and that's to go with the season-high 59 MB he posted against Phoenix less than two weeks ago (with Ricky playing alongside him). The price is right here.
Guards vs Sacramento
With Houston facing up against another soft opponent, who ya gonna call? James Harden ($11,500 SG) hasn't scored below 47 MB in his last five, while Chris Paul ($9,800 PG) has quite the ceiling of his own, pumping out 6 scores north of 50 MB since the New Year. As usual, this pair of All-Stars will soak up most of the fantasy juice from the Rockets so I'd keep your search narrow for Houston-flavoured value.
Bigs vs Brooklyn
From injury concerns to straight-up poor play limiting his minutes, it's been hard to recommend Myles Turner ($6,700 C) for the majority of the season. The continuity just hasn't been there for him, and even the last week highlights that, with Myles playing between 15 and 33 minutes throughout that stretch.
However, I have no hesitation in throwing his name into the ring against what Brooklyn has to offer at the big men positions, which is literally nothing. This is turning into the most exploitable trend in DFS lately, and even an inconsistent Turner will thrive against defenders a foot shorter than him with practice-like pressure in the keyway. In fact, the last time he came up against Brooklyn he went off for 23/9 with 6 blocks for a season-penultimate score of 51.3 MB. I'll take that.
Bigs vs Atlanta
Well this could get nasty. Andre Drummond ($11,000 C) has averaged 17 points, 19 rebounds and 2.4 blocks ever since Griffin become a Piston, and monstered his way to 57 MB against the Hawks earlier this week. Blake Griffin ($9,400 PF) himself had a strong showing in that same game with 23/7/6 for his 41.4 MB points, so this trend isn't just hypothetical – we saw it pay dividends just a few days ago.
• Short Stacks
LA Lakers vs New Orleans (226.5 O/U, 5 Line)
New Orleans drops into a nice spot for stacking here: a battle against a weak opponent who plays at a high pace, whilst keeping the bulk of their fantasy goodness concentrated to just a few key players in the Pelican hierarchy.
Of course, I'm talking chiefly about Anthony Davis ($11,900 C) as the big banana, and Jrue Holiday ($7,800 SG) as his vice, particularly with the usage-heavy Cousins out long-term. In fact, since Boogie went down (and removing the blowout against Philly) both players have improved their output drastically, by 22% and 16% respectively.
Similarly, Boogie's absence has tipped the dominoes towards a return to decent minutes for Rajon Rondo ($5,700 PG), averaging 31 for his 35 MB over the past fortnight. Additionally, DeMarcus' direct replacement in Nikola Mirotic ($7,200 PF) is playing out of his mind on an NBA team run by actual adults, averaging 40.6 MB in the same time-frame. Both these guys need to be considered at those prices given the opposition and predicted pace of the game.
Golden State vs Portland (226 O/U, -6.5 Line)
NBA League Pass alert – Golden State often have high-paced games that get the juices flowing for stack-lovers, but we're so often let down with meagre opposition that sees Steph Curry ($10,400 PG), Kevin Durant ($11,100 SF) and co. often sitting the final stanza while the bench-warmers have some fun. Not here. Portland boast their own elite shooters, which means we could see some big fantasy scores out of the aforementioned duo as they're forced to actually try if they want to walk away victors.
Don't count out the Portland heavyweights either. Damian Lillard ($9,400 PG) and CJ McCollum ($7,200 SG) scored 60 points between them when these two teams met earlier this year, and they'll need to fire if they think they can take a W off the World Champions.
• The Replacements
John Wall (knee, OUT)
With Tomas Satoransky ($4,900 PG) himself currently DTD, we have a weird case of injuryception but it's something we still need to track as we roll towards tip-off. The back-up guard has been a pleasant surprise to both DFS coaches and the Wizards' organisation, filling in for Wall seamlessly. It's not just the increased minutes either (16 per night up to 27.5 since Wall went down) – Satoranksy's being more productive while he's on the court, raising his MB/min from 0.74 to a healthy 1.01 over this purple patch.
But if he's out, things could get really interesting if Tim Frazier also misses following nasal surgery (he's currently DTD) as it would leave Washington without a healthy PG on it's roster. It's a very interesting situation that could throw guys like Jodie Meeks ($3,800 SG) and Kelly Oubre Jr. ($4,900 SF) into the mix, so I'd be tracking all these moving pieces closely.
Kristaps Porzingis (knee, OUT)
Enes Kanter ($7,200 C) will be asked to take on a bigger role now that he's worked back into his normal rotational exposure following a short-term mouth issue. He's a double-double machine on days ending in "y" and he's actually averaging a juicy 17/15 over his last 7 games – the next step is for him to bring the defence. Kanter averages just 1 combined steal and block this year and there's going to be a game, very soon, where he actually racks up some counting stats… and it's going to be huge.
Of course, Michael Beasley ($6,700 SF) is the obvious candidate because of what he's already done without Porzingis in his time as a Knick. In his last 6 games without the Unicorn, B-Easy is ticking over at 37 MB per game, which is way up from his 25 MB average alongside him in the same period.
Draymond Green (finger, DTD)
Outside of extra touches for the aforementioned Durant – who sees a boost of roughly 17% without Green on the court (interestingly, Curry is unaffected) – we're looking closely at Omri Casspi ($3,500 SF) if Green misses.
The journeyman sees the obvious boost you'd expect with playing time jumping up from 13 minutes a night to 24, averaging a generous 25.6 MB across the games the Draymond has missed this year. Doesn't sound like much, but from a basement price, that's a value factor of 7.3X (and well above the 5X we normally need to justify a selection). Keep your eyes peeled for Green-related news for a possible Casspi streamer.
Jusuf Nurkic (calf/back, DTD)
Frustrated with how Ed Davis ($4,000 PF) and Jusuf Nurkic have spent the past month in a timeshare? Relief is here! While he's still named as "questionable" at the time of writing, it's unlikely that Portland activate Nurkic -who has two separate injuries concerns – with the All-Star break just days away. That opens up the door for Davis to start at C, and likely even top his season-high 28 minutes – if he's averaging 24 MB from 21 mins in his last twelve starts, what can he do with 30 minutes and no giant Bosnian to get in his way?
Lonzo Ball (knee, OUT)
I'm just thinking out loud here, but with Lonzo Ball confirmed out until after the ASB, what can we expect in another uncontested start from Isaiah Thomas ($6,700 PG)? IT's time in Cleveland wasn't pretty but it did have the desired effect on his Moneyball price, because he's cheap as chips. With a few days off since their last game, the Lakers have had plenty of time to get Thomas up to date with their offensive sets – can we expect more than 30 in 30 from him on Thursday?
Let's not forget, this is the same guy who finished in the top 5 in MVP voting last season, averaging 42 MB. Something to think about…
Always remember to gamble responsibly. If you're having problems with your betting, you can get help at Lifeline or talk to someone at Gambling Help Online.