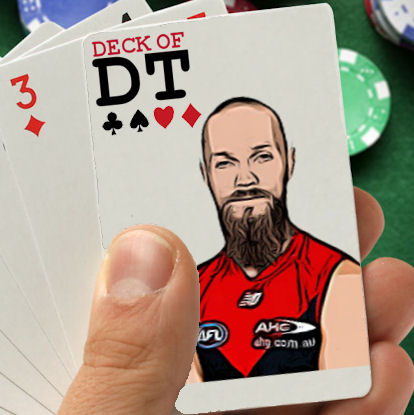 Name: Max Gawn
Team: Melbourne
Position: RUC
AFL Fantasy: $605,000
Bye Round: 13
2017 Average: 85.9
2017 Games Played: 13
Predicted Average: 100
Draft Range: 10-30 (top two-to-three rucks)
Click here for DT Live profile.
Why should I pick him?
We're getting Max Gawn as an absolute bargain this year.
In 2015 Big Maximus broke out, averaging 91.9 after coming into the Demons line up to play out the last 13 matches of the season. He then went at 106.5 from 22 games the following year thanks to being the king pin for Melbourne, as the solo ruck. Gawn scored 15 tons for the season including six scores over 130 and a run of 10 games where he knocked out scores of more than 100 during the back half of the season.
All was looking good for Max to do the same thing in 2017.
Starting with 111 and 95, it was a solid start for those starting him in Classic and for those who took him in Draft (ADP was 3!!)… until a second quarter hamstring injury on 32 points saw him sit out the next dozen weeks as surgery was required to fix the tendon. Gawn returned to the side as No. 1 ruck for the final 10 rounds with some good scores, including a 140 in round 20 v GWS. His last three games came at an average of just 70.
Gawn's average is definitely under due to that hamstring injury in the first half and the modest return he made after so long out of the game.
All reports this pre-season is that Big Maxy is training the house down as he has stripped a lot of weight from his body and is looking trim (apparently he's eight kilos lighter). See the pic below from November. This is after an off-season that saw him pound the pavement even when on holidays in New York (I put on 5kgs when I was in NY for a week).
Let's make it simple, Max is around 20 points under-priced and he is one of those blokes that is a solo ruck. Lock and load.
Why shouldn't I pick him?
The games in the back-half of the season are some cause for concern. This doesn't worry me, but he pumped out these scores while winning a significant amount of hitouts. Such as 38 and 35 in the final two rounds for scores of 65 and 70. Cam Pedersen, who did a great job while Gawn (and Spencer) were out, was playing in these games… so if he is in calculations to be lining up with Max in 2018, there is some validity in being worried about not being the solo man we think that he is.
We've seen what has happened to other ruckman when their kryptonite comes into the side. Brodie Grundy with Mason Cox, Stefan Martin with Archie Smith… could Pedersen cause dramas for Maxy? There is also Mitch King has piled on 5-6 kilos and is impressing in time trials. The 20-year-old, who is yet to make his AFL debut and has endured two knee reconstructions, has started summer training stronger and fitter after a promising VFL campaign this year.
Injury history is another thing that could see coaches tentative in selecting Maximus.
Deck of DT Rating.
KING – Close to an ace as I predict Max to be one of the top two rucks for the year. He's a sole ruckman, well I think so anyway. So much risk with other big men and to get him at that price, he's a must-start in Classic. I would be pretty happy to take him in the 2nd or 3rd round of Draft. Others might get scared off – especially those burned by taking Max early (remember that ADP of 3). Nic Naitanui is more popular on the Drawing Board stats, for me I would be taking Gawn before him – worth every cent in your salary cap. Not much more to say. LOCK!
Loading ...
FOLLOW ME ON TWITTER: @WarnieDT for all thing AFL Fantasy (and more). Got something to say about the deck? Use the hashtag… #DeckofDT.