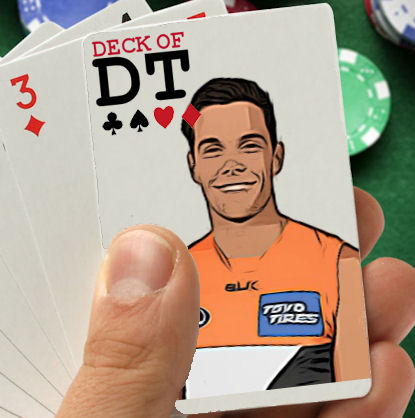 Name: Joshua Kelly
Team: Greater Western Sydney
Position: MID
AFL Fantasy: $795,000
Bye Round: 13
2017 Average: 112.9
2017 Games Played: 21
Predicted Average: 114.8
Draft Range: Top 15
Click here for DT Live profile.
Why should I pick him?
I think the better question is "why not?", because there is a lot to love about Josh Kelly's Fantasy game. After breaking out in 2016, averaging 23 more Fantasy points than his previous season and getting $10 million contract offers from clubs around the league, I think it's safe to say that Kelly is going to be a superstar for years to come.
To start with, his scoring is immense, almost pig-like. In his 21 games last season, Kelly went under the ton only SIX times! Even better than that, of those six scores under 100, 4 were 90+ and the other two were in the 80's. Couple that with a huge ceiling of 162 in Round 8, backed up three weeks later by a 159 and I think it's fairly safe to say Josh Kelly has an insane Fantasy game. To break it down for you, that's; 15 x 100+ scores, 11 x 110+ scores, 6 x 120+ scores, 5 x 130+ scores and 2 x 150+ scores. Every second week last year, Kelly was scoring above 110 for his owners, that sounds like a lock to me.
Another thing I like about Kelly is how he scores his Fantasy points. He's most certainly not a one-trick pony, filling the stat sheet more than LeBron in an NBA Finals series (basketball comparison for Roy, I know he loves those.) In 2017, Kelly averaged 14 Kicks, 15.2 Handballs, 3.4 Marks, 6.3 Tackles and almost a goal a game. That's about as close to a 1:1 Kick-to-Handball ratio as it gets from such a prolific midfielder, and not only does he rack up touches, but his huge frame can get up for a few grabs and lay a few cuddles whilst he's in there. In fact, Kelly only had three games last season below 25 disposals, no wonder he only went under 100 six times! Not only that, but from 21 games last year, Kelly averaged a huge 85% time on ground. That means that for roughly the two hours he's out there every week, he's only not scoring you points for 18 minutes, what a crazy workload.
Why shouldn't I pick him?
Honestly, there is but one thing that's nagging at me, telling me not to pick up Josh Kelly, and that's his price tag. I personally don't think Kelly has a whole lot of room to improve. Maybe on his actual AFL game there are areas in which he could be better, but Fantasy-wise he's basically as good as I see him getting. Possibly a few more disposals to add each game, but it's hard to improve on those numbers. Therefore, I find it hard to justify starting with Kelly as his price shouldn't fluctuate very much. In my opinion, he's not like a Tom Mitchell who you can't afford to not start with as you'll miss out on too many points, and he's not like a Bryce Gibbs who I wrote about last week, who I think has 5-10 points improvement on his 2017 average. Kelly is very much in the middle of both, a player who should average about the same and his price should stay at about $800k because of that.
The other problem I have with Kelly, although I'm much less worried about this, is him copping a tag. Due to having such a standout season last year, you would wonder how teams could let this bloke run amok again this season. Personally, I think there are two reasons teams don't tag Kelly: 1) He's too difficult to stop, with such a big frame, quick speed and a nose for the Sherrin, it's difficult to even curb his effect on the game. Kind of like why teams tag Selwood instead of Danger. And 2) GWS have such a strong midfield, it's easy to forget they also have players like Shiel, Coniglio, Ward, Whitfield etc. For those two reasons alone, I think Kelly will once again avoid the tag this year.
Deck of DT Rating.
KING – It's hard to not rate Kelly an ace, but I think the fact that his price-tag isn't very justifiable, hence giving people little reason to start with him, brings him down a peg into the 'King' category. He's a prolific scorer, a consistent and fantastic Fantasy player to have in your team, (trust me, I had him all last season). But the $795,000 next to his name is just not worth it for a 115-ish average and you're better off spending money elsewhere to begin the year. At the end of the season, I guarantee you he's a must-have and a wonderful upgrade target, but for now I'd be staying away.
Loading ...
FOLLOW ME ON TWITTER: @SparksyDT for all thing AFL Fantasy (and more). Got something to say about the deck? Use the hashtag… #DeckofDT.