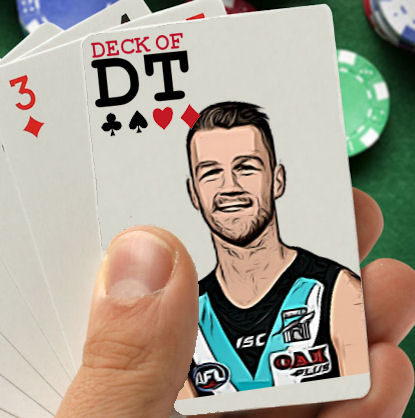 Name: Robbie Gray
Team: Port Adelaide
Position: Forward
AFL Fantasy: $572,000
Bye Round: 10
2017 Average: 81.2
2017 Games Played: 22
Predicted Average: 90
Draft Range: 2nd or 3rd round.
Click here for DT Live profile.
Why should I pick him?
He is underpriced. Plain and simple.  Last year's average of 81.23 was the first time he as averaged under 95 since 2013. Last season he played more in the forward line and he increased his goals per game from 1.2 and 1.3 in 15 and 16 to 2.14 in 2017. He was however, inaccurate in front of goal, if he can improve that accuracy and get his goals per game up over 3 he will reward those that select him.
Robbie's disposals were down last season, he dropped by a little under 8 possessions a game and he dropped his tackles per game by half. If this was an anomaly and he can return to the levels of 2015 and 2016 then his scoring will make him a must have as a forward.  There are only three players who are forward eligible that played more than 5 games and averaged over 95 last season. So a return to his 2016 form would see Robbie as one of the premium forwards of the competition.
During 2016 he was one of the main options in the Power forward line along with Charlie Dixon and Chad Wingard (when he wasn't in the middle) and hence took one of the better defenders. However, now the Power forward line will have players like Watts and Rockliff floating through there who are going to demand good defenders which may see Robbie left with a third or fourth string defender. Importantly with Dixon and Watts in the team he will at least get a shorter defender.
He can do the incredible and when he turns it on he can score big and with that he can win you games.  Particularly in draft where he will be one of the highly targeted forwards.
Why shouldn't I pick him?
With the acquisition of Tom Rockliff, Robbie's time in the midfield is likely to be further limited. He is more likely to stay up forward with players like Rockliff, Ebert, Boak, Wingard, Wines, Powell-Pepper and Polec rotating through there it is going to be tough to get minutes. The years with the scores in the 95-100 range were where he was spending the majority of the time in the midfield, last year was the first time in a while he has spent the majority of his time up forward, if he is restricted to the forward line for the season we could see another season under 90 points.
The move to spending more time up forward did cost him 8 possessions per game as mentioned above and his best three scores in the last 9 weeks all came when Chad Wingard was missing from the team meaning that Robbie had to play more midfield time.
He did miss some time before Christmas as he underwent surgery for cancer, but he was given the all clear and returned to full training just before the team went on their Christmas break.  It needs to be mentioned but there is nothing in this that should concern us when selecting him.
Deck of DT Rating.
Queen – Robbie is under-priced based on what he is able to produce. The main risk is that he can't reproduce that with his time in the middle being potentially limited based on the talent Port have put together. The question becomes, is it Rocky or is it Robbie that spends the majority of time up forward. With the likes of Dixon and Watts hitting the packs and the contests there should be plenty of ball on the ground for a talented player like Robbie, so there should be plenty of opportunities for him.
In the draft game he will go off the board early as one of the highly prized forwards. Many will be punting on him getting that level of midfield time that will see him score back in the 90's.
Keep a close eye on the Power in the JLT series to see exactly what his role is going to be.
Loading ...
FOLLOW ME ON TWITTER: @pkd73 for all thing AFL Fantasy (and more). Got something to say about the deck? Use the hashtag… #DeckofDT.