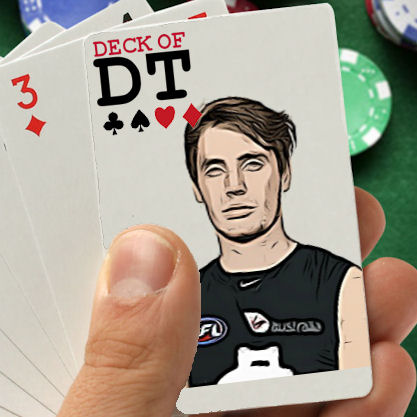 Name: Ciaran Byrne
Team: Carlton
Position: DEF
AFL Fantasy: $350,000
Bye Round: 12
2017 Average: 47
2017 Games Played: 3
Predicted Average: 76
Draft Range: Late – bench option
Click here for DT Live profile.
Why should I pick him?
Ciaran Byrne is not your protypical Fantasy prospect. Hell, I bet he wasn't even on your radar until you saw this article pop up on your Twitter feed. However, I believe under the right circumstances he could be a bit of a sleeper pick this season. Byrne only played three games in 2017 after suffering a torn ACL half way through the 2016 season. The injury couldn't have been at a worse time as he was just starting to establish himself as a dynamic rebounder off half back. His Fantasy scoring in 2016 was pretty poor, only averaging 63 points, but his last month before the ACL (not including the game he was injured in), he bumped that up to 71 and it was clear Carlton were trusting him more with the ball. The thing was, Byrne was stuck under a glass ceiling in 2016 and that ceiling was made from shards of Kade Simpson and Sam Docherty. He was playing really well, but could only get so much of the ball.
Docherty's season ending injury this season WILL open up the door for Carlton defenders to increase their Fantasy potential and I think Byrne will get some of that boost. Docherty averaged 28 disposals and nine marks in 2017… He was like airport customs down back for the Blues. The ball wasn't allowed to book a flight to the midfield without going through him first. People naturally assume the likes of Cam O'Shea and Aaron Mullett will step in and fill his role, but honestly, I don't see either of these guys in Carlton's best 22 come round one and even if they are, their job security is poor at best. Byrne was always supposed to be the heir apparent to Docherty down back. Carlton were always going to move Docherty further up the ground with Byrne slotting in as the rebounding guy out of the backline – his ACL injury delayed that transition.
Look, I'm not about to tell you that Ciaran Byrne is the next premium defender in AFL Fantasy – he isn't. He might just be one of those high impact/low possession defenders that averages 65 for his career – that's a genuine possibility. However, with Kade Simpson coming close to the end and Docherty out, someone has to pick up the slack down back and while Byrne isn't really an intercept mark style player, he is a player Carlton will want to get the ball to as often as possible down back. On top of that, unless something changes between now and March 22nd, he's clearly in Carlton's best 22. He's priced at $350,000 (an average of about 50) and I can see him comfortably bumping that up into the mid 70's. He could make you $200,000 for you to do with as you please.
Why shouldn't I pick him?
The obvious reason for not picking him is that he is totally unproven. There's every possibility Byrne remains a player averaging about 65 and while that still is useful given he's priced at 50, it's probably not enough to warrant selecting the man affectionately known as Bunsen. Byrne is still only 23 and it will essentially be his first season back from an ACL injury. He might need a season to get his groove back – we just don't know and not knowing makes him completely a speculative pick. Byrne also isn't a player who's going to score in the 100's. He'll pull out scores in the 80's, but he'll also have games in the 50's to go with them. I don't think he's a player you can consistently trust – especially in your starting lineup.
His pricing of $350,000 is also pretty awkward. He's well above what you'd want to pay for a rookie, but not really a mid-priced guy either. He's just sort of lost in between the two. That makes him hard to fit into a normal team structure. You might want to go with him over a rookie for the job security, but if he does take a bit of time to readjust to AFL level early in the season, he might find himself replaced by Mullett, O'Shea, Macreadie or someone else.
At the end of the day, it comes down to whether you're willing to take the risk. If it fails, you have to cut your losses and probably downgrade him to a rookie. If it succeeds, the BEST case scenario is he averages 75-81 and gets his price high enough for you to do something with. The PROBABLE scenario is he averages 68-75 and he's borderline pricey enough to be used as a cash cow you can downgrade.
Deck of DT Rating.
10 – Kade Simpson will be Carlton's number one player coming out of defence and I expect Byrne to be number two. Carlton's backline isn't made up of players that average a lot of touches. Liam Jones, Jacob Weitering, Lachie Plowman, Caleb Marchbank and Sam Rowe are all your classic low possession defensive types. That leaves Byrne as a vital cog down back and I expect him to take the next step in 2017 and average a score in the 70's. Cam O'Shea looks far more tempting at $231,000 and so does Aaron Mullett at $513,000, but as someone who follows Carlton very closely, I honestly don't see either of them as anything more than depth players. Carlton will go with Tom Williamson ahead of Mullet and O'Shea on top of Simpson and Byrne. The Irishman averaged 17 disposals, four marks and two tackles per game in 2016. I predict he'll average 21 disposals (with a great kick to handball ratio), six marks and two tackles across 2018 at an average of about 76 Fantasy points. He should have decent job security and provide you with a cash cow option outside of the norm. The risk is yours to take.
He also has a great cooking show on the Carlton website just btw.
Loading ...
FOLLOW ME ON TWITTER: @NicNegrepontis for all thing AFL Fantasy (and more). Got something to say about the deck? Use the hashtag… #DeckofDT.