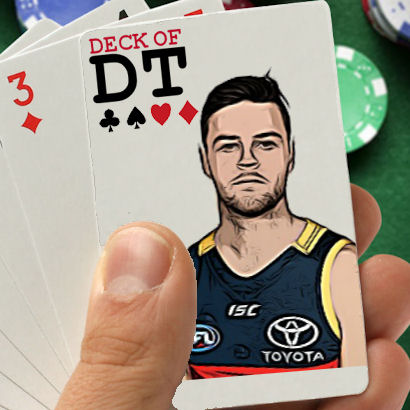 Name: Brad Crouch
Team: Adelaide Crows
Position: MID
AFL Fantasy: $726,000
Bye Round: 14
2017 Average: 103.1
2017 Games Played: 17
Predicted Average: 110
Draft Range: 30-50
Click here for DT Live profile.
Why should I pick him?
For starters, his last name is Crouch. The guy is a ball magnet, averaging 28 disposals per game. In fact he dropped under 24 disposals just once all year in 2017. Not only can he find the pill, he also scores well in Fantasy. The underlying numbers are extremely promising.
I love a tackling machine, and Brad Crouch is exactly that. He averaged 7 tackles per game last season, dropping under 6 tackles just once after Round 10. You can pen in at least 24 points per game for hugs and that's a fantastic scoring platform to have.
When you hear the name Brad Crouch you usually think of an ice pack, crutches or a hospital ward, but he finally managed to stay injury free in 2017 after an early setback. Crouch hurt his hamstring in pre-season last year, started the season in the SANFL and did not play AFL until Round 5. From there on he played all 20 games including a dominant finals series. It's very easy to put a line through somebody if they're prone to injury, but when they're capable of such high scoring I tend to give second and third chances. Taylor Adams last year is a perfect example. Tom Mitchell only managed 35 games in his first 3 seasons and often struggled with soft tissue injuries. He played a full season in his fourth year, and I shouldn't need to explain what happened last season. You can only base your selection from the information available, and even though he is being eased into things Crouch looks to be injury free.
Of course there are still months of pre-season ahead of us, but if Crouch stays fit then his numbers after Round 8 are hard to ignore. He scored 83, 71 and 78 between Rounds 6-8 upon returning from injury, before going full beast mode. In his last 16 games including finals he dropped under 95 just once, averaging 110.3. That includes 13 tons from his last 16 games. I'd say you can't buy consistency like that, but you can for $726,000. His dominant finals series where he scored 124, 133 and 106 suggests that he will play a vital role in Adelaide's stacked midfield this season. The bonus about having such quality surrounding you is that B.Crouch will have to do something seriously unbelievable to even get close to a tag. He'll do what he pleases.
I haven't even started on the upside. It's easy to forget that Crouch is only 23 given he seems to have been around forever. He hasn't reached his prime yet and this could be the fittest he has ever been entering a Premiership Season. All the signs are pointing towards another dominant season from Brad, and the numbers suggest he is even underpriced.
Why shouldn't I pick him?
I tend to ignore past injuries, but Crouch's medical history even raises my eyebrows. He has suffered numerous hamstring setbacks, endured a fractured leg in 2014, but the biggest concern is his chronic foot injury that forced him to miss the entire 2015 season. He was finally able to put those concerns behind him after missing pre-season last year, but it does leave a doubt in the back of your mind. You don't want to be wasting trades on your Premium Midfielders, and Brad Crouch is a severe injury risk. It's a concern.
I wasn't sure whether to address his low ceiling as a positive or a negative, and it depends how you look at it. B.Crouch managed his highest score of the year in Round 23, 133 points. That's nearly what Tom Mitchell averaged. In fact in his 61 game career, that is still his highest score. You could see it as potential room for improvement, but I do like a midfielder capable of going massive. Crouch hasn't quite found his ceiling yet, and it could hold him back from becoming an uber premium.
Lastly Premium midfield spots don't grow on trees, and there's so many alternative candidates this season. Brad's brother Matt is another potential selection, and squeezing in both brothers might be too much to ask. However that's exactly what I'm planning on doing at this stage…
Bryce Gibbs arrival – irrelevant.
Deck of DT Rating.
ACE – Crouch was already a 110 average player last season, he only needs to replicate that to become a fantastic pick in your starting squad. His level of consistency is rare to find, and he has plenty of room for improvement if he can start to post big scores more often. The fact is if he stays fit he's going to be a great pick, whether you want to run the gauntlet or not is up to you. I've done my best to convince you…
Loading ...
FOLLOW ME ON TWITTER: @mattcraigDT for all thing AFL Fantasy (and more). Got something to say about the deck? Use the hashtag… #DeckofDT.