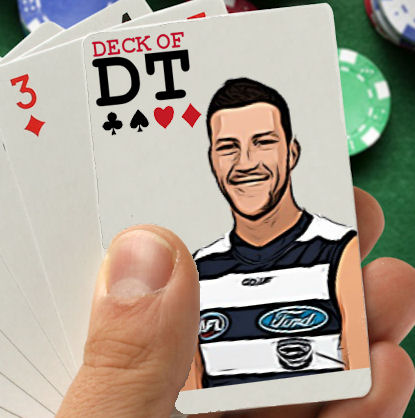 Name: Sam Menegola
Team: Geelong Cats
Position: MID/FWD
AFL Fantasy: $719,000
Bye Round: 14
2017 Average: 102.1
2017 Games Played: 19
Predicted Average: 93
Draft Range: 25-35
Click here for DT Live profile.
Why should I pick him?
Ever since he scored triple figures on debut I've been a massive fan of Sam Menegola. The dude went on to average 95 to close out 2016 and delivered again in 2017. Even though he was owned by less than 15% of coaches, Menegola was one of only one three forwards to average 100+ last year along with Macrae and Sidebottom. That's some pretty elite company to be a part of and at the age of 25, there's no reason why he can't keep on growing.
Something that I look for in great fantasy guys is their ability to impact the game in a variety of ways. If they can't get their hands on the footy can they build a solid total with help from marks and tackles? Sam Menegola does just that. He laid more tackles than Ollie Wines and Jack Viney and hauled in more marks than Dustin Martin and Zach Merrett in 2017, despite missing three games early in the year.
Finally, while the addition of Gary Ablett and a healthy Selwood duo is likely to eat into his midfield time, there is still an important role for Menegola to play at Geelong. The loss of Steven Motlop opens up his role as a true forward/midfielder which Menegola could and probably will seize. More forward time means more chances to kick a sausage roll and while relying on goals isn't a recipe for success, we know that Menegola can hit the scoreboard, throwing a cherry on top of his scores with a few bonus +6's.
Why shouldn't I pick him?
Patrick Dangerfield, Joel Selwood, Mitch Duncan, Scott Selwood AND Gary Ablett. Need I say more? In a team now oozing with midfield class, it's tough to try and predict where the points will come from for Menegola. Granted none of the 'Fab Five' managed to play all 22 games last season so if one of them slips I'm sure we will see added time in the guts from Menegola.
The numbers when one of his star teammates is missing are quite telling. Through the five games of the season when either Duncan, Danger or Jelwood were sidelined Menegola went OFF at an average of 121.2 including 131 in the GF. However, in the other 14 games when he played alongside the trio he averaged just 95.2 points. And that's not even taking into account the number of games that Scooter Selwood played as well, who seems destined to play a run with roll on opposing stars.
Usually, big scores for Menegola are reliant upon being close to the ball. If he falls into the forward line and gets lost while the other stars chalk up all the touches it could spell doom for his fantasy scores. Menegola is still talented enough to churn out numbers, but those numbers might be closer to some of the 70's he showed us last year rather than the 130's.
Deck of DT Rating.
KING – When it comes to Draft leagues, Menegola will probably be one of, if not the first forward snapped up given the fact that he has retained his valuable DPP. In Classic, it's a different story. No forward costs more than him this season and while he is still a premium player at his position it will be tough to fork out all that money for him to start the year.
My advice is to monitor his progress throughout the first month of the season. The JLT series probably won't teach us anything we don't know, but if we see Menegola in the midfield and Gary Ablett play a big chunk of his time in the forward line then he may be ripe for the picking after his price slides a bit.
Peace ✌️
Loading ...
FOLLOW ME ON TWITTER: @alexandergfry for all thing AFL Fantasy (and more). Got something to say about the deck? Use the hashtag… #DeckofDT.