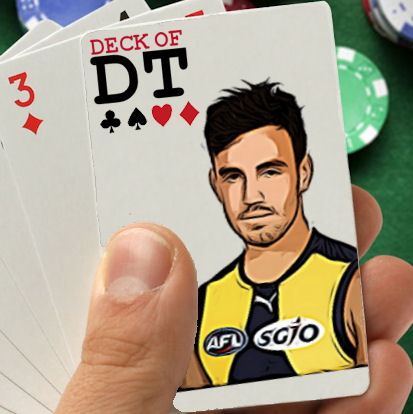 Name: Brendon Ah Chee
Team: West Coast Eagles
Position: MID/FWD
AFL Fantasy: $392,000
Bye Round: 12
2017 Average: 58.6
2017 Games Played: 5
Predicted Average: 80+
Draft Range: 100+ but could be a late steal with forward eligibility.
Click here for DT Live profile.
Why should I pick him?
Ah Chee has found himself in a unique position here where we could see great things happen fantasy wise for him next year. I genuinely believe there is enough evidence to suggest he could be this years Will Hoskin-Elliot.
Here's a list of similar potential stars which are lining up.
New Club/New Role: Ah Chee shopped himself around during trade time with the understanding that the club who picked him up could give him consistent game time as an inside midfielder. With West Coast losing a lot of experience in their midfield they need an AFL ready body to come in and have an impact while their younger midfielders are developing.
This mutual need means that Ah Chee's desired role is there for the taking.
Cheap: While just under $400K doesn't seem cheap at first glance, he's only about $120K more than the high priced rookies. This places him at a slightly awkward price point where he's sitting above the rookies but below the traditional midpricers meaning he may end up being overlooked, becoming a sneaky pod.
Forward Eligible: This speaks for itself, saving cash by selecting Ah Chee as a forward means you'll have more cash to spend in your mids without sacrificing a mid spot, bit like Hoskin-Elliot at the start of last year right?
Lastly we're going to want some kind of indication that Ah Chee can produce decent numbers at the highest level when given this role. It's all well and good that he's been putting up great numbers in the SANFL, averaging 92 points in his last 3 seasons but can he produce this on the big stage.
Luckily Port Adelaide gave Ah Chee free range as a midfielder against the Hawks in round 11 when Amon and Wingard missed through injury.
That game saw Ah Chee replicate his SANFL form with 26 disposals, 4 tackles and a goal equaling 93 Fantasy points and finishing among Port's Best.
Unfortunately the very next week summed up Ah Chee's last few seasons in a nutshell.
With Wingard coming back, Ah Chee was banished back to the forward line to only score 37 points, then back to the SANFL the week after.
Why shouldn't I pick him?
As mentioned above, the first point of contention when thinking of Ah Chee is 'why would West Coast play a guy who couldn't get a game for Port?'
Ah Chee's natural game is as an inside midfielder, it's where he scores his best, where he won Port Magpies fairest and best last year and where he finished second in the Magarey Medal as the best player in the SANFL.
Port Adelaide are so flush with similar players that they can afford to swing their dual All Australians in Robbie Gray and Travis Boak forward for extended periods of time and barely notice a drop off!
Unfortunately Ah Chee doesn't score or impact as well as a forward and this has meant his head is the first on the chopping block during selections.
The biggest concern for Ah Chee is whether he can cement his place in West Coast's best 22. While the recent retirements of Mitchell and Priddis certainly means a spot is there, the competition for that spot is higher than outsiders may realise. After his finish to the year, Jack Redden has a place locked down right now but Luke Shuey, Elliott Yeo, Dom Sheed, Liam Duggan, Luke Partington, Daniel Venables and Brayden Ainsworth could all be floating through that inside role at some point too.
With the limited JLT series this year we may not even have an idea of West Coast's pecking order once round 1 rolls around so having him on your ground could be a massive risk.
Last area of concern for me is that Ah Chee is incredibly handball happy. While this is a great trait for him on the field given he possesses quite an impressive handball and vision to execute it (check out this video) it does mean that he is leaking few points a game by opting to use his handball where other players would kick.
Deck of DT Rating.
JACK – While the Jack isn't super valuable on it's own, you still need it for a Flush!
Add Ah Chee to your watchlist now and if West Coast name him in round 1 then jump on and thank/roast me later!
However I completely stand by my call that if West Coast gives him consecutive games as an inside midfielder, I honestly believe he will be this years Hoskin-Elliot.
Loading ...
FOLLOW ME ON TWITTER: @Anthonydsmith86 for all thing AFL Fantasy (and more). Got something to say about the deck? Use the hashtag… #DeckofDT.