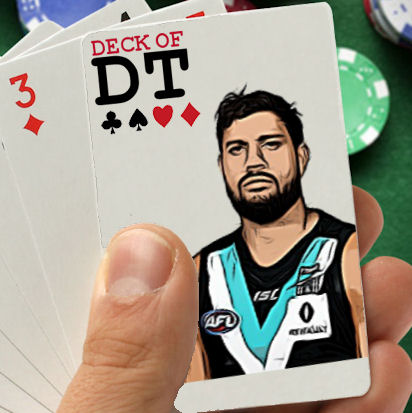 Name: Patrick Ryder
Team: Port Adelaide
Position: Ruck
AFL Fantasy: $646,000
Bye Round: 10
2017 Average: 91.7
2017 Games Played: 21
Predicted Average: 92
Draft Range: Top 5 rucks.
Click here for DT Live profile.
Why should I pick him?
Unlike players like Grundy, there is no competition for Paddy at the Power, he is the one out ruckman with no other realistic option. This means we know that he will play every game as the number one ruck. This means that each week we don't have to worry about selection and see who else will come in to steal points from him.
Paddy is pretty durable, he only missed the one game in 2017 and this was through suspension. He can also score well, 8 of his 21 games saw him score 95+ last season. He averaged just under 13 touches a game and takes just over 3 marks. So he can get the job done around the ground.
Last season he was the 6th highest ruck in the competition, meaning he won't be the most expensive. He was only 8 points away from being second to Kreuzer who had a great season. Ryder isn't a popular selection. If you do decide to go with him you will be taking a very unique player into the season. If you look over the last couple of years, the top two rucks haven't been stringing seasons together, so he may be a safer option.
If you are playing draft, Ryder will be a solid option for you, a guy that is likely to score well and is likely to play every game, which is exactly what you want. There will be a number of other name ruckmen that will go off the board well before him, but he should be able to score along with these guys fairly comfortably, so you could pick yourself up a bargain.
Why shouldn't I pick him?
There is one big reason that Ryder shouldn't be considered this season. He has lost his forward status. As a forward he was the 12th highest averaging player last season, this made him valuable. He was a good swing ruckman to have up forward, but without that option his value has dropped as he just doesn't appear to have the big ceiling that some of the other options have.
Whilst Ryder was able to score 8 times over 95 last season, he also put in 6 games under 80 which included a stretch of 4 games out of 5 from rounds 10 to 14 which didn't help. So you can't always trust him to get you over the line in a matchup. This means he is very much a risky selection and can be a boom or a bust on a week to week basis.
Deck of DT Rating.
JACK – Paddy is a solid ruckman, there is certainly no question of that. However, he is not likely to be one of the top averaging rucks at the end of the season, and this year there are better value options than Paddy in both Naitanui and Gawn. If there weren't these options available, then Ryder could be a bit of a cheaper option than Kruezer, Jacobs and Martin. So whilst he is a great player and can score well, there are simply better options out there in the Fantasy game.
In terms of the draft game, he could be a bit of a slider that could be a very solid pick up and he will certainly be an asset for your side. If there is a run on rucks and he is on the board, don't hesitate. I expect he will certainly go in the top 5 rucks off the board. Mainly due to him being a durable player.
Loading ...
FOLLOW ME ON TWITTER: @pkd73 for all thing AFL Fantasy (and more). Got something to say about the deck? Use the hashtag… #DeckofDT.