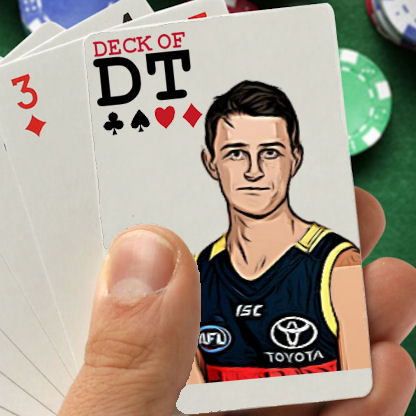 Name: Matt Crouch
Team: Adelaide Crows
Position: MID
AFL Fantasy: $752,000
Bye Round: 14
2017 Average: 106.7
2017 Games Played: 22
Predicted Average: 105
Draft Range: 25-40
Click here for DT Live profile.
Why should I pick him?
If consistency is what your after, look no further than Adelaide midfielder Matt Crouch. After 'breaking out' in 2016, averaging 91 points in 19 games, Matt took his game to a new level last year, winning the clubs best and fairest award and averaging 106 fantasy points. He tallied thirteen tons throughout the home and away season, failing to dip under 80 all year. There is no problems with his ceiling either, with eleven of Crouch's hundreds hitting or exceeding 110 points. He capped off the minor rounds perfectly with a typical 45-disposal outing leading to a personal best fantasy score of 150.
Formerly an unheralded inside midfielder, Crouch is now regarded around the league as one of the games best genuine ball winners. Last year he edged out renowned fantasy pig Tom Mitchell and brownlow medallist Dustin Martin to set a new record for the most touches in a single season. He did not drop below 20 disposals all year and if my maths serves me well, a massive 73% of his fantasy points came through disposals. And perhaps the most remarkable thing about these figures is that he spent 80%+ time on ground just four times in his 22 games. Instead of resting up forward for stints, Matty comes off the ground before returning straight back into the midfield unit. One can only imagine his potential output if his endurance can be improved upon in the off-season.
With Bryce Gibbs adding to the Crows' on-ball brigade, the threat of a tag on Matt Crouch is non-existent. Teams simply will not let Gibbs or Sloane off the leash, leaving the younger Crouch brother to continue his grunt work on the inside of the midfield. Adding to the list of positives is that he will again have a relatively low ownership percentage, at least for the start of the season. Last year his ownership never reached higher than 10%. Expect this to be the same this year.
Why shouldn't I pick him?
It's not easy to find a real weakness with Matt Crouch. Having improved his foot skills dramatically over the past year or so, the brother of Brad is an extremely well-rounded on-baller. However due to his tough, extractor role, Matty's kick:handball ratio slants toward the latter. Whilst it would be nice from a fantasy coaches perspective, this isn't something the Crows would want Matt to change. so it seems that, like Tom Mitchell, Crouch will always be a handball-first type of extractor. This is probably the main reason why he is unlikely, at this point in time, to take the next step into becoming a genuine top five mid.
As much as I love him as a player, I'm not sure Matt can really improve on his 2017 average unless he can become more of a goal-kicker or can further work on building up his endurance base, potentially allowing him to take more marks around the ground.
The only other query I have with Matt Crouch is the Bryce-effect. How could Bryce Gibbs' inclusion affect the fantasy production of Matt Crouch? With Brodie Smith out for the year, we could see the former-Blues foot skills utilised across half-back. However it seems the likes of Seedsman, Hampton and untried Tom Doedee are more likely to fill that particular void. So I think he slots straight into the midfield for the large majority of 2018, perhaps as more of an outside type.  Therefore, I wouldn't have thought Bryce makes too bigger dent on Matt Crouch's output.
Deck of DT Rating.
ACE – Obviously, being a Crows fan, I love the work Matt Crouch does. Simply put, you know what your getting week-in-week-out with the 22-year-old. He racks up the ball like no one else can, seemly having it on a string each game. Whilst he has the potential to go big, Crouch doesn't explode as often as other premium midfielders available at a similar price. But if he can replicate his 2017 form, you have yourself a fantasy star.
Loading ...