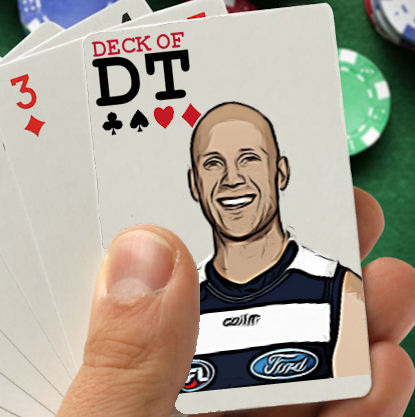 Name: Gary Ablett
Team: Geelong Cats
Position: MID
AFL Fantasy: $837,000
Bye Round: 14
2017 Average: 118
2017 Games Played: 14
Predicted Average: 118
Draft Range: 5-15
Click here for DT Live profile.
Why should I pick him?
To start with, I'll just reel off some of the key fantasy-relative numbers produced by Gary throughout his career so far. From 2008 to 2014, he put up season averages of 111, 118, 119, 112, 124, 114 and 119. 2015 proved more of a struggle though, as he managed just the six games for an average of 94 – Ablett's lowest in nine years. Injuries continued to chip away, threatening to derail his career once and for all, however in '16 and '17, as the Suns finals aspirations continued to set, Gary returned to his point-scoring ways. Even with plenty of off-field distractions, Ablett continued to reel off big tons. His 11 hundreds in 14 games last year confirmed that Gary Jr breaks tags and racks up hundreds in his sleep.
Even at the ripe-old age of 33, Ablett managed to exceed the 120-point mark on six occasions last season, including massive scores of 162, 153 and 152, proving he has one of the highest ceilings in the competition. If Gaz can get on the park a little more often, whatever his position is, the cat will be hard to ignore, especially if he can reproduce some of his mammoth hauls in 2017.
There's no doubt Ablett wasn't in the right place mentally during the back end of his career in Queensland. Constant speculation over a potential off-season trade was mixed in with niggling injuries and question marks over his dedication to the Suns. Despite his continued strong performances on the field, for the first time in his career, people started to question Gaz. Realistically, his time in the Gold Coast never looked like being extended by another year. And naturally, Geelong was the rumoured destination of choice. He got his wish. Now back home, Ablett would be in a far happier place mentally after what was a stressful, injury-hampered year. One can only imagine this would translate to even better performances in 2018 – a nice thought for coaches.
Why shouldn't I pick him?
The first issue with Ablett is where he spends most of the year, position wise. Whilst it would be nice if he played mainly on-ball, his scoring won't exactly go down hill if he moves to the forward line. Gary has always had a knack of hitting the scoreboard when pushed up forward. Having kicked 386 goals in 302 career games, Ablett would no-doubt be an extremely useful asset in attack, especially given the Cats already have Dangerfield, Duncan, Menegola and the Selwood brothers to be used in the guts. However Chris Scott recently stated that "We brought Gary in to be a midfielder. He didn't come to us and say, I think I'm almost cooked here, can you hide me in a forward pocket for a couple of years and I'll snag you 30 goals a year. He has an aspiration to help the team as much as possible and we all believe that's in the midfield first." If Scott is true to his word, this can only be seen as a positive for coaches, however there is still doubt.
But the most glaringly obvious reason as to why you shouldn't pick Ablett is his durability, or lack of. Gary has not played all 22 games in a season since 2007, back when the Gold Coast Suns ceased to exist. Over the duration of his brilliant 14-year career, Gary has battled seemingly constant hamstring complaints, calf injuries and shoulder issues. Things certainly got messy between him and the Suns last year as he was being accused of picking and choosing when he would play. However, after returning to the Cats, lets hope the worst of the injuries have past. Will he play all 22 games? Highly doubtful, which will certainly deter a number of fantasy coaches.
Deck of DT Rating.
ACE – I debated whether to give him an ace or king, because Gary certainly comes with his risks this year, but at the end of the day, he is and has been a brilliant scorer for many years now and will go down as one of fantasy's best. I wouldn't expect him to play all 22 games, he may spend considerable time in away from the midfield and the other Cats mids will still rack up their fair share of the ball, but Gary Ablett's shear scoring ability when fit will attract many coaches. Personally I think he can again average 118, making him one of the games premier top eight midfielders. The potential of gaining forward status would make him a dead-set lock.
Loading ...