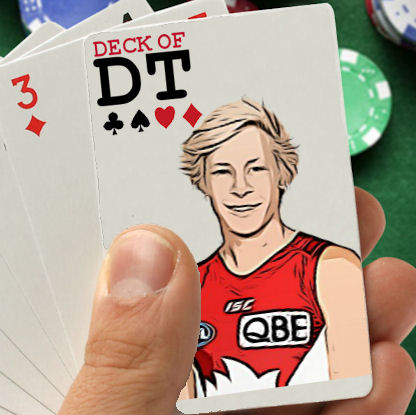 Name: Isaac Heeney
Team: Sydney Swans
Position: Mid/Fwd
AFL Fantasy: $649,000
Bye Round: 14
2017 Average: 92.1
2017 Games Played: 18
Predicted Average: 100
Draft Range: 15 – 30
Click here for DT Live profile.
Why should I pick him?
This kid is a gun! I think the best reason to pick and start with Heeney is that you will believe like I do, he is one of the most underpriced of all the proven and possible top forwards this season.
Here is why we believe this;
Heeney missed the majority of last preseason, resulting in him not getting his first game of the year till round five. The reason behind this was that he had been struck down with Glandular Fever during the off season. Unfortunately with Glandular Fever, even when you are clear and no longer contagious, it still generally has the lingering effect of completely sapping your energy levels for the next few months.
I strongly believe this is evident when we break down Heeney's scoring over the year.
Firstly on a whole season basis, Heeney's first 9 games back had him go at an average of 100.8. These games included the first game back where he only scored 61 and 6 scores over 100. His last 9 however saw his average drop to 83.4 with only 1 score over 100. This in my opinion shows a drop off in output as the season went on and took it's toll.
We can break this down further however and see another correlation in regards to how he was scoring during his games.
Heeney had hit 75% of his final score by half time on most occasions throughout the season, with a few games having him burst out of the blocks with a 40 – 50 point first quarter, only to finish on a 90 – 100.
I think this notable drop off in his 3rd and 4th quarter outputs can be attributed to the lasting effects of the Glandular fever slowing him down.
With the Glandular Fever behind him now, we're every chance to see Heeney go on with his scoring this year and really push his season average to that 100.8 of his first 9 games last season.
Another reason to select Heeney is that while he is given plenty of time to float through the Swan's midfield (yet is selectable as a fwd, bonus!) he isn't their biggest gun. There's no reason to think Heeney will see any tags or close attention while the likes of Kennedy, Parker and Hannebery are running around near him!
Why shouldn't I pick him?
Honestly, this section is possibly the smallest I've ever written because there wasn't much of a reason not to pick Heeney. As mentioned above, he's a gun who is possibly underpriced by 10 points!
A new concern however has come up with Heeney experiencing discomfort in his knee during the return to training in December and needing surgery over Christmas. While it was only a minor procedure in where damaged cartilage was repaired via arthroscopic surgery, the young Swan will be out of action until late in January.
The Swan's media team are still adamant that he will be lining up in round 1 but if you were looking for a reason not to start Heeney, this downtime could be enough.
Deck of DT Rating.
KING – I'm backing Heeney to finally crack that 100 point average this year and become one of the top scoring forwards. He should easily finish this year as one of our top 6 forwards so jump on now while he's 'underpriced' and save yourself scrambling to get him mid season!
Loading ...
FOLLOW ME ON TWITTER: @Anthonydsmith86 for all thing AFL Fantasy (and more). Got something to say about the deck? Use the hashtag… #DeckofDT.