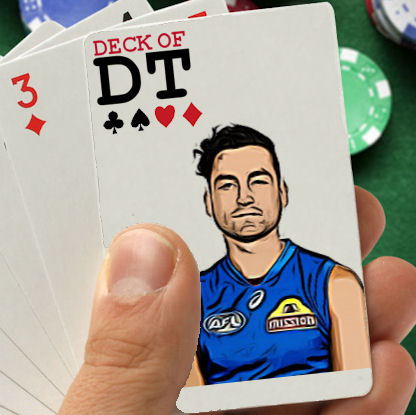 Name: Luke Dahlhaus
Team: Western Bulldogs
Position: FWD
AFL Fantasy: $624,000
Bye Round: 12
2017 Average: 88.5
2017 Games Played: 22
Predicted Average: 92
Draft Range: 40-50
Click here for DT Live profile.
Why should I pick him?
Over the past few seasons Luke Dahlhaus has gained a reputation as one of the most reliable forwards that haven't lost their dual position status. Since 2014 he hasn't averaged below 87, peaking at 97.6 back in 2015. He's a proven scorer and wins a lot of the ball, averaging over 25 disposals per game for the past 3 seasons. Often pushing up through the midfield Dahlhaus gets plenty of opportunities to score well and should at least be around the 90 mark again in 2018.
A second positive is that he's extremely durable. Even though he missed a month of football during the Bulldogs Premiership season, that is the only time he has been forced onto the sidelines since 2012. He played the full 22 games last season and can be expected to do exactly the same this year.
One distinct factor that makes Dahlhaus stand out when he otherwise wouldn't is the lack of reliable forward options. I've got a fun game to play. Go to the full player list, filter it by forwards, and see who throws up first. There are only two players who have a better season to their name than Dahlhaus in the past 3 seasons. David Mundy and Liam Picken. Exactly. Many will be chasing after breakout contenders and that's fair enough, but it's a risky play.
At the age of 25 Dahlhaus should be entering the prime of his career. Sure he had a quiet season by his standards in 2017, however it was still solid. Not always spectacular and occasionally frustrating, but solid. He'll be ready to bounce back in 2018 and we know the scoring potential is there. Sometimes a safe pick is a good pick.
Why shouldn't I pick him?
Anyone who owned Dahl during the backend of 2017 will have given him a new nickname that ends with 'house' and it certainly wasn't Dahl. I'm a fan of picking players who ended the season in hot form, potentially suggesting they're underpriced. Dahlhaus was the opposite. His drop off in form coincided with Toby McLean's move into the midfield, seemingly minimising Dahl's time on the ball. After averaging 102 in Rounds 1-7, he scored just one more ton for the remainder of the season averaging 82.
That role change clearly hurt his numbers. In 2016 Dahlhaus averaged 26 disposals per game. He surpassed that figure just 3 times between Rounds 8-22, failing to reach 30 touches once in that time. Luckily we have pre-season football ahead of us and I'll be watching Dahl's role like a hawk.
In Fantasy circles we tend to prefer players who kick rather than handball. Those extra points are crucial! If this is a factor in your selection process then you can go and put Dahlhaus' name into the bin as you read this. I don't know what they're coaching players down at Whitten Oval, but his 'ratio' is rapidly getting worse. He had a positive kick to handball ratio in 2014, and it was 12:14 in his PB season. Not too bad. In 2016 it was 11:15, and last year it became 9:16….. 9 kicks to 16 handballs. Switch that around and we have a lock. Somebody needs to teach him how to Fantasy! If it gets any worse he'll soon lose the need to wear boots all together.
Lastly, there's no guarantee he will end a top 6 forward. He will still be in the mix for sure, but I like to pay the big dollars for a player I believe will be locked in my squad for the entire season. Even though there's no standout options Dahlhaus' name enters a hat with many others.
Deck of DT Rating.
Queen – After owning him (Like many others) last season I'm not exactly rushing to get him in my initial squad when the game officially opens. However, I had a similar scenario with Kade Simpson three years ago and he bounced back from a poor season like many star players do. Don't go writing Dahlhaus off after one poor season, it may come back to haunt you…
Loading ...
FOLLOW ME ON TWITTER: @mattcraigDT for all thing AFL Fantasy (and more). Got something to say about the deck? Use the hashtag… #DeckofDT.