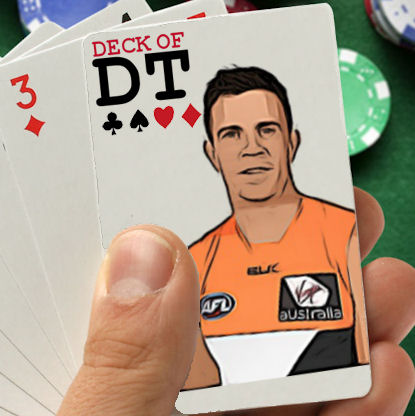 Name: Brett Deledio
Team: GWS Giants
Position: FWD
AFL Fantasy: $530,000
Bye Round: 14
2017 Average: 73
2017 Games Played: 4
Predicted Average: 81
Draft Range: late…
Click here for DT Live profile.
Why should I pick him?
Deledio is a former premium and icon of the Fantasy game.
He can be selected as a forward once again this season and has been a monster in the past for the Tigers.
In fact, before heading to the Giants, Deledio had gone 8 out of 9 seasons with an average of 91+ with a career high of 110 in 2012.
Back six years ago, a guy averaging 110 was considered a freak. Last year, only 12 players managed this milestone and with this number growing every year, you can see the type of Fantasy player we're talking about here.
If Deledio can be injury free and regain the Fantasy game that we all know he has, then he is a dangerous pick (for a good reason) in your side… more so in Draft though and as a forward, he could change the whole structure and plan of your season if he fires. (Read on to the verdict for more).
Grabbing Lids late in you Draft could prove to be a stoke of genius. Although he may not play every game, or games early (read on) having him sitting there is a scary sight for your opponents towards the pointy end of the season. Using him to 'pinch hit' (especially against the dud teams) could be what gets you over the line in 2018.
Why shouldn't I pick him?
Stop talking %#$& Calvin and tell it as it is….
During the home and away season, Deledio only managed to play 4 games (59, 48, 82, 102). This was a build up to the finals series which flopped for him (and the Giants).
GWS fans might disagree, but the Deledio Experiment  = FAILED.
His impact in the finals was… minimal to nothing. He scored 53, 49 and 57 (he was injured though we hear now). Was the game too fast for the former premium, or was too much being asked of him? Potentially… both.
After all, this former Tiger turns 31 this year so is his best footy behind him?
There are not many players out there these days at the age of 31 pumping out scores like he has in the past.
His price isn't as juicy as we first expected either. His discount comes off his 2016 where he averaged 92, not the 73 he averaged last year. "Oh… they say. Bugger!"- yeah I know and before you get all grumpy about this, just remember that this is a rule that we all play by and to be honest, I like it.
Back in 2016, that was an impressive average that 92 though… but a long way off what he had in his 4 games this year and one of those was 102. Basically… he's priced at an average of 75.
How's he tracking now? Not great is the answer in simple terms. He's on a modified training program after limping through finals last year with calf/Achilles injuries. He's only training once a week this month to ensure he can get through the rest of the pre-season.
So what can he average? I'll give him 85 at best here and that's not with all the 22 games played either. After all, he has only managed 15 in the last two seasons (excluding finals).
Deck of DT Rating.
JACK – Ok… I love the man and think he is an absolute gun of the game, but lets get real here, we're talking Fantasy and where he fits into our 2018 season.
Personally, he's a late pick up in Draft only. As a forward, his value increases and having his name on your bench is very intimidating to your opposition each week, and let's pretend for a second that the old Deledio turns up. He just might after all. Then you have a Draft winning move right there to elevate your season to storm ahead of your mates.
FOLLOW ME ON TWITTER: @CalvinDT for all thing AFL Fantasy (and more). Got something to say about the deck? Use the hashtag… #DeckofDT.