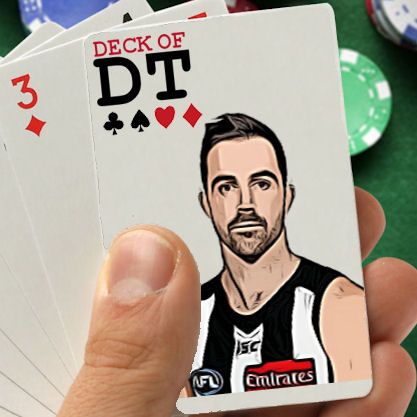 Name: Steele Sidebottom
Team: Collingwood Football Club
Position: MID
AFL Fantasy: $745,000
Bye Round: 13
2017 Average: 106
2017 Games Played: 21
Predicted Average: 110
Draft Range: 12-18
Click here for DT Live profile.
Why should I pick him?
If Steele Sidebottom had a MID/FWD at the beginning of an AFL Fantasy season, most coaches would start with him. With average fantasy points of 108, 102, 103 and 106 in the last 4 seasons, he has been very consistent with his fantasy output.  However, at the same time, he has fallen short of what we expect from a really UBER MID premium.  Most coaches in the past have overlooked Sidebottom and opt to select a player that they perceive will score 110 plus points per game.  At the beginning of every season, I would suggest that his percentage ownership sits at below 3%.
In 2017, from round 1 to round 10, his overall percentage ownership was below 2%. It was about 4% by round 17 and when he was awarded DPP status (MID/FWD) at the latter part of the season, his percentage ownership jumped to about 15%.  If you just want to talk about the top 250 AFL Fantasy coaches, by round 20 in 2017, he was in about 50% of these teams, which was quite significant making him a top 6 FWD.
So if most coaches are looking for value in a player, let's take a look at an example of what happened last year.   Like most coaches, Treloar was my vanilla pick in the midfield in 2017. Last year at the beginning of the season, Treloar's overall percentage ownership was about 22%.  This percentage held true for nearly the whole season.  By round 20, Treloar was the fourth most selected midfielder in the top 250 coaches, only beaten by T. Mitchell, Z. Merrett and P. Dangerfield.
Case Study 2017:
Selection A: Adam Treloar ($673,000) *Injured (DNP)
Selection B: Steele Sidebottom (624,000)
I have only extracted the games where Sidebottom % ownership was bout 4% (e.g. up to round 17)
Hindsight is 20/20, but it you went against the herd and picked up Sidebottom instead of Treloar, you would have saved 50 G and nearly ended up par in the 'average' column.  With that average at that price, and with the extra bonus of being unique, Sidebottom was a 'steal' last year.  Undoubtedly, once it's time to do a 'vanilla analysis' of the top 250 AFL Fantasy coaches this year, I would bet that Sidebottom would not feature in it. I can't exactly predict his future output and I am not about to do it now. However, using last years' data as a guide (see table below), I believe that what he offers is consistency (13 times he scored 100 plus), a high ceiling (139), and I would eat my hat if he is a 'vanilla' pick in 2018 as a MID.  This year, if you want a unique player that you can set and forget, here he is.
Four Collingwood midfielders made up the top 16 midfielders last year. This trend should continue in 2018. If you're not sold that he will be a value/unique pick this year, players such as Pendlebury, Treloar and Adams should attract more tags than Sidebottom this year.  Last year, his only tag was in Round 18 when my beloved West Coast Eagles team sent Hutchings to reduce his output. Just by pure co-incidence, that was the round that he got his DPP status and the week that I selected him, he scored 71.
If you want another reason to pick him again this year, consider this: if you had him at the beginning of the season last year, by the time every coach wanted to bring him in, you would have been tweeting @WarnieDT @CalvinDT and @RoyDT to stop talking about his new DPP status. Sidebottom is always a strong candidate to acquire FWD status.   As is the trend for most of the AFL season, the teams that finish lower on the ladder will try to replicate the game style of the premiership team. With Pendlebury, Treloar and Adams all available in the midfield, Sidebottom can play that attacking MID/FWD role, similar to D. Martin's role in 2017.  If you are not starting with him, select him in your team as soon as he gets DPP status!
Why shouldn't I pick him?
The main reason why Sidebottom will be overlooked this year is because of his price. At $745,000 we all start looking at players that are +/- $50,000 around him. Coaches will search for players that can average more and is cheaper (*clears throat* T. Rockliff).
Consider this logical argument:
== is
!= is not
Rockliff == Fantasy Pig
Sidebottom != Fantasy Pig
Sidebottom Cost > Rockliff Cost
Therefore, Rockliff is a better pick
Now if you want me to argue against this logic, I wont. I love the Fantasy Pig and I kept him even as my ranking went down last year.   I'm sure he will feature in a write up soon so I wont go on too much about the Fantasy Pig.  All I can say is that it is not a logical argument! You can't compare apples to oranges, so why compare The Pig to a mere premium.
If you are not looking at 'value players' below his price range, the alternative option is to select a player that is slightly above his price.  Again, you will pick this player before Sidebottom because you are predicting that they can average 110 plus points (Treloar again?)
Lastly, if you look at Sidebottom's starting price from 2014 to 2017, the only year where he maintained his dollar value was in 2014. Hence, for the last three years, his price has always gone lower as the year progressed.  Coaches will look at that trend and say, "I will wait until his price becomes reasonable and I will buy him then!" – the price is right approach.  Nothing wrong with the approach of 'buy low and enjoy the highs'.  One thing left to say about this, quoting the legend @CalvinDT;
"Just don't be too late to jump on the train because by the time you realise it, you have missed the boat."
Deck of DT Rating.
KING – I can see the stars aligning for Sidebottom this year and I'm hoping that that as a midfielder, he will score 110 plus. I think he is good value even at his staring price.  His fantasy scores were consistent last year and this should continue this year.  He always slips under the radar for most AFL Fantasy coaches, which makes him unique.  We all have our guns and rookie's strategy, this year also consider, your vanilla and unique make up.
If there is anything specific you want answered, make sure you add me on Twitter @magtuto so I can answer your Q's.  Go unique!