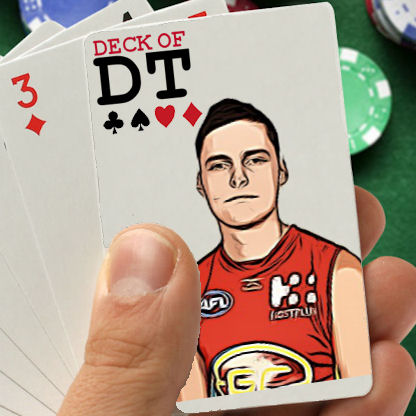 Name: Kade Kolodjashnij
Team: Gold Coast Suns
Position: DEF
AFL Fantasy: $604,000
Bye Round: 10
2017 Average: 85.8
2017 Games Played: 11
Predicted Average: 88.8
Draft Range: Just outside the top 100
Click here for DT Live profile.
Let me get one thing straight, I will not be repetitively writing Kolodjashnij in this article. From here on out I will refer to him as Kolo.
Why should I pick him?
After two head-scratching seasons, Kade Kolo enters 2018 as one of the biggest uncertainties in the game.
At the tender age of just 22, it's likely that his best football is ahead of him. Just 70 games into his career there's a chance that this upcoming season is a breakout one for the 5th year Sun, after showing flashes of greatness throughout his career so far.
His Fantasy game reminds me a little of Grant Birchall and Heath Shaw when he's firing. He might not count his +6's like Shaw, but there's no doubt that you will see him in Gold Coast's backline regularly switching the play and breaking the lines with his left boot. Let's be honest the Suns are probably in for another season anchored near the bottom of the ladder, which means that the footy will be in their defensive half for most of the year. Great news for Kolo's fantasy owners.
Since averaging 83.8 in his second season, Kolo has been disappointing, dropping his average by 10 points in 2016 and managing just 11 games last year. Most of the games that Kolo missed were due to concussion woes, which, while it's not good news by any means, is probably better than a lingering soft tissue injury or an ACL tear.
Kolo himself has said those concussions that forced him to miss the last 10 games of the year came in tackling drills and he has since changed his technique slightly to avoid more issues in the future. Tick tick.
When it comes to the pre-season words like 'role-change' and 'time-trial' can seem like porn to hardcore fantasy coaches. In the bleak off-season where we are scrapping for relevant news to help structure our team, words out of preseason training can become gospel. In the first session back from the Christmas break new coach Stuart Dew was cracking the whip making the boys run a 2k time trial. No one on the list crossed the finish line before Kolo, confirming beyond doubt that he is fit and ready to go for the new season. For now.
Why shouldn't I pick him?
The biggest question mark of Kolo remains his consistency. I'm sure I speak for the entire AFL Fantasy brotherhood when I saw there is nothing that ruins your weekend more than a top dollar player pumping out a low score.
Last year, albeit from an 11 game sample size, Kolo didn't score between 86 and 108 with all of his scores either higher or lower. A season earlier he was more consistent in 19 games but didn't demonstrate a huge ceiling. It doesn't exactly fill you with confidence considering you could get someone like Jack Crisp, Nic Newman or Luke McDonald for virtually the same price. Something else working in the favour of those other names is they aren't going to be called upon as tall defender's anytime soon. Kolo's height means that he sometimes takes the third tall forward in the backline, which could spell doom for his fantasy scores (see: every key defender's career average)
Kolo is also a proud owner of the dreaded round 10 bye thanks to his date in China with the Power. Usually, these types of players are the ones that we want to be bringing into our team to help us survive the bye rounds. This makes his value as a starter pretty sketchy, again, not something you want to fork out over 600k for.
Deck of DT Rating.
QUEEN – Seems about right for Kolo considering the uncertainty around him this year. Best case scenario he breaks out and averages in the 90's. Worst case, his 2016 scores are a regular feature and he will struggle to top an average of 80.
With his concussions issues a thing of the past a full 22 games out of Kolo could revive his scrambled Fantasy career. I think his season will be closer to the best case and don't be shocked if his average stays in the 90's. Priced at a tricky 85 average it would be a bold move to start with him in your Classic team, but you don't win this game by playing it safe.
Peace ✌️
Loading ...
FOLLOW ME ON TWITTER: @alexandergfry for all thing AFL Fantasy (and more). Got something to say about the deck? Use the hashtag… #DeckofDT.